Special Offer
Book and save 44% compared to the local operator's price!
Enjoy an evening of entertainment when Gerry McCambridge—star of The Mentalist and the reality show Phenomenon takes the stage. Known for his comedy, magic and mind-reading skills, he's sure to excite and amaze audiences during this Planet Hollywood Resort and Casino performance. It's a night of interactive entertainment with choice of VIP seating or general admission.
Highlights
Ticket to The Mentalist at Planet Hollywood Hotel and Casino

A unique blend of comedy, magic and mind-reading live on stage!
As demonstrated on The Today Show, David Letterman and a Special Report on CNBC
Choice of seating available

High level of interactive participation

Price displayed is inclusive of all taxes and fees!

What You Can Expect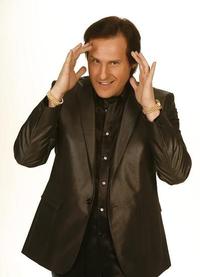 Gerry McCambridge is famous for his incredible mind-reading skills, jaw-dropping magic and hilarious comedy. During the performance of The Mentalist at Planet Hollywood Hotel and Casino, you'll have the chance to see just why! He's been called the world's best entertainer and nominated for "Best Magician in Las Vegas." With this night of on-stage fun you'll wonder just how he does it!
Enjoy active audience participation, as Gerry pulls random information from audience member's minds. Whether it's their hometown name, biggest hopes or darkest fears, this show will have you truly amazed and entertained! This is your chance to be a part of one of the city's most thrilling shows—and maybe even have your mind read!
January 2016
It was a small room which was lovely as it didn't matter were you sat you were near the front. Really enjoyed the show as you were not picked on unless you wanted to join in. We had a good evening and would recommend the show.
June 2015
He was amazing! Very small theatre, so you feel part of the show.
May 2015
Must see. It will leave you amazed!

April 2015
UNBELIEVABLE on how Gerry McCambridge The Mentalist was able to read the minds of the audience, I was just blown away. Definitely a must see show

April 2015
This was an awesome show. He literally blew me away. Would definitely recommend to everyone. You have to see it to believe it.
April 2015
We had a great time! Everything went so smooth!! Since the time we arrived until the show started it was a blessing. We did not have to wait long in line; the lady at the ticket booth was so friendly, professional and efficient. She got us sorted out very fast and in no time we were ready to go. Theater is small and you can see very well from anywhere you are sitting. We got amazing spots right in the front line but even if were not in the front, we wouldn't be worried about. The cocktail waitress was fantastic and we did not have to wait long for our drinks. Gerry is amazing professional, smart, charismatic, funny and very talented. Time flew and we were very impressed with his tricks. Sure recommend this show.
April 2015
Fascinating show, had a great time it was a nice break from the hustle and bustle of the strip

KDubb United States of ...
April 2015
Mind-blowing! I cannot figure out how he was able to read my mind! This show is great for believers and skeptics because everybody leaves entertained and amazed! I was a skeptic before this show and now I am a definite believer that mind reading is real!
April 2015
This show was amazing, it was funny, mysterious, overall an mysterious experience. Gerry really leaves you wondering how is that possible??? Going to get the book and figure it out.
Destiny USA
April 2015
Mentalist was extremely insane! Even though he tells you how he does it, it's crazy how on point he is!
Special Offer
$62.68 Save $27.69
Advertisement
Advertisement