Special Offer
Price displayed includes a 9% discount off the local admission price! Book ahead and save!
Immerse yourself in the gripping and gruesome stories of the mob's most notorious gangsters at The Mob Museum in downtown Las Vegas. Through engaging interactive exhibits, one-of-a-kind artifacts and theater presentations, delve into the lives of Al Capone, Whitey Bulger, John Gotti and other infamous criminals from Vegas to Chicago to New York, and learn about the FBI and law enforcement's daring victories over organized crime.
Highlights
Admission to The Mob Museum in Las Vegas
Learn about famous mob gangsters including Al Capone, John Gotti and Bugsy Siegel
See the actual wall used in the St Valentine's Day Massacre
Discover how law enforcement has brought down Mob operations

View the courtroom where the historic Kefauver committee hearings on organized crime were conducted

Listen to real FBI surveillance tapes and take part in FBI weapons training

Recent Photos of This Tour
What You Can Expect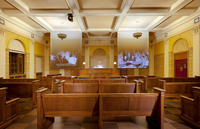 Prepare yourself for a fascinating, no-holds-barred look at organized crime at The Mob Museum, just two blocks away from the Fremont Street Experience in downtown Las Vegas. Your ticket gives you all-day admission to this comprehensive three-story museum, located in a former federal courthouse building listed on the National Register of Historic Places.

Through multimedia presentations, interactive touch screens, photos and one-of-a-kind artifacts, you'll unveil the darkest secrets of famous gangsters including Al Capone, John Gotti and Whitey Bulger. You'll also discover how deeply Las Vegas has been influenced by organized criminals such as Bugsy Siegel, who developed the Flamingo casino -- one of the first on the Las Vegas Strip.

Learn about the mob's operations in drug and human trafficking, wiretapping and kidnapping, and hear about the courageous efforts of those who have fought to bring mobsters to justice, including Eliot Ness, Estes Kefauver and Joe Pistone (also known as Donnie Brasco).

See the wall against which seven mobsters were lined up and executed in the notorious St Valentine's Day Massacre; the barber chair Gambino family crime boss Albert Anastasia was sitting in when he was murdered; and the courtroom where one of the Kefauver hearings on organized crime was held in 1950, when the museum building was still a federal courthouse. You can also listen to real FBI surveillance tapes and take part in FBI weapons training!

Note: Due to the graphic nature of the subject material, this museum may not be suitable for everyone. For parents of children under 12, discretion is advised.

LindaTMK United States of ...
December 2015
This is a must-see attraction. There is so much to see so plan on spending at least several hours there. Parking is 5.00. And you can leave your car there snd stroll down to Fremont street just a few blocks away. A great experience.
November 2015
Great Museum it was done very well. If your into Mob history this is a must!! It is very extensive and you should plan on 2-3 hrs minimum.
September 2015
Well done, lots of interesting facts about mob activity
August 2015
The Mob Museum is, in my view, one of the most interesting places to visit in Vegas. It is a journey through mob and crime fighting history. Also, a journey through America's, Hollywood's and Vegas it's murky past. The museum is not only educational but also fun and entertaining. Highlights are participating in a police training simulation game, getting yourself photographed in a police lineup and attending mafia hearings. Visiting is highly recommended.
August 2015
A 3 floor Museum full of lots to see and films to watch.Staff very friendly. You are given a paper bracelet to wear and can leave the museum and re enter free that day with the bracelet.
July 2015
The Museum Was Very Educational And Interactive. I Really Enjoyed It!
June 2015
We had an awesome time, it was our first trip to Vegas. We will go again

Cutie Repolinos Brazil
June 2015
The Mob Museum is a must-see in this town. Being Las Vegas a place that doesn't cherish its past, renewing itself every couple of years, it is a surprise to cross your path with a museum like this: from the original building to the artifacts displayed, a lot of History is being told in there. Very engaging and interactive, this museum will enlighten you about many things we see only in movies.
Anonymous
June 2015
My wife and I visited last week the MOB MUSEUM. It was a tour through the history of the Mafia in the United States during the 20th century. Mafia story I knew superficially through the videos, however, when I saw photos of members of "families" of enemy killed is possible to feel the intensity of the moment.

May 2015
Brilliant. Very interesting and you also get to take a mugshot photo.
Easy to get to and very near the Fremont Shops.
Special Offer
$21.95 Save $0.06
Advertisement
Advertisement