Special Offer
Price displayed includes a 8% discount off the local admission price! Book ahead and save!
Discover the scandalous stories of the mob's most infamous gangsters at the Mob Museum in downtown Las Vegas. Explore the fascinating interactive exhibits, artifacts and digital experiences, learning more about the lives of Al Capone, Lucky Luciano, J. Edgar Hoover and many other criminals from Sin City and beyond. See the St. Valentine's Day Massacre wall, a Tommy gun, the Nevada gas chamber chair and much more. Then find out how law enforcement brought down Mob operations throughout the years — all inside this world-class history museum.
Highlights
Admission to The Mob Museum in Las Vegas
Learn about famous mob gangsters including Al Capone, John Gotti and Bugsy Siegel
See the actual wall used in the St Valentine's Day Massacre
Discover how law enforcement has brought down Mob operations

View the courtroom where the historic Kefauver committee hearings on organized crime were conducted

Listen to real FBI surveillance tapes and take part in FBI weapons training

Recent Photos of This Tour
What You Can Expect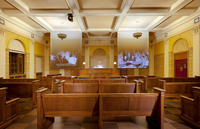 The Mob Museum, officially known as the National Museum of Organized Crime and Law Enforcement, is located on Stewart Avenue in downtown Las Vegas, just two blocks from the popular Fremont Street Experience.
This all-day admission ticket provides access to this comprehensive three-story museum, located in a former federal courthouse building listed on the National Register of Historic Places.
Enjoy a world-class, interactive journey from the birth of the Mob to today's headlines. This authentic, eye-opening view of organized crime's impact on the world, reveals an inside look at the events and characters in the ongoing battle between the Mob and law enforcement.
Real-life stories are presented with three floors of engaging, multi-sensory exhibits and unparalleled insights from those on the front lines of both sides of the battle. The Mob Museum offers a provocative, contemporary look at this fascinating topic through hundreds of artifacts and immersive storylines.
Enter a virtual environment modeled on training for law enforcement personnel. Discover how organized crime has changed and how law enforcement has brought down the Mob over the years. Peruse the Wall of Infamy, featuring famous mobsters like Al Capone, Lucky Luciano, J. Edgar Hoover, John Gotti and many more — 100 years of 'made men.' And that's only on the first floor.
Further along, learn about the Kefauver Hearings and see the courtroom that put businessmen, politicians and mobsters on the proverbial hot seat. Discover a Las Vegas mobsters described as 'open' — for gambling and profits, that is. Find out about Jimmy Hoffa's friends in the Mob. See the Mob's involvement in the assassination of a president. And so much more.
Finally, no trip is complete without a souvenir photo as a suspect in a police lineup.
Note: Due to the graphic nature of the subject matter, the Mob Museum may not be suitable for children under 12. Discretion is advised.
June 2016
I learned so much history regarding the beginnings of the Mafia and its involvement in so many aspects of our society today. I recommend it highly when your in LV.
June 2016
really interesting museum enjoyed it very much would definitely recommend it

May 2016
Great museum it's a mutual for anybody visiting las vegas,very informative.
May 2016
Excellent guide, very informative.
May 2016
So much information! Too bad it is all crammed in there and nobody was in costume
April 2016
As a history buff, I found this tour absolutely fascinating. It was fast moving and never dull. I will attend again when in the Las Vegas area.
April 2016
Had a excellent time learning all the history.
Pacenza Australia
March 2016
March 2016
it was cool to see all that stuff about gangs and killing.

LindaTMK United States of ...
December 2015
This is a must-see attraction. There is so much to see so plan on spending at least several hours there. Parking is 5.00. And you can leave your car there snd stroll down to Fremont street just a few blocks away. A great experience.
Special Offer
$23.95 Save $2.06
Advertisement
Advertisement