Special Offer
Book and travel by July 31, 2016 and save between 13% to 36% on any flight options compared to the local operators price!
Want to fly like a fighter pilot? Stop dreaming and climb aboard a stunt plane on this thrilling fly or ride adventure near Las Vegas. Choose from one of four different flight possibilities, then strap in and get ready for the ride of a lifetime — from an adrenaline-pumping sightseeing experience over Sin City to an aerial dogfight, or something in between. It's the ultimate Las Vegas adrenaline rush. Hotel pickup and drop-off included.
Highlights
Top Gun and Air Combat experience

Experience what it's like to be a fighter pilot

You'll do basic low-level maneuvering, basic aerobatics including loops, rolls, stalls and more!

Why Our Insiders Chose This Tour
A must-do for adrenaline junkies! You'll experience all kinds of awesome stunts in a top-of-the-line plane and can purchase a video reminder of your flying prowess!
Recent Photos of This Tour
Top Gun and Air Combat Experience
What You Can Expect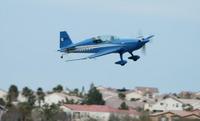 After a hotel pickup, make the 20-minute drive south from the Las Vegas Strip to Sky Combat Ace near the Henderson Executive Airport.
Sky Combat Ace (SCA) is the world's most extreme aviation attraction. Choose to go along for an adrenaline-pumping sightseeing ride or get behind the controls and fly the fighter jet (with the supervision of a highly trained SCA fighter pilot, of course). It's easy to become the pilot, pulling Gs and squeezing the trigger to 'get the kill.' Best of all, there is absolutely no flight experience necessary.
To begin, select a flight path. Want to perform aerial tricks like in an airshow? How about challenging friends in an aerial dogfight? Maybe an unforgettable sightseeing experience? Can't decide? Pick a great combo package and get the best of the bunch.
Let's talk aerobatics. Operation Recon is for those who might be feeling a bit of trepidation or simply want to see what the Extra 330 monoplane can do. This is a great way to test the water. The Afterburner is like a roller coaster without the rails, full of non-stop spins, rolls, loops, tumbles and heart-pounding action. Experience a full aerobatic airshow routine — from inside the plane. Finally, the Top Gun experience is designed for those who want to get serious about aerial thrills and fly the plane through a complete aerobatic routine. This one's not for the faint of heart.
For those thrill seekers who want the Air Combat experience, upgrade to wage a battle for aerial dominance where there can only be one victor. Climb aboard and fly the plane with a trained SCA fighter pilot. This is the real deal.
June 2016
Amazing experience and worth every penny! If you crave a good adrenaline rush all while trying something very few people in the WORLD ever get to do, than this is your thing. Getting to actually pilot the plane through acrobatic stunts is something i will never forget. Thanks to all the guys at the ACE team!
April 2016
This was the most awesome experience of my life. Being in the front seat of that plane just for the ride was cool, but when you get the chance to repeat the stunts flying the plane yourself, Man you just can't top that. Thank you for an experience of a life time.
D.Smith

April 2016
My experience was awesome and exhilarating!!! I did the Afterburner experience but after doing that I wish I would have upgraded to the Top Gun experience. The staff was awesome and friendly and the pilots are great! This was the best money I ever spent and was well worth it!!!!
April 2016
My husband and I have an absolutely great time!
February 2016
Loved it! I did the afterburner flight. Want to go back and do the combat flight. Unbelievable experience! Beginning was a little disorganized and we didn't get the official pre flight discussion due to the tours being backed up due to fueling issues. The flight and the pilots were awesome!! Staff was exceptionally friendly and Rodney was fun to talk with on the trips to and from the flight hangar.
November 2015
November 2015
Great staff on site, very friendly and let me walk the hanger and chat with the mechanic. Easily a top experience in Vegas and if you have the extra breathing room on money get the bigger packages well worth the fun of flying the plane!
November 2015
Had a blast! Best experience of my trip to Vegas.

October 2015
I don't use the term 'awesome' but this actually was !!! One of the best experiences, if not the best, I have ever had and I have had a few.
Eric United States of ...
October 2015
This was hands down the most exhilarating experience of my life. It puts any amusement park ride or roller coaster I have ever been on to shame. The handling capabilities of the Extra 330LC are incredible. I would recommend this to anybody looking for a memorable once in a lifetime experience. Simply amazing.
Special Offer
$299.99 Save $100.00
Advertisement
Advertisement