23 Reviews
Location:

Las Vegas, Nevada

Duration:

Varies
Take a break from the glitz of Las Vegas and escape to the gorgeous natural scenery in Valley of Fire State Park with this morning or afternoon hiking tour. Marvel at petrified wood and 3,000-year-old American Indian petroglyphs as you take an easy, moderate or difficult guided hike through Nevada's oldest state park. During your 4-, 5- or 6-hour tour, you'll also pass through the Moapa River Indian Reservation and catch sight of Lake Mead. This small-group tour is limited to 13 people to ensure more personalized attention from your guide.
Highlights
Hiking tour of Valley of Fire State Park from Las Vegas

Choose an easy, moderate or difficult guided hike among the red rock formations and petroglyphs in Valley of Fire State Park

Tour the Valley of Fire State Park visitor center and shop for duty-free products at the Moapa River Indian Reservation

Keep your energy up with complimentary snacks and water

Hotel pickup and drop-off included

Small-group tour limited to 13 people for a more intimate, interactive experience

Recent Photos of This Tour
What You Can Expect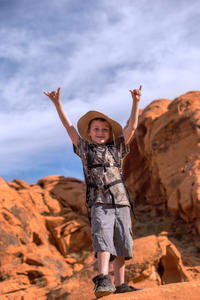 After pickup from your Las Vegas hotel at sunrise, in the late morning or in the early afternoon, travel by jeep or van 55 miles (89 km) to Valley of Fire State Park, the oldest state park in Nevada. On the way, pass Las Vegas Motor Speedway and Nellis Air Force Base. If you wish, you can stop at Moapa River Indian Reservation to shop for duty-free liquor, cigarettes and fireworks. As you approach the entrance to the park, you'll glimpse Lake Mead, the largest man-made lake in the United States.
Once inside Valley of Fire State Park, your friendly and knowledgeable guide leads you to the trailhead for your selected hike. (See options below.) During your 4-, 5- or 6-hour tour, your guide tells you about the geological forces — including faulting and erosion — that created the distinctive red rock formations. Hear about the various American Indian tribes that have called the park home for thousands of years.
You'll have periodic breaks to take photos of the gorgeous natural landscape and recharge with complimentary snacks and water.

Following your hike, take a short tour of the Valley of Fire State Park visitor center to learn more about the park before the hour-long drive back to your Las Vegas hotel.
Easy Hike
This hike is great for families and is suitable for all ages and fitness levels. An easy walk allows you to see some of the many ancient petroglyphs in the park.
Moderate Hike
This moderate hike takes you at a leisurely pace; a good level of fitness is required. Explore the dramatic red rock formations that give the park its name while you scramble and climb through boulders, crevasses, brush, peaks and plateaus.
Difficult Hike
More intense then the shorter hikes, this option is recommended for avid hikers. You'll cover more challenging terrain for the most captivating views!
September 2015
My tour with Love Hikes was awesome. Adam was my guide and he told me about the wildlife, the vegetation and was very knowledgeable. Amazing views and the sound of absolute silence when you sat still for a moment to rest and have a drink of water. which was frequent!
August 2015
My husband and I did the moderate hike with Dan the tour was amazing, really well thought out, loads of information and the park is breathtaking! Dan has a real passion for what he was doing and clearly loves the area. He regularly checked on everyone within the group and made sure we all kept well hydrated and provided regular snacks. The hike was documented with a gopro camera by Dan and we all have a link to the photo's of our very special day this was a lovely touch. We will be returning when we are in Vegas again to do the more advanced hike and would highly recommend this tour!
August 2015
Beauty away from the Vegas strip! Our guide Adam was awesome. He took us off the trail to see what the park really had to offer. The sights and the peace and quiet were awe inspiring! This is a must when in Vegas to get off the stripe and into nature!
July 2015
Brilliant Tour, Guides were very knowledgeable about the area and flexible on route and difficulty of the activity. Great bonus is they take photographs for you and email them to you.
June 2015
This tour was more than I was expecting, which was great!! Adam, the tour guide, did an excellent job of taking the group off the path and pushing out comfort level without being unsafe. I treated my father to the tour, and wasn't sure he would like it. He ended up loving it! Go on this tour!
June 2015
JJ was a great guide. We saw a beautiful variety of terrain on our hike. He was expert at where our feet should grip. Thanks JJ for an enjoyable hike.
May 2015
This tour was fantastic! Adam for Love Hikes picked me up at my hotel and dropped me back off there. Took us off the beaten track once at the Valley of Fire and let us enjoy nature without hoards of tourists. He was informative as though out walking with a friend rather than a guide I met that morn
April 2015
what an incredibly AH-MAZING experience this was! due to an excessive amount of birthday fun, we actually had to cancel our first attempt at this hike in february and reschedule when we came back in april. and let me just tell you, the owner, jacob, was SO accommodating and helpful about it. it certainly affirmed why we booked with them in the first place. :o. we were rescheduled and went on a lovely hike with our hike expert, adam, through an area of the valley of fire called the white domes. it was GORGEOUS. simply BREATH-TAKING. and even though we had booked for the easy tour, adam made sure to push our comfort zones and took us off trail to be able to view magnificent sights we otherwise would not have seen at all. my husband and i are EXTREMELY happy with this tour and would book again in a heartbeat! .
April 2015
WOW...what a day!! This was the highlight of my Vegas trip. I knew I was in for a treat when I booked this hike, and I was not wrong. It surpassed all of my expectations. Adam, our guide made us feel at ease right from the start, always making sure we were well taken care of and comfortable with what we were doing. He brought us to areas that I would NEVER have experienced on my own. Afterwards, I went on to visit the Grand Canyon and as magnificent as the Canyon was, the Valley of Fire hike was where my heart stayed. What a beautiful and magical place!!! Thank you Love Hikes and Adam for a fantastic and memorable experience.
Nadine
April 2015
I have been to Vegas many times but this time sure was the most memorable and a great contrast to the glitz of The Strip. Adam took myself and another fellow Canadian hiker to Mouse's Tank and White Domes for a day of awesome hiking! The landscapes and vistas were just breathtaking and gorgeous. Adam also shared a lot of history and facts during our hikes. We must have been his lucky charms that day as we saw so much wildlife apparently quite rare during our hikes. We saw a young bighorn sheep, many different birds and lizards, a desert tortoise and a Gila monster but no badger LOL and luckily no rattlesnakes! Love Hikes is a great tour company and guides like Adam are what makes their tour the best. He was very knowledgeable and customized the hike to each person's abilities. I wouldn't hesitate to recommend this tour to others and will probably go again when I visit Vegas in the future. Thanks so much, Adam and Love Hikes! You guys rock pardon the pun!
Advertisement
Advertisement