On the outskirts of Vegas, once the neon lights fade and the sound of traffic is replaced by the rush of the wind, the Valley of Fire is a geologic wonder that's best explored on two feet. On this Valley of Fire hiking excursion, marvel at Native American petroglyphs that are believed to be 3,000 years old, and enjoy the multihued desert scenery in Nevada's oldest state park. You'll also pass Lake Mead and the Moapa Indian Reservation. This small group tour lasts either 4, 5, or 6 hours — depending on the difficulty of hike you choose.
Highlights
Hiking tour of Valley of Fire State Park from Las Vegas

Choose an easy, moderate or difficult guided hike among the red rock formations and petroglyphs in Valley of Fire State Park

Tour the Valley of Fire State Park visitor center and shop for duty-free products at the Moapa River Indian Reservation

Keep your energy up with complimentary snacks and water

Hotel pickup and drop-off included

Small-group tour limited to 13 people for a more intimate, interactive experience

Recent Photos of This Tour
Valley of Fire Hiking Tour from Las Vegas
What You Can Expect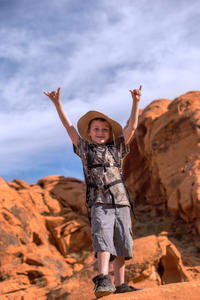 Depending upon which option you choose, this Valley of Fire hiking tour either leaves Las Vegas at sunrise, or later in the day in the late morning or early afternoon. Once you meet with the rest of your group, which won't exceed 13 people, you'll leave the lights of Vegas behind and begin to commune with nature, as your travel 55 miles (89km) out into the wide open desert.
Along the drive, you'll pass the Las Vegas Motor Speedway as well as Nellis Air Force Base, and if you're so inclined, you can also make a stop at the Moapa Indian Reservation to pick up some fireworks, liquor or cigarettes that are completely duty free. Not far from the entrance of the park, you'll be able to see the shimmering waters of Lake Mead out in the distance, which is America's largest man-made lake and a marvel of modern engineering.
When you enter the Valley of Fire State Park, your guide will explain the area's history as well as its fascinating geology, and lead you to the trail head of whichever hike you've chosen from the options below. Over the course of the trek through the park, learn about the erosion and seismic fault lines that have created the rugged terrain, all while surrounded by a surreal landscape of enormous, deeply red rocks. For thousands of years, Native American-Indian tribes have lived and survived in this landscape, and your guide will offer some fascinating insight to their legends, history, and myths, as well as point out some ancient petroglyphs that have been here for 3,000 years.
Water and snacks are provided for the hike, and once you've conquered the dusty trail and soaked up the epic beauty, you'll have the chance to explore the Valley of Fire official visitors center, where informative placards provide even more educational background on the park. On the hour-long car ride back to Las Vegas, rest your legs and watch the scene slowly change outside the window, as the windswept desert slowly gives to the glitz, glamor and lights.
Easy Hike:
This option is the perfect choice for families and travelers of all ages and fitness levels. On this easy stroll, it's still possible to see a number of ancient petroglyphs.
Moderate Hike:
Even though this hike is at a leisurely pace, it still requires a decent degree of fitness for scrambling across boulders, plateaus, and peaks amidst the reddish brown rocks.
Difficult Hike:
This strenuous option is for avid outdoorsmen in search of the park's best views, and is much more difficult than the easier two hikes—given the level of terrain.
June 2016
Daniel was an excellent tour guide!
April 2016
Very awesome!!! I would do it over and over again. Daniel, our guide, was very nice and he even took our pictures!!! So, we had plenty of time to make memories.
April 2016
Fantastic! Our guide Dan was incredible. we dd the strenuous hike and although we didnt't find the hike that challenging, the scenery and route were incredible. Dan was a fountain of knowledge on the local terrain and generally a really interesting guy and an excellent guide. I feel like I saw so much more than I would have on my own.
JC United States of ...
March 2016
What can I say about this tour? It was personalized and well-paced and included a very passionate guide. Our guide Dan picked us up from our Vegas hotel and was like our personal guide for the hike even though there were 3 others with us.
The good:
the hike in the park. Parts of it reminded me of Joshua Tree. Parts of it reminded me of Zion. All this within an hour of Vegas!
The awesome:
Dan was great. He was enthusiastic about nature. He also took great photos of us. I got a lot of fantastic action shots of me and my girlfriend...something I can't get normally.
The warning:
We went on a moderate hike and it was quite active. We went off the beaten path and there were lots of climbing on rocks, over rocks, and under rocks. Some couples were slower and needed frequent stops for breaks. In mid-March during the middle of the day, it got quite hot. Keep that in mind.
March 2016
This tour was exactly what was advertised. I highly recommend Love Hikes. John did a great job leading our group. Loved it.
March 2016
Better than we could have imagined! Jacob was an awesome guide!
February 2016
Excellent guide I got to hike with Moshe and a small company that chooses to do great for its customers. I thoroughly enjoyed the day's activity. Chose the 'Easy' for reasons of time, but happened to be the only one on the tour that day and Love Hikes didn't even cancel - I got a personal hike and tour!.
Moshe offered to do the 'Difficult' route for me in the same time as the 'Easy', hence I got to do the rarer trails, where I got some tough terrain and unique spots and far-off-the-tourist-path sights. I loved the challenge and Moshe was very knowledgeable about the different species of shrubs, Native American carvings/hieroglyphics and desert scape. I'd recommend this to anyone and everyone that wants to do something other than just walk the strip.
December 2015
My wife and I are avid hikers and this advanced hike was excellent. Great vistas. Our tour guide Daniel was top notch. Highly recommended.

December 2015
Great hike, great guide, worth every penny!
November 2015
Great tour! Would do again!
Advertisement
Advertisement