Get married in a setting that's as beautiful as your love affair with this Valley of Fire Wedding by Private Limousine. Enjoy the luxury of limo service, the services of a professional photographer and the convenience of someone else planning all the details with this worry-free tour. All services and license fees are included to ensure that your red rocks marriage is exactly as you'd imagine.
Important Note: Each booking must have 2 people only.
Highlights
Get married at the Valley of Fire

Transport by private limousine
Perfect setting for an outdoor Las Vegas wedding

Recent Photos of This Tour
Valley of Fire Wedding by Private Limousine
Getting Married by Johnny Cash

Photo by: The Princess in Bellville

United States of America,

11

2009
What You Can Expect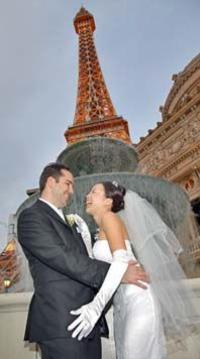 Your big day Valley of Fire Wedding by Private Limousine kicks off with private pickup from your Las Vegas hotel and a quick stop at the local courthouse. Collect your marriage license and proceed to the Valley of Fire on a scenic 45-minute drive. These stunning red rocks will serve as the impressive backdrop to your romantic ceremony, which will be captured by a professional photographer who will snap 100 pictures at various scenic locations. With plenty of ways to personalize your big day, this tour ensures all your Las Vegas wedding dreams are a reality!
You have the option to also include a professionally filmed DVD of your ceremony, and one of the following photo tour packages:
One hour: One hour limousine photo tour with two stops on the strip
Two hour: Two hour limousine photo tour with four stops on the strip
Please note: The listed price does not include fees for the Marriage License, $60.00 and Driver Gratuity, $75.00. The fee is required by our local supplier and is not within our control.
June 2015
Great time!!! Limo driver was very friendly and attentive. Photographer was awesome. Minister was nice and friendly. It was just my husband and I. but Viator had the entire production down from beginning to end. Wonderful Experience. I wouldn't change a thing! Recommend for sure !!!
September 2014
Everything was perfect !!! The chapel respected the couple of requests we had and provide us an outstanding service.We warmly recommend the Valley of Fire Wedding by private Limousine.
September 2013
This was absolutely perfect from start to finish! I can't think of one bad thing to say. Highly recommend. Very well organized!
July 2013
Me encantó todo! El fotógrafo todo un profesional y el chofer encantador! Fue una experiencia inolvidable. Gracias!
MEL N Canada
June 2013
The entire day from beginning to end was very professional. We were greeted at our hotel and driven to the courthouse to pickup the marriage license. We had staff waiting to direct us both in and out. The ride to Valley of Fire was pleasant and the photographer (Bobby) was unbelievable. He had us climbing rocks for the most beautiful photos (over 250 photos). The pastor met us at the National park and the ceremony (just us) was something to remember! We had our champagne and drove back to Las Vegas where we took more pictures of the old Vegas sign. Also we were part of more pictures over looking New York New York and MGM Grand. We were then driven back to the hotel where we were given a small but delicious wedding cake and said our good byes. To anyone wanting to experience a well planned and professional day, this is one we both will cherish for the memory and for the photos. Thanks to all who were part of this. Maria and Mel

November 2011
The trip was everything I'd hoped for! The limo was on time, the driver was great (Chad) and went above and beyond accomodating my need for Static Guard (due to the low humitity my dress needed help) by stopping at Walmart on the way to the park. It was a very beautiful setting and the day was just perfect. The photographer told us it would take up to 2 weeks to get our disk and it took 3 days! The taste of the little cake was amazing and we all wanted more! The only thing they needed was a bottle opener for the limo, but we managed. :) I couldn't ask for a more smooth running trip by A Special Memory Chapel who was behind this package. I would easily do it over in a heart-beat. The only thing I didn't get was the certificate holder for our marriage license but I really could care less about that. Definitely consider doing this if you want everything taken care of and to be stress free on your big day! Thanks again for making our special day even more enjoyable by having your act together. Valley of Fire was breath-taking and I would have liked to sight see longer... maybe someday I'll return to do that.
Signed, Happy Bride from Indiana
October 2011
one of the best memories of our lives !!!!!

The Princess in ... United States of ...
February 2010
This was an amazing area to get married. Much better than the unromantic chapels along the strip. Our wedding photographs were the best with all the colorful scenery. The chapel went above and beyond to take care of our special request of having a Johnny Cash impersonator marry us. It was the best. Thanks to the staff for all your help and helping us complete our wedding journey by jumping the broom!
Anonymous
January 2010
A very very big Thank You for a memorable wedding day on 1st may 2009. John and I cannot compliment the staff more highly for making our day just perfect. We were made to feel really special, the DVD and photos are a wonderful memory of such a fantastic day. Thanks again!
Amanda W United Kingdom
January 2010
Even better than we expected! The Valley of Fire is such a beautiful place, very peaceful and romantic. The wedding company are brilliant and went the extra mile - we were unable to get our marriage license on the day, but they sent the limo for us again the following day to take us to the courthouse and then to meet the man who was just the best minister to make it all legal. Highly recommended, and we can't wait to see the photos.
Advertisement
Advertisement