18 Reviews
Location:

Las Vegas, Nevada

Duration:

8 hours

(approx.)
Journey back in time 3,000 years and discover the beauty and history of the Valley of Fire on this day trip from Las Vegas. Named for its red-colored rock formations, the valley was once the spiritual center of the ancient Anasazi Indians, a great early American civilization. Explore Valley of Fire State Park, the oldest and largest state park in Nevada, as well as the Lost City Museum's priceless artifacts and ancient Indian art. It's a spiritual- and wonder-filled adventure. Deli-style boxed lunch and Las Vegas hotel pickup/drop-off included.
Highlights
Tour of the Valley of Fire and Lost City Museum from Las Vegas

Visit the sacred Indian lands through the Valley of Fire

Stop at the Lost City Museum, one of the most complete collections of the early Pueblo Indians.
Deli-style boxed lunch is included

Complimentary hotel pickup and drop-off from Las Vegas hotels

Recent Photos of This Tour
Valley of Fire and Lost City Museum Tour from Las Vegas
What You Can Expect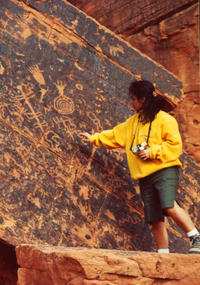 This 8-hour excursion to the Valley of Fire and the Lost City Museum begins with a Las Vegas hotel pickup. From the famous Vegas Strip, it's approximately an hour drive north to Valley of Fire State Park.
The aptly named Valley of Fire, well known for its red-colored rock formations, was once the spiritual center of the ancient Anasazi Indians, a great early American civilization. Valley of Fire State Park, the oldest and largest state park in Nevada, covers almost 42,000 acres. This National Natural Landmark gets its name from the red sandstone formations that were formed from great shifting sand dunes during the age of the dinosaurs. These features, which are the centerpiece of the park's attractions, often appear to be on fire when the sun's rays reflect off of them.
Then discover the Lost City Museum (formerly the Boulder Dam Park Museum), built over and around the foundations of ancient Anasazi Pueblo ruins. Look for priceless artifacts and displays of pottery, baskets, arrowheads, tools, plus mystical ancient Indian petroglyphs and pictographs.
Be sure to bring a camera. This combo tour of early Native American life is truly a photographer's dream come true.
January 2016
Enjoyed the tour and particularly liked Kevin, our tour guide, who was knowledgeable, informative and a very nice person. Any tour which he guides is in for good one.
June 2015
very professional Tour Guide, fascinating landscape, amazing Tour. Must see!!!
Many thanks again to the tour company to provide Gluten Free food during the Tour
May 2015
only five people on the trip, great guide who showed us a lot of great places to take pictures and fill us in on the stories of the area
March 2015
Very nice well done by the tour guide who was extremely knowledgable about the area.
October 2014
Our guide was superb - He knew history and interesting facts that were both pertinent to our trip, and interesting sidelights. The day was beautiful, the ride comfortable, the scenery stunning. I would recommend it to anyone - as especially our guide, Julian.
September 2014
From start to finish this was a fantastic tour. A nice small group, a very knowledgeable guide, the most beautiful scenery, stunning petroglyphs and even the museum at the end of the tour was fascinating. Well worth taking time away from the over-the-top man-made scene that is Vegas to remind yourself that nature created spectacles long before Man ever did!
January 2014
I think what made this such a great tour was our guide Charlene. She made the valley come alive for me and was so knowledgeable.
December 2013
This tour was wonderful, more beautiful than any pictures can begin to show. We spent the full day going back in time and the ages of time in the museum. The tour in the Valley of Fire was spectacular. Our guide was so very knowledgeable in providing the details of the area. She took us to favorite spots and helped us to see the drawings and petroglyphs. The colors were vibrant and it is fun to review our photos to remember our wonderful tour.
I highly recommend this tour when you are in the Las Vegas area.
October 2013
We loved this tour - Bill who was filling in for Charlene was brilliant picking us all up at the LV hotels and then off to VOF we went. There were a ttoal of 6 of us and Bill took us to the best spots, taking our photos and answering our questions. All in all, we saw a total of 7-8 sites at the VOF. I loved that you could get close and touch, feel, climb etc. We didnt think much of the museum but maybe that was just because we were tired after the long day and we were so wowed by the VOF but then thats just our opinion. You can get some nice souvenirs and good prices there and its tax free! However, we are rating the tour as a whole and have to give it 5/5
Rishi S United Kingdom
October 2013
This was the last tour of our 9 days in Vegas, and was definitely one to save for the end. We had an absolutely wonderful tour guide from Adventure Photo Tours - Charlene. We were in a group of 4 which made for an excellent private tour in the end; a German couple who were supposed to join us absolutely lambasted Charlene in the morning for being delayed by traffic for all of 10 minutes, and complained the vehicle was not what they were expecting. Despite being abused, Charlene kept her composure, calmly informed us what happened, and then got us on our way.
First stop was the lost city - so named because the construction of Hoover Dam meant Lake Mead flooded the area. However, with the water level in the lake dropping, the city was unearthed once again and became a prime site for investigating ancient cultures. There were pristine example of underground houses, as well as on-land dwellings, with a museum of thousands of artefacts excavated from the site. These ranged from pots and pottery to weaponry and even dinosaurs bones.
The Valley itself was the highlight of the trip though - stunning from every angle, pictographs scattered on rocks everywhere. Charlene was excellent in going above and beyond for the trip, stopping at many unscheduled locations to allow us to get the very best photos. She also knows the area inside out and can point out many things other guides would miss. We spent a good few hours driving around the valley, before heading back to the hotels for around 3pm.
Could not recommend this tour any higher for people interested in the Valley and ancient history - there's so much to see and do and if you get a guide like Charlene it'll be even more amazing!
Advertisement
Advertisement