133 Reviews
Location:

Las Vegas, Nevada

Duration:

Flexible
Lock and load and add some bang to your Las Vegas vacation with a unique shooting experience. Shoot with handguns, shotguns and semi-automatic rifles all before taking aim with a fully automatic machine gun! Expert instructors are on hand to help you out, and no shooting experience is necessary to join in the fun on the firing range.
Highlights
Enjoy a unique shooting experience in Las Vegas with this Viator Exclusive package

Shoot real automatic machine guns, handguns, rifles and shotguns

Instructors are certified Range Safety Officers

Voted the best firing range in Las Vegas by the Las Vegas Review-Journal!

Recent Photos of This Tour
Viator Exclusive: Las Vegas Gun Store and Firing Range Package
What You Can Expect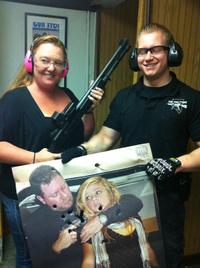 Upon arrival at The Gun Store, you'll meet your instructor, select your guns, and receive your ammunition and protective gear. Your instructor will lead you into the indoor firing range and load your weapon, set up your target, and explain how to use your gun. Your instructor will be by your side to answer any questions you have and to ensure your safety at all times.
With this package, you'll shoot one gun of your choice from each category:
Handgun (5-20 Shots)

Glock 19
Glock 17
Beretta M9
Springfield XDM9
Springfied XDM45
Sig Sauer P220
Sig Sauer P226
FN X9
H&K USP
H&K P2000
Ruger MKIII
Ruger SR9
Ruger P95
Smith and Wesson M&P9
Walther P38
1911
Dirty Harry .44 (5 shots)
Desert Eagle .44 (5 shots)
Shotgun (5 shots)

Benelli M4 12 Gauge
Remington 12 Gauge
Semi-Automatic Rifle (5-20 Shots)
AR-15
M1A
FAL
Beretta Cx4
Ruger 10/22 (20 shots)
Sniper Rifle .223 (10 Shots)
Sniper Rifle .308 (5 shots)
FNH SCAR
SKS
B&T TP9
K-98
AK47
Glock 17
M1 Garand
Fully Automatic Machine Guns (50 shots)

MPL
Madsen
MP40
Colt M16
MP5
Uzi
FPB
Sten
Suomi
Sterling
Thompson
Grease Gun
AK47 (25 shots)
M4 (25 shots)
October 2015
excellent, very well done. Enjoyed all of it.

August 2015
My husband and I truly enjoyed our time at the Gun Store. This was our first time there and we were both excited to be able to shoot! We will definitely go back to the Gun Store :
Overall thoughts: The welcoming staff was super friendly and knowledgeable. Our instructor - Ketzu was great! He was accommodating and patient with me since I'm such a newbie. They also have a free shuttle -- so if you are staying on the strip, give them a call first to see if they'll be able to pick you up!

July 2015
Excelente experiencia. Adrenalina a tope.
La instructora una genia.
Me encantó
July 2015
This was a great offer and we had an amazing time. The staff was phenomenal . We must do this again!!
Jimberley Canada
June 2015
Had a fantastic time! Shuttle service was prompt and courteous. Staff were friendly, helpful and very knowledgeable. This was our second time there and look forward to going again.
June 2015
Fantastic experience, never shot hand guns before but our coach was great.
June 2015
Great experience shooting several different guns. We also bought the 59 caliber which I would recommend. The viator package is a great deal compared to their regular prices if you have your own transportation.
June 2015
Shop was great - staff very friendly great fun well recommend
June 2015
The boys really enjoyed the shooting range. We were allowed to stand with them and watch and wished we had booked to do it.
June 2015
Advertisement
Advertisement