Visit Las Vegas' premiere indoor shooting range with a session at the world famous Las Vegas Gun Store. Take aim with the choice of a handgun (5-20 shots), shotgun (five shots), semi-automatic rifle (5-20 shots) and a fully automatic machine gun (50 shots). No shooting experience is necessary. Professional instructors are available to assist. Eye and ear protection plus a souvenir T-shirt are included.
Highlights
Enjoy a unique shooting experience in Las Vegas with this Viator Exclusive package

Shoot real automatic machine guns, handguns, rifles and shotguns

Instructors are certified Range Safety Officers

Voted the best firing range in Las Vegas by the Las Vegas Review-Journal!

Recent Photos of This Tour
Viator Exclusive: Las Vegas Gun Store and Firing Range Package
What You Can Expect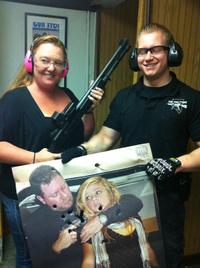 Upon arrival at the Gun Store, Las Vegas' premiere indoor shooting range for the past 25 years, meet the professional instructor to get things started. Then select from a wide variety of guns. The Gun Store has more than 60 types of firearms to choose from, including fully automatic machine guns, semi-automatic rifles, handguns and shotguns.
This shooting package includes time with a handgun, like a Glock, Beretta or Springfield (5-20 shots); five shots with a 12-gauge shotgun; a semi-automatic rifle (5-20 shots) and a fully automatic machine gun (50 shots). All ammunition and protective ear and eye gear are included.
Head to the indoor range and select a target — ranging from the standard bullseye and silhouette to the popular zombie, terrorist and hostage scenarios. The instructor will demonstrate how to properly and safely load and fire each gun — and answer any questions along the way.
June 2016

May 2016
Such en exhilarating experience! Your in very safe and knowledgeable hands. Well worth the money
March 2016
We had a blast! We did the package where you got to shoot a handgun I did the Dirty Harry and automatic I did the AK47 a shotgun can't remember which one, but it was 3 times the kick of the regular shotguns I'm used to. and an Uzi that was my dream going into this is shooting an Uzi. It was like slicing butter with a warm knife. You get to choose your targets I did the Zombie, Bad Guy, and Hump Day Camel I was shooting the Camel, and Sonny says, There are circled targets to shoot at. I told him, I know, but the camel's got to go! We even got a ride back to our hotel on their shuttle bus. I would definitely go back and do it all over again!
October 2015
excellent, very well done. Enjoyed all of it.

August 2015
My husband and I truly enjoyed our time at the Gun Store. This was our first time there and we were both excited to be able to shoot! We will definitely go back to the Gun Store :
Overall thoughts: The welcoming staff was super friendly and knowledgeable. Our instructor - Ketzu was great! He was accommodating and patient with me since I'm such a newbie. They also have a free shuttle -- so if you are staying on the strip, give them a call first to see if they'll be able to pick you up!

July 2015
Excelente experiencia. Adrenalina a tope.
La instructora una genia.
Me encantó
July 2015
This was a great offer and we had an amazing time. The staff was phenomenal . We must do this again!!
Jimberley Canada
June 2015
Had a fantastic time! Shuttle service was prompt and courteous. Staff were friendly, helpful and very knowledgeable. This was our second time there and look forward to going again.
June 2015
Fantastic experience, never shot hand guns before but our coach was great.
June 2015
Great experience shooting several different guns. We also bought the 59 caliber which I would recommend. The viator package is a great deal compared to their regular prices if you have your own transportation.
Advertisement
Advertisement