Special Offer
Price displayed includes a 25% discount off the local admission price!
Escape the hustle and heat of the Las Vegas Strip and spend the day slipping and sliding around Wet 'n' Wild Las Vegas, Nevada's premier water park. Located just 15 minutes from the famous Vegas Strip hotels and casinos, enjoy more than 25 slides and attractions for thrill seekers and families alike. For the daring, check out the Rattler or Constrictor. A more relaxing experience can be found at Paradise Falls or the interactive children's area with kid-friendly slides and a giant dumping bucket. Choose between a 1- or 7-day admission ticket.
Highlights
Visit Wet 'n' Wild Las Vegas, Nevada's premier water park
Enjoy more than 25 rides and attractions
Thrill-seekers can enjoy extreme water slides while kids can enjoy calmer, interactive play areas
Choose a 1-day or 7-day admission ticket

Recent Photos of This Tour
Wet 'n' Wild Las Vegas Admission
What You Can Expect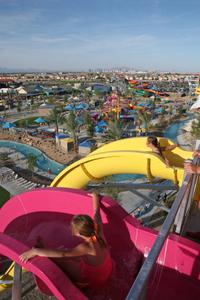 Bring your friends and family for some fun under the sun at Wet 'n' Wild Las Vegas, just 15 minutes west of the Strip. This epic water park's desert location makes it perfect for a cool, fun, refreshing experience.
Enjoy more than 25 exhilarating slides and attractions, ranging from extreme water slides with high-speed twists, turns and drops to family-friendly interactive play areas, where kids and parents can enjoy a calmer, more relaxing experience.
Spend one action-packed day at the park with your 1-day admission ticket or choose the 7-day admission ticket, giving you more flexibility to enjoy the park at your leisure over several days.
Itinerary
Wet 'n' Wild rides include:
Tornado
This four-person raft attraction catapults you from 36-feet (11-meters) in the air through a 110-foot (33.5-meter) tunnel before dropping you into the 45-foot-wide (14-meter) funnel where they spin back and forth through swirling water before plummeting into the eye of the storm. As the raft sweeps up the Tornado wall and crosses its centerline, experience weightlessness or zero gravity. With your raft almost vertical on the wall, you'll like they are about to tip over, but the curved funnel wall keeps you perfectly safe. After a series of these oscillations, you'll descend through a tube to the exit pool.

Rattler
Get ready to get rattled with this three-person ride experience. The Rattler will take you through a series of twists and turns as you make your way down the more than 360 feet (110 meters) of fun. It features two distinct 'rattles' that'll shake you and deliver sensational oscillations as you make your way to the splash down pool below.

Constrictor
Slip and slide your way into the belly of the snake as you take on the tightest and highest-banking turns in the world. Speed down the enclosed flume into a series of corkscrew turns on your multi-person raft, snaking back and forth in the series of spirals at speeds of up to 18 mph (29 kph). This action-packed slide offers an experience like no other!

Colorado Cooler
The Colorado Cooler is the perfect place to cool off in the hot summer sun as you float around the 1,000-foot (305-meter) winding waterway. Lie back and relax on your tube, but watch out for the occasional spray and splash features that add a cool and refreshing delight during your river experience.

Canyon Cliffs
Not one, but two ultimate thrill slides! The Canyon Cliffs experience begins more than four stories in the air. As the countdown reaches zero, riders plummet into a thrilling vertical free-fall.

Splash Island
Located in the middle of the Colorado Cooler, this awesome multi-level attraction weaves colorful, interactive elements throughout five fun zones and nine slides, and features a massive timed tipping bucket that spills 300 gallons of water onto eagerly waiting guests below. With more than 10,500 square feet (976 sq meters) of aquatic adventure, this playground is full of fun and fantasy. Now with heated water!

Red Rock Bay
Hit the surf at the giant wave pool to experience 3-foot-high (1-meter) swells in a tube, or body surf for the ultimate ocean experience. For a more relaxing venture, the wave pool is also the perfect lounge location with its gently rolling waves in the shallow end.

Desert Racers
From four stories high, the Desert Racers takes guests head-first on a racing mat down a six-lane downhill speedway. This 360-foot (110-meter) raceway launches you down the slides at speeds of more than 20 feet (6 meters) per second! Challenge your friends and family to the ultimate race on the Desert Racers.

Royal Flush Extreme
This is a high-stakes ride that lets you enter an enclosed tube before being dropped into a giant bowl. Fight the centrifugal forces as you swirl around the bowl before being flushed down the center of the tube and into the splash pool below. This revolutionary attraction leaves you flushed with adrenaline.

Hoover Half Pipe
This is a Category V river rapid experience! Combine the fun of whitewater rafting with an unexpected drop into the Hoover Half Pipe. Drop 57 feet (17 meters) before the raft goes vertical, shooting up the side of the Hoover wall and sending you back down as you experience sheer weightlessness before exiting into the calm waters below.

Zipp, Zapp, Zoom
Get ready for the ride of your life on the amazing Zipp, Zapp and Zoom slides. These adrenaline-pumping, multi-person tube slides are intertwined for maximum fun featuring dizzying drops, daring dips and tumultuous turns.

Slideboarding - The green slide of Zipp Zapp Zoom will feature Slideboarding, the world's first waterslide gaming experience. Slideboarding integrates the thrill of a waterslide with the challenge of a multi-level, multi-purpose game. Ride the Slideboard, hit your targets for points, and unlock new levels. It uses a smart gaming system that knows who you are and tracks your progress and
scores over your run down the waterslide!
August 2015
This is a good break from the LasVegas strip and the heat. Our best price was from Viator. Sometimes wet n wild will have specials for less but if planning ahead this was the ticket. You do have to picked the exact day you want to go which means you have to plan ahead but in our case we had a car for a couple of days and knew when we would be going. But the voucher worked seamlessly. Glad we went with viator
July 2015
August 2014
Wet and Wild Las Vegas was great. Not too crowded. The deal on tickets through Viator was great also. We saved $11 on each ticket, which helped out on cost as we had 10 of us that went.
July 2014
A great way to beat the heat. Hit the wave pool and lazy river first. Bring your own cooler with food and drinks and lots of ice. Leave it in the car, there is park on the property where you can eat, save your money. I want to go back.
July 2014
Very Nice! Such a Great Day!

JennyC United States of ...
May 2014
This is a great place to go on a hot summer day in Las Vegas! It is a 15 minute drive from the strip, but worth the ride.. Fun time for all..
Anonymous
August 2013
We had a great day at Wet n Wild. The entire park was very clean and inviting and the water was crisp and clear. Don't forget your water shoes or flip flops because the pavement is very HOT!!!! If you forget them like we did, the shop has a great selection of designs and sizes at a very reasonable price of $19.99. I still wear mine. Be prepared to wait in line for the rides, but the wait is worth it!! The rides are really fun. We rented inner tubes for our float down the Colorado Cooler and when we weren't using them, they would gladly hold them for us until we were ready to use them again. Their lockers were awesome!! Just put in your credit card, get a bracelet that will unlock your locker for as long as you need it and go play. DO NOT FORGET SUNSCREEN!!!!! Use it or burn. But, that's just common sense, right?
August 2015
It was enjoyable at Wet and Wild especially the lazy river, the bucket and the splash pool. I thoroughly enjoyed myself.
October 2014
BRilliant Park, but be aware that it is no longer on the strip and trying to get back to the strip was a game and a half. If you can it is best to drive.....
September 2014
Special Offer
$39.99 Save $10.00
Advertisement
Advertisement