Save some money and save yourself some hassle with this World Famous Drive-up Wedding in Las Vegas. You'll get 12 professional portraits of the big day, and get married quickly and conveniently on what's sure to be a memorable occasion! Each booking includes just two people.
Highlights
Get married at the world famous drive through wedding in Las Vegas

Unique Las Vegas wedding package includes flowers and professional portraits
Upgrade to the supersize package and private limousine transportation, a professional DVD of your ceremony and a novelty license plate are included

Recent Photos of This Tour
What You Can Expect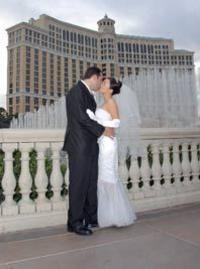 Who says weddings take forever to plan? With this world-famous drive-up wedding in Las Vegas package you'll get hitched in about the same amount of time it takes to order a cheeseburger!
After stopping at the courthouse for a marriage license, you'll make your way to the drive through window of this popular chapel where you'll receive flowers and a dozen professional portraits of your big day.
Opt fo the supersize package and enjoy round-trip limousine transportation, a novelty license plate and a professional DVD of the ceremony. One and two hour upgrades are available, which include either two or four stops on the strip for additional photos and fun.
Please note, price does not include a $50 minister fee, $60 marriage license cost or the driver gratuity of $35 for the supersize package. The basic option does not include limousine transportation or stops along the strip.
March 2016
Wonderful service. Better then I expected.
March 2016
Absolutely loved my wedding. Everyone was very nice and the pictures came out great. For 185 we got limo, pictures, DVD and bouquet of roses. Highly recommended.
March 2016
THEY DID A GREAT JOB. I WOULD HIGHLY RECOMMEND THIS

March 2016
We had a lovely wedding. The limo driver was amazing and treated us well, he let us know he was on his way to pick us up and as we were quick in the court house he took us on a tour of downtown Las Vegas before driving us to the chapel. The ceremony was lovely and quaint and unique. Very happy!
December 2015
We had a blast. Everyone was super nice and we got some great photos.....way easier than a Starbucks drive-thru and they didn't mess up the order. Only regret is not getting a photo of us doing a burnout in the drive-thru
October 2015
lovely ...would do it again
March 2015
October 2014
We had such an amazing day - limo transport - luxury, the venue is quaint, we wanted to do something completely different to renew our vows and it was certainly that. The minister was brilliant, the photographer at the venue very good and accommodating. We went on a photo tour afterwards which was brilliant as they take you to various locations for the pictures so you get to experience even more of Las Vegas. Highly recommended
October 2014
We found this to be a very professional service we were contacted by email to confirm all the details and on the morning of the wedding we were telephoned in our hotel room to inform us that the driver was on his way. He turned up well on time and took us to the office to register the wedding where he waited for us then took us to the special memories chapel. He was very polite and courteous. It was everything and more as it was advertised. I would recommend to anyone who is looking for a different wedding
August 2014
Everybody was very nice. A person from the tour company called us to make the arrangements. The driver also called us to make sure we had the schedule and the right place to be picked up. He was very nice and gave us some tips about places to visit. As we had requested, the minister spoke in Spanish. He was kind and respectful. We loved our wedding, only the two of us, but happy to finally tie the knot. I recommend it if you want something simple and willing to enjoy the moment.
Advertisement
Advertisement