Explore the east coast of Tasmania on a 4-day, one-way tour from Launceston to Hobart that introduces you to the natural and historical highlights of the region. Visit Wineglass Bay in Freycinet National Park, meet native Tasmanian devils, discover the UNESCO World Heritage–listed Port Arthur Historic Site and see the sights of Hobart, Tasmania's capital city. Three nights of accommodation and some meals are included. Tour is limited to 20 people.
Highlights
4-day Tasmania tour from Launceston to Hobart

Take a guided walk through Freycinet National Park to Wineglass Bay
Tour the historic convict colony of Port Arthur, a UNESCO World Heritage site
See Tasmanian devils and other native animals at Tasmanian Devil Unzoo
Go underground in Newdegate Cave and dip into Thermal Springs Pool at Hastings Caves State Reserve

Sample regional treats such as wine, beer, fruit and oysters
Tour limited to 20 people for a more personalized experience
Why Our Insiders Chose This Tour
You can walk among quolls and hand-feed wallabies at the Tasmanian Devil Unzoo. One of the highlights of visiting this reserve is the chance to watch the feeding of the Tasmanian devils and then learn about these misunderstood creatures and the threats to their survival.
Recent Photos of This Tour
4-Day Tasmania East Coast Tour from Launceston
What You Can Expect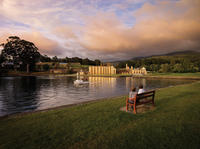 Your 4-day tour of Tasmania's east coast begins with departure from Launceston for the drive southeast to Freycinet National Park, home to one of Tasmania's most famous natural attractions, Wineglass Bay. Over the next few days, your tour continues to seaside villages, wilderness paradises like Huon Valley, and historical landmarks, most notably Port Arthur Historic Site on the Tasman Peninsula, part of the Australian Convict Sites World Heritage site. You'll end up in Hobart, where your tour concludes.

One night of accommodation at a lodge in Port Arthur and two nights at a hostel or hotel (your choice) in Hobart are included; breakfast is also provided, as well as a couple of lunches and a wine tasting. Throughout your tour, learn about Tasmania's history and culture, from former convict colonies to a gourmet food scene, from your knowledgeable guide.
Itinerary
Day 1: Launceston — Port Arthur (L)
Begin your day by traveling to the seaside village of Bicheno to see Bicheno's Blowhole and learn about the local population of little penguins. Then head to Freycinet National Park where rugged hills meet white-sand beaches and the sea. Take a leisurely walk along the coast to a lookout point over Wineglass Bay, then head down to the water. You'll also visit the Cape Tourville boardwalk and lighthouse, where you might spot migrating whales. At the end of your day in the national park, drive through a famous food and wine region to Port Arthur. Stop for treats such as handmade ice cream and fresh oysters before arriving at your lodging for the night. Have the option to take a spooky ghost tour (own expense) of the Port Arthur Historic Site, an infamous 19th-century penal colony.

Accommodation: Private lodge in Port Arthur

Day 2: Port Arthur — Hobart (B, L)
In the morning, check out amazing rock formations at Remarkable Cave and Maingon Lookout. Then visit UNESCO World Heritage-listed Port Arthur Historic Site. On a guided walking tour that includes a short boat ride, learn about the harsh conditions in Port Arthur's penal colony, then have time to explore some of its 35 historic buildings. Upon departing Port Arthur, stop at the nearby Tasmanian Devil Unzoo, a conservation park with quolls, wallabies (pademelons), birds and Tasmanian devils. Enjoy close encounters with native animals and hear about the efforts to save the Tasmanian devil population from a deadly disease. Afterward, drive along the coast and admire some of the highest sea cliffs in Australia, stopping for an easy walk to Tasman Arch and Devil's Kitchen. Then continue your drive through quirky Doo-Town and stop at Richmond, a village that is home to Australia's oldest bridge and Catholic Church. Hear about Richmond's convict past, then visit a vineyard for a wine tasting (optional and at own expense) before ending the day in Hobart.

Overnight: Hobart hostel (dormitory/shared room) or a Hobart hotel (private room)

Day 3: Around Hobart (B)
Start the morning by walking through the treetops at the Tahune AirWalk. Suspended above the ground, follow a path that winds through the canopy at a height of up to 131 feet (40 meters), then cross a swinging bridge over the Huon River while enjoying the pristine forest and mountain landscape. In the afternoon, visit the highlights of Hastings Caves State Reserve. Bring your swim gear for a dip in Thermal Springs Pool, a swimming pool filled with warm natural spring waters. You can also meander along a nature trail to a place where the warm and cool waters meet. Then continue to Newdegate Cave for a walking tour with a National Park guide. Admire spectacular cave chambers as you walk through the caves. Afterward, return through the Huon Valley with stops to sample seasonal fruits such as apples, cherries and apricots.

Overnight: Hobart hostel (dormitory/shared room) or a Hobart hotel (private room)

Day 4: Hobart (B)
Explore Hobart with your guide, beginning with a city sightseeing tour that explains Hobart's history, including its role as a remote outpost of the British Empire in the early 1800s, and the importance of the Derwent River and Southern Ocean. Then head up Mt Wellington, which towers over Hobart. At the summit, located 4,163 feet (1,269 meters) above sea level, enjoy sweeping views over the city and much of southern Tasmania. Learn about the mountain's history, geology and significance to the local aboriginal people. Then wrap up the afternoon with a visit to Cascade Brewery, which has been brewing great beer since 1832. Take a tour of the factory then enjoy a tasting of their brews, taking in the surrounding gardens and views of Mt Wellington. Your tour concludes in Hobart in the early evening.
December 2013
Awesome trip!
Luckily, the weather was all sunny and good during the 4 days. it was raining heavily in the previous days!
The package had lots of amazing sightseeing, hikes and some wildlife encounters!
The tour guide was very friendly and experienced. he's been travelling around Australia and the world for some time! he has a lot of knowledge and experience!
The trip was been better than I expected and it's always fun to travel around Australia, experience their cool nature and meet new friends from all over the world!!
Thumbs up for this great package!
December 2013
I really enjoyed my tour with Wayoutback Australia despite Tassie's unpredictable weather. Touring with a small group is friendly and the casual nature of this tour allows everyone to mix in and get involved. Hightly recommend Annabelle as a tour guide, warm friendly down to earth and genuine with great stories to share
March 2014
Great tour of the east coast. First time to Tassie and was not disappointed with what i got to see. Great people on the tour (was a small tour which was nice aged from 20 to +60...i was the second oldest at 35) and good tour guide. I had the hotel rooms instead of the dorms and they were really good rooms - recommend to do that if you are not into the backpacking/share dorms kind of thing. The only disappointing thing was that you had to cook/make your meals and then clean up with everyone - wasn't expecting that. Also be aware that you do some hiking so good walking shoes are a must. But I definately rate this tour.
February 2013
The trip was pretty spectacular, I would have preferred to do more of the walking tracks rather than spend so much time at the devil farm or at the hostel, probably geared for younger people than me!
April 2016
I am really disappointed after joining this tour. I want to complain about the maximum number of the tour are supposed to be under 20 and stayed in a dorm of 6 as stated in the tour guideline and yet there are 23 people including 21 girls and 2 boys in a shared the accomodation. With most of the females and it took a long time to queue up for toliet and stuff. We need to change different guide when it came to Hobart. The guides are friendly and tried to be considerate but he need to take care a over-sized or big group, it was not an easy task. We had a lot of picking up and transfer or dropping off along the way as there are a tour from different packages. It took time and our time for visit had to cut short. As an international traveller, we came a long way from our city and really want to enjoy a bit of the nice environment of Tasmania. We are really disappointed. Besides, the first nights, we need to stay in a hostel next to a cemetary and as we are nearly full-house. One of the rooms were no lighting and it was out of order. When we stayed in Hobart, we were arranged to settle in a hostel of mixed dorm, actually when we joined the tour and we sent our request of female dorm and the the mail confirmed our request twice before we finally joined the tour. They promised they will arrange it but When we arrived the hostel, the reception said no such arrangement was sent by the operator before hand. At the end, we need to pay extra to change to another room though at the end they paid back the difference for us. To be honest, we had to handle and deal with the hostel ourseleves for hours which ruin our mood and waste our time. I have to say the main problem is the tour take up more than a normal tour can handle. The guides are really nice and funny but catering more than they can take up is another matter. I think it is the fault of the tour operator and did not meet our expectation.
April 2015
Your person wrote ans said she hadnotbenouhntravelersvajndvshek was putting me with another group. Your trip had many meAls the neW trip had only breakfast which was ?at one location two pieces of bread. Disappointing. The travel van was old and truly on regrouped and dirty As well as uncomfortable
Advertisement
Advertisement