Go deep into the pristine Tasmanian forest, and experience a remote wilderness of waterfalls, glacial lakes, rainforest and wildlife on this day trip from Launceston to Cradle Mountain-Lake St Clair National Park. Inside the World Heritage–listed park, take walks through the forest and admire views of the craggy peak of Cradle Mountain towering above Dove Lake. You'll also stop by attractions like the Ashgrove Cheese Farm for a taste of regional culinary delights.
Highlights
Explore the beauty of Cradle Mountain on this full-day tour from Launceston
Includes Cradle Mountain-Lake St Clair National Park entry fees

Enjoy plenty of photo opportunities of the rainforest, waterfalls and Dove Lake

Informative and friendly guide

Recent Photos of This Tour
Cradle Mountain National Park Day Tour from Launceston
What You Can Expect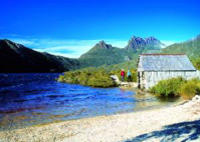 Your day trip to Cradle Mountain-Lake St Clair National Park, part of the Tasmanian Wilderness World Heritage Area, starts as you depart Launceston by coach, traveling past the mountains bluffs of the Great Western Tiers and by the towns of Carrick, Hagley, Westbury and Deloraine. As you continue west, stop in Sheffield, the 'Town of Murals,' and enter a landscape of dense forest and mountainous terrain.

Cross Cethana Dam, and watch for wildlife like wombats and wallabies when you reach the national park, where you'll stop at Cradle Village Cafe for lunch (own expense). Then visit the Cradle Mountain Visitor Centre for an introduction to the park before setting off on the Enchanted Forest Walk, a short stroll that provides views of the lush forest and a waterfall. Gaze at a majestic view of Cradle Mountain reigning over Dove Lake, and take a walk around the lake for more perspectives of the mountain (weather permitting).

Before returning to Launceston, other attractions on your day trip include Waldheim Chalet, the forest home of Gustav Weindorfer, and Ashgrove Cheese Farm, where you'll stop for tastings of Tasmanian cheese and learn how it's made on site.

Areeya Thailand
April 2016
I had a wonderful time with this trip! Our driver and tour guide, Lain not sure how to spell his name, was wonderful! You need to take this trip!
March 2016
Excellent tour. Our guide Hedley was fantastic
July 2015
The trip was amazing - loved every minute of it! Lane not sure how to spell his name was fantastic - he is very knowledgeable and gave a fascinating commentary as we drove along! In fact his commentary made the trip for me - that plus the scenery! He was also able to get a 4WD vehicle so we could get to Dove Lake which was great otherwise we would have missed that spectacular experience.....snow everywhere.....wombats munching away and little wallabies sheltering under the trees - it was a treat from start to finish!......then to cap it all off we stopped at the Lodge for a hot chocolate by the log fire.......oh sigh.....bliss! I'd recommend this trip to anyone as a must do must see experience! Thank You!
June 2015
Tour was Monday 27 April and I was the only tourist on the trip. Headley the driver/guide was excellent, with a wide range of interesting information to impart. The weather was super so the views to the peaks was fabulous. All in all, a great day out.
June 2014
Tour Guide was fantastic. Took us to some amazing places. Loved this tour. Long day but well worth the trip. Loved Sheffield too.
April 2014
Great day spent, our guide/driver Leigh was very knowledgeble and shared a lot of information about Launceston and all the places we drove past all the way to the National Park and back. Cradle mountain is a must-go, beautiful landscape, Dove lake and a boat shed on the other side. On the way back, we stopover at Ashgrove Cheese Farm, great tasting. Definite must-taste cheeses (at least for me) are the black pepper, wasabi and marinated feta. :)
April 2013
Excellent tour made even better by the minibus driver, Stan, who added a 'wealth of knowledge' to a very full day to Cradle Mountain. He was obviously very proud of his island and conveyed that love with a very informative chat all the way from Launceston to the National Park! We stopped along the way at Railton (town of wall topiary) and coffee and cake at Sheffield (town of wall murals) before heading into the spectacular scenery of Cradle Mountain. We had plenty of time at Dove Lake for lunch and a walk at the water's edge. It's a tour I won't forget in a hurry, absolutely wonderful! A visit to Waldheim, home of Gustav Weindorfer, pioneer and acknowledged founder of the park was 'a must', and we all felt priviledged to share this national treasure. I could have stayed longer but alas, it was soon time to leave. We still managed to stop-off on the way back to a cheese farm/shop at Elizabeth Town to sample the goodies of Ashgrove Diary. A memorable tour with lots of extras thrown in for good measure, highly recommended!
January 2013
We had a great day. Our driver was very knowledgeable and you wouldn't want to be doing the driving on the winding road into the park. We had plenty of time to stretch the legs at Dove Lake ( which was quite beautiful). The Cheese Shop was a nice break on the way home.
January 2013
A great day touring. Cradle Mountain was fabulous so too the scenery on the way. The coach driver was very familiar with the area and was very obliging and informative. Definitely a must see area!!!!!
December 2012
Really nice place to go, I will visit this place again if I can.
Advertisement
Advertisement