Delve into the poignant history of World War I during a 3-day small-group tour of French and Belgian battlefields from Lille. Accompanied by either a professional guide or ex-army personnel, visit battlefields shrouded in historical legacy and see soul-stirring sights like the Lochnagar mine crater and the Hooge Crater and Museum. Explore the sites of the Loos, Poxières and Somme battles and luxuriate in 2 nights of hotel accommodation in Ypres. Receive personalized attention from your guide on this small-group tour, where numbers are limited to 15 people.
Highlights
3-day tour of WWI battlefields in France and Belgium from Lille
Visit historic battle sites including Pozières, Beaumont Hamel, the Salient, Ypres, Fromelles and Loos
Hear enlightening facts and stories about WWI from ex-army personnel and battlefield guides
Enjoy 2 nights' accommodation in Ypres, with select meals included
Small-group tour with numbers limited to 15 participants
What You Can Expect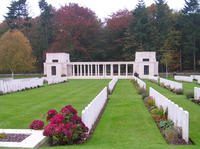 Discover the moving and intriguing history of World War I on this enriching and emotionally stirring 3-day tour of French and Belgian battlefields from Lille. Receive personalized attention from either an expert guide or ex-army personnel and enjoy 2 night's accommodation in Ypres and meals indicated by the Itinerary section below.
Itinerary
Day 1: Lille – The Somme – Villers-Bretommeux – Ypres (D)
Make your own way to the prearranged location in central Lille to meet your guide. Then, hop inside an air-conditioned minivan and relax on the journey to the Somme battlefield.
On arrival, tour the major sites from the calamitous first day through the whole five months of the battle. You'll see the Ulster Tower, Pozières battlefield and Windmill Hill (both important sites for Australians), as well as Courcelette, site of the first major use of tanks supporting Canadian troops.
An undoubted highlight will be your guided walk around the incredibly preserved Newfoundland Memorial Park at Beaumont Hamel. Then, stop at the huge Lochnagar mine crater and the Thiepval Memorial to the Missing before arriving at your hotel in Ypres.
After checking in, savor an included dinner at the hotel's restaurant.
Overnight at Hotel Kasteelhof 'T Hooghe in Ypres or similar
Day 2: Ypres – Ypres Salient – Ypres (B)
Enjoy breakfast at your hotel, then set off to spend the day touring the Salient. In the company of a first-class guide, see some of the most important sites that remain including the German cemetery in Langemark, the area of the first gas attack by Vancouver Corner, John McCrae's Essex Farm Cemetery, Hooge Crater and Museum, Messines Ridge, Polygon Wood and Tyne Cot cemetery.
You'll walk the moonscape of the Hill 60 battlefield and see literally dozens of memorials to British, Australian, New Zealand and Canadian regiments.
In the evening, attend the nightly playing of the Last Post ceremony under the Menin Gate. After the ceremony, the evening is spent at your leisure.
Overnight at Hotel Kasteelhof 'T Hooghe in Ypres or similar
Day 3: Ypres – Fromelles – Vimy Ridge – Lille (B)
After breakfast, check out of your hotel and join up with your guide for your final day of sightseeing. Make your first stop at the Fromelles memorial, which marks a bloody initiation for Australian soldiers to warfare on the Western Front. You'll also visit the nearby Pheasant Wood Cemetery, dedicated in the presence of HRH Prince Charles and Quentin Price in July 2010.
See where Adolf Hitler served and the bunker he is reputed to have used as a billet. Then, tour the Loos battlefield —
site of the disastrous battle of 1915
—
and Vimy Ridge, where you'll take a tunnel tour (dependent on weather) and visit the Vimy Memorial.
Your 3-day tour then concludes back at the original start point in Lille.
June 2016
A wonderful trip with Dave who was so knowledgeable and paid attention to the 3 different nationalities on the coach
The empathy shown to people who had relatives buried on the battlefields was very special
The choice of hotel was great since we were still in the middle of the battlefield
The weather was shocking but it made us realise something of what the troops went through
September 2015
Great trip to the battlefields. Great guide with Dave. No complaints to report. Mark
September 2015
Mark was a superb guide! Very interesting indeed - good to learn about Australian and Candian contributions as well as NZ.
June 2015
I thoroughly enjoyed my 3 Day Battlefield Tour with Back Road Tours. The guide, Tony Wade, was excellent. His knowledge of the battles and general French/Belgian history was incomparable. The accommodation at the Kastelhoof was excellent and the locations and routes travelled - spot on.
October 2014
This was one of the best tours we have ever taken. Tony Ward was an excellent guide and we would love to take another tour under his leadership - perhaps WWII battle sites next time. His depth of knowledge and experience leading this tour was exemplary - we had a diverse group and made an effort to be inclusive and relevant to all aboard. The accommodation in Ypers was superb - excellent food and very comfortable rooms. Situated on a battlefield site was amazing and added to the overall experience. We highly recommend this tour for anyone wanting an in-depth and informative accounting of WWI.
October 2014
From the moment we arrived in Lille the night before our trip began I was delighted with the town and the vibrancy. we enjoyed a meal surrounded by a young crowd just enjoying themselves.
We found the 'meeting point' with ease and got talking to fellow group members immediately. Australians are without doubt friendly people to spend a few days with.
Our guide and driver, Tony, stamped his personality on us and we felt safe and privileged to be part of this tour. His knowledge and the way he put it over was awe inspiring.
WE thoroughly enjoyed our trip even though it was a trip into such sadness which bought our family history right up to date.
October 2014
Great tour guide!!! Saw so much more on this tour then we would have ever by ourselves! Well worth the money.
September 2014
This tour was quite amazing. Our guide, Mark, was very educated about all aspects of the war and the places we visited. His commentary while we were driving filled in many holes in my understanding. We went to places I have only seen in pictures (Thiepval, for example). Mark took us to the Menin Gate, and made sue we knew where to stand for a good view of the ceremony. I want to do another tour in a different art of the Western Front someday with Viatour, and maybe even with Mark.
July 2014
The 3 day battlefields tour was great tour guide / driver did a great job and was able you personalise the trip for travellers. He showed great respect for all nations involved in the war. Thank you Mark. M and M Russell
June 2014
The guide/driver was great. Really knew his history. Hotel and restaurants were good. I was the only American on the tour, the guide was British and the others were Australian and Canadian, and this enhanced the tour for me. It far surpassed my expectations. The tour operator should be commended
Advertisement
Advertisement