The Lille City Pass makes sightseeing within Lille and the greater Nord-Pas de Calais region easy and hassle-free. Pass holders ride local transport for free, get free admission to area museums and attractions, and even receive discounts at eateries and shops around town. This must-have card saves you both time and money.
Highlights
Discount Lille City Pass

Free admission to Lille museums and attractions

Free access to Lille public transportation

Discounts at shops and restaurants

Free entry to attractions in the Nord-Pas de Calais region

Lille map and information booklet included
What You Can Expect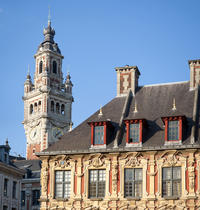 SAVE MONEY WITH THE LILLE CITY PASS OFFERING:
Free Access to 27 tourist and cultural sites including the Fine Arts Museum of Lille, the City Tour, Charles de Gaulle's Birthplace, Museum of the Hospice Comtesse and many more
Free access to the Lille urban area public transport system (buses, metro and tramway)
5% rebate on certain products at the boutique of the Lille Tourist Office
Reductions and discounts in selected stores and restaurants
10% discount in Meert restaurant at La Piscine museum in Roubaix
An discount check book with offered at Mc Arthur Glen in Roubaix
10% discount in Le Paradoxe restaurant in Tourcoing
Special price at the Cinema from Le Fresnoy in Tourcoing.
The three day Lille City Pass gives you all of the above as well as free access to 8 tourist attractions in the Nord-Pas de Calais region and free access to the TER (regional express trains) network.
Some museums are closed on Mondays and/or Tuesdays as well as on the first weekend of September.
Additional features of the 72 hour pass:
Free access to the TER network in the region
Free access to 8 tourist attractions in the Nord pas de Calais region
Itinerary
Reduced price for the Vieux Lille guided tour
Reduced price at the Lille Town Hall Belfry
10% rebate on certain products at Guillaume Vincent Chocolatier

September 2015
Lille was beautiful! Lovely people. Incredible food. Gorgeous architecture. The city pass saved me a fortune on tourist sites and public transport!
April 2012
Very useful package and I would recommend it to anyone.
January 2014
The City Pass was very useful but we couldn't use all the vouchers (not enough time). The City of Lille is very nice and worth to visit.The metro stations are easy to locate with the map provided.
Richard S United Kingdom
July 2010
The bus tour was a good way to seek out the main attractions of Lille. It put all the tourist locations in perspective. It was great to book online, which saved time at the tourist board. The tourist board was very efficient and we were on the bus within 15 minutes. The whole experience was excellent value for money.
April 2015
The lady at the city pass desk was so helpful that it didn't matter to me that I would have paid less to purchase the individual parts of the pass that I used. That said, I'm not sure if I would have ventured out as much as I did if I hadn't had the pass. In summary, I did not get my money's worth out of the pass, but it caused me to be more adventurous than I might otherwise have been.
March 2016
City pass was very convenient.
Bus trip was nice.
Most negative point i wish to say.
The way the paintings were exposed in the Musee des Beaux arts was abominable
Most of the paintings were so badly lighted that they hardly could be seen
.
I think it is a shame for the museum
Advertisement
Advertisement