26 Reviews
Location:

Lima, Peru

Duration:

7 days

(approx.)
Discover the very best of both Lima and Cusco on a 7-day tour of Peru. Visit the famous landmarks and government buildings of Lima before heading south to Cusco and exploring ancient Inca ruins and the famous citadel of Machu Picchu. With enough free time to explore both cities on your own, this week-long itinerary in Peru fits the budget while satisfying your need to explore.
Highlights
7-day tour of Lima, Cusco and Machu Picchu

See the famous landmarks of Lima and Inca ruins of Cusco

Enjoy free time in both cities to explore on your own

Spend the night at Machu Picchu

All accommodation, breakfast and tours included

Recent Photos of This Tour
7-Day Lima and Cusco Tour with Overnight at Machu Picchu
What You Can Expect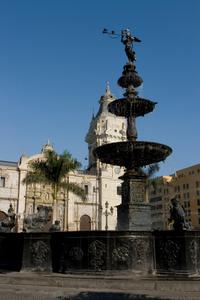 Book a 7-day tour of both Lima and Cusco and don't worry about the daily schedule of a vacation in Peru. This extended tour, designed for both first-time visitors and savvy travelers alike, includes your hotel accommodation (with breakfast), transfers to and from the airports in Lima and Cusco, guided tours and much more!

You'll spend the first two full days in Lima, the City of Kings, and capital of Peru. On the first day, you'll have a guided sightseeing tour of the city and explore the famous landmarks and areas of interest. On the second day, you'll enjoy a day of leisure. It is recommended that you visit the famous Temple of Pachacamac or spend the day at some of the renowned museums or simply go shopping.

On the third day, you'll be taken to the airport to head to Cusco, the capital of the Incan empire. On your first day in Cusco, you'll visit the city, the famous San Blas neighborhood, the Palace of Inca Roca and Korikancha.

On the fourth day, you'll have the opportunity to visit the archeological ruins which surround the city of Cusco. Head over to Sacsayhuaman to admire the large stone structures and enjoy panoramic views of Cusco and its rooftops. You'll also visit the archeological sites of Qenqo and Tambomachay before returning to Cusco for an afternoon of leisure.

On day 5, you'll head to the train station and board the train to Aguas Calientes, the small village at the bottom of the mountain to Machu Picchu. Ascend to the citadel by bus and spend a few hours at the sacred site, both on a guided sightseeing tour and at your own pace.

You'll stay the night in Aguas Calientes so that you can capture breathtaking views of Machu Picchu both at sunset and at sunrise. There will not be a better chance for postcard perfect pictures! Enjoy some free time at Machu Picchu or Aguas Calientes before returning to Cusco in the evening.

Please see the itinerary field below for more detailed information.
Itinerary
Day 1:
Upon arrival at the International Airport in Lima, you'll enjoy a warm reception and transfer to your hotel. For those staying in a first class hotel, you'll be welcomed with Peru's national drink, the Pisco Sour. This world famous Peruvian drink is as well known in the area as tequila is in Mexico. A hard liquor made from the quebranta grape, Pisco comes from the city "Pisco" located 155 miles (250km) south of Lima.
In the afternoon, you'll head out for a fully guided sightseeing tour of Lima´s historical center, your first stop will be made at Love Park (also known as the "Parque del Amor"). From here, you'll be able to relax and enjoy spectacular views of the Pacific Ocean. You'll also see "Huaca Pucllana" which is also located in Miraflores. As your guided sightseeing tour continues, you'll visit the modern part of Lima which boasts an old pre-Inca shrine called "Huaca Huallamarca", located in the residential area of San Isidro.
Next, visit Lima's main square, where you'll view the Presidential and Municipal palaces and the main Cathedral. You'll have the opportunity to enter the Cathedral, which holds the tomb of the Spanish Conquistador Francisco Pizarro.

Day 2:
Enjoy a delicious breakfast (included in the price) before spending a day of leisure.

Day 3:
After breakfast, you'll bet transferred to the airport for your departure to Cusco (domestic airfare between Lima and Cusco is not included in price) . Upon arrival, you'll be welcomed with coca infusion tea ("mate de coca") that will help you to get used to the altitude. Enjoy the rest of the morning at your leisure. In the afternoon, you'll visit the imperial city of Cusco. Beginning in the neighborhood of San Blas, with its artisans, you'll visit the church of San Blas to see its impressively carved woodwork.

Traveling by foot, you'll go down the narrow stairs of Hatun Rumiyoc street where the Palace of Inca Roca is located (known as Palacio Arzobispal). On its walls, you'll discover the figures of a puma and a snake. Also, be sure to observe the famous stone with 12 angles, the perfect image of the Incan architectural perfection.

Continue on to the Plaza de Armas of Cusco or Awqaypata (warrior's place). You'll enter the Cathedral of Cusco and see the beautiful woodwork and colonial paintings containing extensive Incan iconography. Visit the Korikancha (Temple of Inti God - El Sol) on which the Santo Domingo Convent was built. Legend says this temple was completely gold coated, which impressed the conquerors upon their arrival. The tour ends with a detailed visit of the city of Cusco.

Day 4:
After breakfast, ascend to the Archaeological Park of Sacsayhuaman and visit the Cuidadela. This is the royal house where they admired the Sun God but also worshiped younger gods. Admire this large structure and enjoy the magnificent landscape which brings peace and tranquility. Next, visit Qenqo, the old temple of the Puma. Inside you can see a sacrificial altar made of a huge stone. At Tambomachay, you'll see the sacred fountains of life and health. Puca Pucara, "atalaya" (watchtower) safeguarded the city gates and the Fortress of Sacsayhuaman. Afterwards, you'll return to Cusco where you can enjoy an afternoon of leisure to stroll around the city of Cusco and shop.

Day 5:
You'll be transferred to the train station after breakfast and travel to the town of Aguas Calientes. Here is the citadel of Machu Picchu, the Sacred City of the Incas. Ascending to the citadel by bus, you'll enjoy a spectacular view of the canyon formed by the Urubamba river. Once you've entered the citadel, you can walk along the terrace, steps, ceremonial centers and housing. According to locals, this area is a concentration of energy due to the composition of quartz found in the stones. Enjoy a buffet lunch and if you wish, you can re-enter the citadel on your own. Lodging will be at a hotel in Aguas Calientes (depending on which hotel was selected).

Day 6:
On your last full day in the Cusco area, you can enjoy a day of leisure after breakfast. There will be plenty of time to visit the citadel of Machu Picchu for meditation and absorption of the energies flowing from this sacred place or simply to take additional photos. It is recommended that you get up early on this day to capture breathtaking views of the sun rising over Machu Picchu.

You can also enjoy your free time by climbing the Intipunku mountain, entrance to Machu Picchu from the Inca Trail or Huayna Picchu mountain, where the temple of the Moon is located. Also recommended is visiting the new local museum in Aguas Calientes. In the afternoon, you'll return to Cusco by train.

Day 7:
After breakfast, you'll be transferred to the airport where you will head back to Lima.
June 2015
It was out first time to Peru. We wanted to make sure we had a great experience all around. Viator/Viajes Pacifico did a great job making us feel welcomed, safe, at ease, and informed. The tours were very well selected and executed. We had an twelve year old son and 10 year old daughter that did well with the tour.
June 2015
June 2015
Excellent tour every step of the way.
April 2015
This was a great tour made extra special by the tour company making you feel extra special with a lovely cheese and wine course during the moon valley sunset and a great breakfast at el tatio after the sunrise at the geysers. Would thoroughly recommend.
March 2015
Excellent itinerary! For a single traveller who speaks minimal Spanish, this was the perfect week for me! I highly recommend booking the flight from Lima to Cusco early in the morning, and return as late as possible on the last day in Cusco. Maximize your time, and go see more of the sacred valley.
March 2015
Each guide in each location was amazing! So passionate about their cities and their history. Many times there was just the two of us and guide, never more than 7. Prompt, courteous, full of information. Accommodations were perfect. I will use Viator again wherever I go! Recommend highly!
December 2014
December 2014
Loved the tour. As a solo traveler from another continent I was a bit cautious as I heard stories. But all the drivers/tour guides were very helpful and safe to be around. Very friendly staff and always on time - I got a standard room selection and they gave me a Superior room in Machu Picchu city with a balcony facing the flowing river. That was amazing! My hotel in Cusco was nice but far from the main Plaza. I took a safe for only 4 sols=approx. $1.72 CDN in Cusco not bad!! and it was safe. Lima was interesting too very awesome too!!!
December 2014
We could not be happier to have booked our Peru tour with viator. Every step of the way the drivers and guides were friendly, knowledgable, helpful and professional. the schedule also have us a balance of guided time and free time which we enjoyed.
October 2014
We are very happy with the tour operators Viator and the tour company. We highly recommend them. Due to our long international flights from/to Singapore we had to make several changes to our pick-up and drop-off times and locations. They were very responsive and accommodated all our changes without issues.
This is our first time to Peru and we don't speak any Spanish. Everything went smoothly all the guides and customer help line speak English well. We added some additional tours to our itinerary and all the guides are very knowledgeable and informative.
In this business, the people makes the difference and we really felt it. During our Cusco half day tour even though everything on the itinerary was covered, we felt it was a bit rushed and the tour finished ahead of schedule. We were asked for feedback by phone from one of the customer helpline and the message was conveyed to the tour guide, Jose Aguilar. To our pleasant and unexpected surprise, Jose seek us out during our next tour and personally apologized to us. He offered to take us on a cultural experience on his own time during the evening. We accepted because he was very sincere and we really to learn more about the Peruvian culture. That evening was wonderful and we had an experience that most tourist would not have. Jose took us to a local places: a view of the night lighted city of Cusco, drinks at a bar with a view of the city, a Chicharia for corn beer, a Picanteria for local food, and finally picarones for dessert. We are very well travelled and adventurous types so it was wonderful for us. We told Jose that they should consider making this another cultural tour.
To finish this review, we had Jose again as our guide on a tour of the scared valley and he was wonderful. Join the tour!
Advertisement
Advertisement