Head out on a guided sightseeing cruise in the waters off Lima, looking for local wildlife and learning about island history. Pass by Fort of Real Felipe and hear its fascinating story as your boat makes its way toward Palomino, Cabinzas, and El Frontón islands. Keep an eye out for sea lions and native birds while you sit back and enjoy this mainland escape.
Highlights
Boat tour of the Islands of Lima

30-minute boat ride to Palomino and El Fronton islands
Up close look at island birds and sea lions
See the historic Fort of Real Felipe

Local, knowledgeable guide

Complimentary hotel pickup and drop-off included
What You Can Expect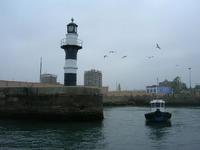 After pickup from your Lima hotel, you'll head to the port city of Callao where you'll board your boat. As you depart Callao and make your way to Palomino Island, you'll see the historic Fort of Real Felipe. Named after King Felipe V of Spain, the fort was used as a defense against pirates. The 200,000-square-foot (18,580-sq-meter) fort is also where the Spanish fought their last battle for independence against the Peruvians.

Next, you'll pass by the island of El Frontón, which previously served as a prison. A former president of Peru, Fernando Belaúnde Terry, was imprisoned on the island as a political prisoner. As you make your way towards Palomino Island you'll pass by the island of Cabinzas, home to many species of birds. As the boat travels by Palomino Island, you'll see native birds and sea lions up close (only a few feet away!) as you take in breathtaking views of the island before heading back to Callao.
September 2012
This was fun, but here's my take: Tour description didn't exactly match. Viator's rep picked us up on time, and was profess'l and friendly. Dropped us off at port, handing us off to the actual boat tour operators. Tour was listed as 9am-1pm (approx 4hrs) but was actually 9am-2:15 door to door in Miraflores, could easily have been longer if boat ran late, people swam more, hotel was farther etc. It's really a tour to go see sea lions w/ oppty to get into water with them - that was fun but unexpected. Yes, lots of birds along the way, The boat tour operators were friendly and knew what they were doing. Would definitely recommend for nature lovers, boat trip fans, and those with true 1/2 day free. Also, 3 people on our boat ride got seasick even with medicine, so word of warning on that would be good. Again, enjoyed this for sure - just wasn't sure what we were exactly in for. Guests could probably save money by showing up to Callao directly at the booth for 10am ride, but transfer service is good for not having to deal with how to get a taxi back from Callao once done.
January 2015
Although our guide spoke English. We were not briefed on boat safety when we boarded the vessel. Also we were not told about being able to swim with the seals. This would have been a great experience if we had known about it before we left our hotel. We could have brought a towel and swim suit with us etc. There was nothing on your website stating this-
November 2012
This trip was awful!!!! The boat trip was very rough. Five minutes out the guide passed out dramamine! It took two and one half hours to get to the island with the 6,000 sea lions. If you can image the worst thing you have ever smelled in your life 6,000 sea lions is worse than that. My eyes were tearing. I was choking. I was nauseated. They passed out cotton balls soaked with alcohol to hold at our noses. One other island had penguins and that was it. On the two and half hour trip back I threw up! Do not take this terrible trip!!!
Advertisement
Advertisement