Discover two of Lima's most popular and picturesque attractions on an exciting evening tour of the city. Accompanied by a knowledgeable guide, be transported back to pre-Colombian cultures with the ancient artifacts of the Larco Museum (Museo Larco), and then awaken your senses with a spectacular light and sound show in Lima's Parque de la Reserva (Park of the Reserve). Stop off to sample local delicacies and a refreshing pisco sour during your exciting excursion into the night.
Highlights
4-hour evening tour in Lima with a knowledgeable guide
See two of the city's top attractions: the Larco Museum and the Magic Water Circuit
See pre-Columbian artifacts at the Larco Museum, housed in an 18th-century mansion
Be amazed by the dancing water and light of the Magic Water Circuit
Enjoy a Peruvian snack and a pisco sour at a local tavern

Recent Photos of This Tour
What You Can Expect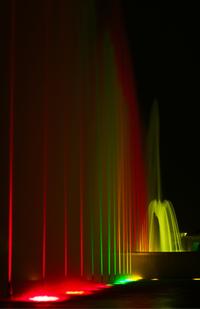 Depart from your hotel and venture to your first cultural destination in an air-conditioned minivan. Enter the fascinating world of the Larco Museum, an enthralling exhibition of ancient artifacts housed in a beautifully restored 17th-century mansion. Wander through creatively curated galleries, perusing ancient ceramics, precious jewelry and more than 50,000 Peruvian pots. Listen as your experienced guide offers insight into the prosperous past of Peru.

Then, travel to a traditional tavern to sample some of the city's culinary specialties; savor the distinct flavor of Peruvian snacks and sip the national beverage pisco sour, a delicious cocktail made by combining egg white, lemon juice and grape brandy. Toast your tour then continue to your final destination.

Awaken your senses to the exuberant extravaganza that is the Magic Water Ciricuit; settle into a seat at Parque de la Reserva as lights, lasers and water displays burst into life before your very eyes. Enjoy melodious music and marvel as enormous fountains synchronize their spurts to classic songs. Return to your hotel in Lima after the spectacular show.
June 2016
This was the first thing we did when we arrived in Lima. What a great introduction to our trip to Peru! We were picked up at our hotel and driven to the Larco Museum. We had an excellent guide who explained the significance of the pottery and artifacts. There was a separate building for erotic art, which I thought was interesting. The Larco Museum has a beautiful garden and a nice restaurant, or so I hear. We drove to a nice hotel near the main square and enjoyed pisco sours and some typical Peruvian snacks. Then we went to the park where we saw a laser light show with music and beautiful fountains with changing patterns and colors. This was a fun evening!
April 2016
Nataly and Julio were great!
April 2016
The Larco is not to be missed! Beautiful grounds with an amazing collection of pre-Incan and Incan artifacts. These were an amazing people with a very advanced civilization. It was a great introduction to the Incan culture. If you are headed to Machu Picchu through Lima, do yourself a favor and see this museum. It will totally enhance your experience in Peru. The February night we went to the the Magic Water Circuit the place was packed. I would not attempt this without a guide. He knew right where to take us for the best views, plus he knew how to navigate the crowds. My apologies, but I can't seem to find his name right now, but he was super!
April 2016
This was an excellent tour for me and my family! Our tour guide, Gabby, was outstanding. She is an expert on Peruvian history and ancient cultures. Her tour at the Larco Museum was exceptional. Her enthusiasm and excitement made for a wonderful tour, and the exhibits were very interesting to see. Our children ages 13 and 10 had a great time at the museum too. The exhibits told a great story of the history and culture of Peru. The stonework, pottery, jewelry, artwork, artifacts, and mummies were all wonderful to see. Gabby's commentary and answers to our questions were enlightening and allowed us to thoroughly enjoy the museum. For me, the museum became an unexpected highlight of our trip to Peru. After the museum, the Pisco sour and appetizers were a nice treat before enjoying the magic water circuit at the Parque de la Reserva. This water show was beautiful. Our entire family was amazed by the show. I would highly recommend this tour!
March 2016
DON'T MISS this tour!!! If you think you've seen fountains at Bellagio - you ain't seen nothin' yet! The water show has laser lighting and pictures and music. Definitely don't go on your own - when you take this tour you get to jump the line which can be three hours long. And the Larco was absolutely the best museum we visited in Lima. Displays were fascinating as is the historic house that houses the museum. Tour company guide and bus were what we've come to expect from Viator - perfect!!
Alfredo T USA
February 2016
Must do, so beautiful and our guide was excellent.
December 2015
Larco Museum is breathtaking, not just the 45,000 genuine artefacts dating back hundreds and even thousands of years, but also the courtyard which is an outstanding flower garden. We are told the restaurant was also great, but we went for sandwiches and pisco drinks in a 150 year old bar: that was really fun. Then it all finished with the many dazzling fountains of the city park, topped off with an elaborate display of colored lights on the water. Our guide was exceptionall nice, and also well-informed.
Artur Ribeiro Brazil
October 2015
Excelente passeio! O museu Larco é muito bom, a paradinha para os snacks e Pisco Sour no Hotel Bahia é ótimo para recarregar as baterias e o Parque das Águas é um verdadeiro encanto. Nossa guia foi muito agradável e competente.
September 2015
This was an excellent tour. Our guide had great English and was really enthusiastic and knowledgeable. The Water Circuit tour was a fantastic venue.
June 2015
Advertisement
Advertisement