Discover the wealth of historic and modern attractions found in the Peruvian city of Lima during this 4-hour sightseeing tour. Feel like a real 'Limeño' (a Lima local) as you explore the town's colonial and Incan architecture, visit its charming residential neighborhoods, visit the scenic cliff-strewn coast and admire its many religious shrines and churches. This Lima city tour also includes entrance fees, a guide and round-trip hotel transport.
Highlights
Guided city sightseeing tour of Lima

Visit the famous landmarks such as the Santo Domingo Convent, Cathedral of Lima and the Lima Historical Center

All entrance fees and roundtrip transportation included

Recent Photos of This Tour
Lima City Sightseeing Tour
What You Can Expect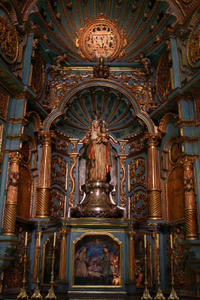 Take in the many attractions found in the historic seaside city of Lima during this 4-hour sightseeing excursion. During your trip through this Peruvian capital, known to some as the "City of Kings," you'll have a chance to view a range of historic architecture, unique cultural sights and admire its gorgeous coastal landscape.
Start your day with either a morning or afternoon departure, receiving a pickup from your Lima hotel in Miraflores, San Isidro or downtown. The first stop of the day is Lima's historic city center, an area once known as the capital of the country's colonial viceroyalty. Head next to the "Love Park," a beautiful green space along the ocean influenced by Barcelona architect Gaudí and featuring a sculpture by Peruvian artist Victor Delfín.
Continue to San Isidro, a laid-back residential area of Lima where you'll have the chance to visit "Huaca Pucllana," a ceremonial site that pre-dates the arrival of the Spanish in the 16th century. Then head to Lima's main square, where you'll see the Municipal and Presidential Palaces, two sprawling structures whose size emphasizes their preeminence in the country's political life.
Proceed next to the Plaza de Armas to view the Lima Cathedral and stop by the tomb of Spanish conquistador Francisco Pizarro. You'll also swing by the Santo Domingo Convent, home to a sprawling monastery complex.
Before finishing your Lima city visit, make additional stops at the Museum of Religious Art and the Church of Santo Domingo, final resting place for the saints San Martin de Porres and Santa Rosa de Lima. At the end of your sightseeing adventure, receive a drop-off back at your Lima hotel.
April 2016
A short tour but an excellent guide.

April 2016
This was an amazing tour! Our guide Nila Soto was extremely knowledgable and she is the main reason that I had such a great time.
We got a great in depth look and got to learn about the history of the Incas, the takeover by the Spanish conquistadores and the fight for independence that was led by Jose Martin of Argentina and Simon Bolivar of Ecuador.
We started the tour on Miraflores at the Parque del Amor where there is a 300 foot overlook and you can see the entire cliffside. Then, we traveled to an 1800 year old ruins - from there we went to the Plaza de Armas, which was the Plaza that the Spanish conquistador Franciso Pizzaro developed after they defeated the Incas in 1535. We got to see Pizzaro's burial site and learn about his history.
The price of the tour is extremeley reasonable and I highly recommend it!
Amrith
April 2016
Our first day in Lima was a 10! We started off with your City Sightseeing Tour. We were picked up promptly at the scheduled time, the bus was brand new, and both the tour guide, Ursula, and the driver, Jorge, greeted us with a friendly smile. The tour guide was very professional, knowledgeable, accommodating as the time we wanted to spend at each location and her English was excellent. We visited Love Park, the Cathedral, Plaza de Armas, Kennedy Park, and many other Lima highlights. Overall, the tour was very informative, not only did we learn about the many places visited but also learned about the history and culture of Peru. As we drove through Lima, Ursula pointed out some of Lima's best restaurants. Again, thanks to Ursula, our tour guide, and Jorge, our driver for a wonderful day in Lima!
March 2016
Great guide. Very knowledgeable. Great bus. The AC worked ver y well and there was a bathroom on board.
March 2016
We had such an amazing time at the Lima City Sightseeing Tour! Our tour guide - Gabriel and driver - Carlos were wonderful! They picked us up promptly from our hotel and spent the day showing us the city and monuments and helping us learn so much more about Peru. Gabriel's enthusiasm for the culture and history is infectious! We definitely recommend this tour!!
March 2016
This city tour was very good, the driver made us feel comfortable and safe even in the rush hour traffic and our guide was very knowledgeable.

February 2016
we were very happy about our city sightseeing tour in Lima. It was very informative and guide was very nice. the car used for the tour was new and clean
February 2016
We loved the tour, The guide was very knowledgeable and friendly. He gave enough time for exploration and also took around very well. He also gave good suggestions about local food and turned out to be very valuable. We would highly recommend this for people who are short on time but would like to check out Lima City.

February 2016
Excellent! The guide was very well documented and very friendly.
Thank you for this pleasant experience.
December 2015
Advertisement
Advertisement