Treat your taste buds to the explosive flavors of Peruvian cuisine on a 3-hour culinary tour of Lima. Immerse yourself in the vibrant atmosphere of a typical fresh produce market on a guided tour; learn how to prepare delicious signature dishes like fish ceviche with an experienced gastronomical guide; and sip a sweet pisco sour cocktail, Peru's national drink, in an ambient restaurant as you feast upon a freshly prepared meal. Convenient round-trip hotel transportation is included in the tour.
Highlights
Market tour and cooking class in Lima
Tour a produce market with a local guide
Watch a ceviche and pisco sour cooking demonstration
Enjoy a traditional lunch at a local restaurant
Experienced local guide
Hotel pickup and drop-off included
Recent Photos of This Tour
Lima Market Tour, Cooking Class and Pisco Sour Lesson
What You Can Expect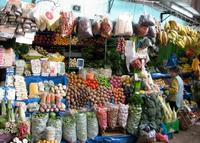 After hotel pickup in Lima, sink into your seat in a comfortable, air-conditioned minivan as you venture to a typical Peruvian market. Marvel at the diverse and delicious produce on offer and browse stalls bursting with locally sourced exotic ingredients.

Next, travel to a rustic local restaurant to begin your epicurean education; watch as an experienced chef prepares Peru's national dish of ceviche, combined chunks of raw fish with fiery chilies, aromatic coriander and zesty lime juice.

While the sumptuous ceviche marinades, try your hand at mixing Peru's national cocktail. Gain insight into the cultural significance of the drink, learning about how Peru dedicates a national holiday to the beverage. Mix a delicious grape brandy with lemon juice, egg whites, sugar syrup and Angostura bitters then pleasure your palate with the sweet taste of a pisco sour.
After enriching your knowledge of local cuisine, sit down to enjoy an authentic Peruvian lunch inspired by regional recipes. Return to your Lima hotel when the tour concludes.
June 2015
Excellent tour operator. Good timing. Cala was an excellent venue for the cooking class. The ocean views were spectacular! The market was impeccable. Our tour guide was friendly and knowledgeable. I would highly recommend this tour.
April 2014
Excellent tour and tour guide, I would have liked the opportunity to make both the cerviche and the pisco sour. Lunch was wonderful.
April 2014
This tou, was superb and fun. The guide was attentive and intelligent. The group was mutli-llingual and the guide met everyone's needs. I was with a young group of 13 Colombians and they were convivial and lots of fun to be with. Once again, the tour operator misled me when I called the office. I was told that the tour would be over after 1 1/2 hours, so I went ahead and made plans for lunch. When the guide arrived, he told me that there would be a lunch and that I would be back at my hotel at 3. I was very annoyed with the tour operator once again, but he saved the day. He called my friend and invited her to join me for lunch and then arranged with our restaurant to reserve a lovely table for the two of us. Had it not been for him, I would have had to completely cancel the luncheon I had set up with my friend.
The tour consisted of a visit to the San Isidro Market where we met vendors that the guide frequents. At the fish stand, we tasted fresh raw scallops, "just cooked" with a few squirts of lime juice. After that we went to a spectacular fruit merchant and tasted 6 or 7 exotic fruits perfectly ripe and delicious. From there we went to a beautiful restaurant on the pier, and met the bar tender and the chef. We learned to make Pisco Sour and Ceviche. This was totally fun and easy! We then had a typical three-course Peruvian lunch with Pisco Sours to start and then wine. I was back in my hotel at 3 and would do this tour again.
December 2013
Had a fabulous time...our guide was informative and the people who were on the tour made it extra fun. All the people we met at the market and resturant were very friendly and made the trip even better.
December 2013
October 2013
We had a wonderful time on our tour. Our guide was a lovely young lady named Paula. She was knowledgeable not only about the tour, but with all the questions we had about life in Peru. She took us to the market and spent a lot of time going around showing us things in addition to what we had needed for our tour. She showed us many of the city's hightlights when we were en route to the market and later to the hotel. Making the pisco sours/taking pictures/and hearing abt her life in Peru was truly fun.
I had asked her for a recommendation for dinner and she not only gave us a great restaurant, she walked over with us and told us things about the menu, which helped us to choose the greatest meal for our first night in Peru.
I love Viator. We have used them in several different countries, and have never been disappointed. The guides are excellent and well informed and execute the tours with excellence. I can't wait for my next adventure.
August 2013
This tour was GREAT and what made it so nice was out tour guide Enrique. He was really knowledgable and friendly. Definitively will do a trip again with him! A do not miss trip for sure!

July 2013
I would highly recommend this tour to any budding aspiring bar tender. We had a great time. Our guide took us to the local market and we bought the ingredients necessary plus lunch fixens. We went went back to the bar, laid out our lunch and proceed to be instructed on how to mix up a Pisco Sour. After a couple of these we had lunch and then we got to make our own. It was great. Highly recommended!!
July 2013
The Lima Market Tour and Pisco Sour Lesson was awesome! Our guide, Kike, was excellent! He was knowledgeable, funny, and nice. We made some very tasty Pisco Sours. I would highly recommend taking this tour.
May 2013
I was the only one on this tour and it was great.
Advertisement
Advertisement