Explore the spectacular sights of Peru's captivating capital on a small group walking tour. Enjoy an intimate atmosphere while strolling around the central market; sample traditional pisco sour drinks and experiment with Spanish greetings; and uncover the intriguing history of Lima with an informative guide. A personalized experience is guaranteed on this small group tour, where numbers are limited to 12 people.
Highlights
Explore famous landmarks on a guided walking tour of Lima

Stop at a local market and learn about Peruvian cuisine

Visit a pub and try a real pisco sour

Small group tour allows for a more personalized experience

What You Can Expect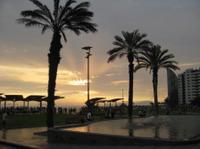 Greet your guide at a central Lima location to begin your cultural tour into the city's historical heart. Wander the famous pedestrian avenue of Jiron de la Union as you learn a few simple Spanish phrases from your informative guide.
Stop to absorb the colonial charm of the San Pedro de Lima Church, marveling at the impressive bell tower as you learn about the history of the sacred 17th century structure. Continue to the vibrant and colorful market and immerse yourself in the bustling atmosphere; follow your guide past stalls bursting with exotic fruits and fresh vegetables and discover sizzling local dishes.
Next, venture to the legendary Monasterio San Francisco to explore the subterranean catacombs that connect the spiritual structure the other churches in the city. Enjoy a refreshing rest with a glass of traditional pisco sour in a bar that claims to have invented the iconic national beverage, using your newly learnt phrases to greet locals.
Conclude the tour at the ambient Plaza de Armas, continuing to explore Lima independently if you desire. Your guide is happy to provide assistance in getting back to your hotel in Lima.
June 2016
Traffic is a terrific headache in Lima so walking to discover downtown is really the best option. We loved the tour, very interesting history and Fabiana, the guide was great!!
June 2016
We learned so much from Fafiana.She was smart, funny,and very sweet. She explained th sights to us in perfect English. The tour was very worthwhile and recommend to all to get a flavor of downtown Lima and its history. Fafiana even accompanied us on our taxi ride to Park de la Reserva afterwards
May 2016
Paula was knowledgeable and picked up on what we wanted to see and moved along when we were ready to visit the next site. The length of the tour was perfect and Paula was easy to talk to and her English was excellent. Lovely person.

Fran on-the-go United States of ...
November 2015
The tour leader was excellent. She concentrated on the most interesting sites and made sure that
we did not bump into large tour groups. She was caring and personable and ended with a relaxing
stop in a small cafe where we could all talk and discuss the tour.

October 2015
Our Guide Paula was amazing and made the tour enriching, fun and a great experience for the entire group. Definitely look up Paula for an amazing time during your vacation.
Angie United Kingdom
October 2015
What a great tour this is. Very informative and you get to see so much. Lima is such a beautiful city and is well worth a closer look and this is the way to do it. Our first taste of the legendary Pisco Sour at the Hotel Maury was a highlight. You feel that you are walking into a bank and then there's this beautiful bar. We had a great time.
September 2015
We loved this tour. It was just the right amount of time and our guide was wonderful. Taking the tour was much more efficient than trying to find the things we saw on our own. If we were on our own we would have passed by buildings not knowing what they were. Having the guide was an absolute benefit. We highly recommend this tour.
August 2015
Loved the tour and the guide and really loved the pisco sours at end!
July 2015
Very good. A great mix of history, architecture, and a bit of contemporary life.
June 2015
Advertisement
Advertisement