Tour code:
5550_2DAYRELIGIOUS
Visit the sacred landmarks and towns of central Portugal on this 2-day trip, departing from Lisbon. With the help of expert guides, you will learn about some of Portugal's most significant religious sites, including Our Lady of Fátima Sanctuary, where Catholics pilgrimage to. Here, you will have the option to attend mass and learn about the legendary Virgin Mary apparition. Discover the power of Alcobaça Monastery and Batalha Monastery, both UNESCO World Heritage sites. Stroll the charismatic villages of Óbidos and Nazaré with a professional guide who will illuminate its history. One overnight accommodation and three meals are included in the price of the tour.
Highlights
2-day trip from Lisbon to Portugal's holy sites, including Fátima and Nazaré

Take a guided walking tour in the charming medieval village of Óbidos

Visit Our Lady of Fátima Sanctuary and enjoy free time to explore or attend a mass

Walk around the coastal town of Nazaré with your guide and enjoy a traditional Portuguese lunch (included)

Admire views of the Atlantic Ocean and snap photos of the Portuguese coast in Sítio

One night of accommodation in Fátima, one breakfast and one lunch are included

What You Can Expect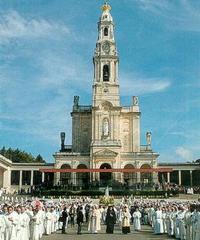 Your 2-day, 1-night tour of central Portugal's sacred sites begins in Lisbon. Any history buff, religious person, or curious traveler will enjoy this scenic and illuminating tour. Discover the power of Portugal's most holy sites as well as beautiful towns and charming locals. Pick your accommodation choice in either a standard or superior hotel in Fátima.
Itinerary
Day 1: Lisbon - Óbidos - Alcobaça - Nazaré - Sítio - Fátima (L)
After meeting your guide in central Lisbon or being picked up from your hotel, relax on a comfortable coach ride north to Óbidos. Explore this romantic village with your guide, walking though cobblestoned streets surrounded by medieval walls and rustic houses, and visit the Castle Pousada-Hotel. Then head to Alcobaça to see the 12th-century Alcobaça Monastery, and continue to the charming fishing town of Nazaré, where you can explore the town on your own and have a Portuguese lunch. Next, learn interesting facts about Portugal's history on the drive to Sítio, which boasts wonderful views of the Portuguese coastline and Nazaré, and continue on to Batalha to visit the UNESCO World Heritage-listed Batalha Monastery (Mosteiro de Santa Maria da Vitória de Batalha), which commemorates Portugal's independence from Spain in 1385. End the day with free time in Fátima to attend a mass, if you wish, and enjoy a traditional dinner at the hotel.

Overnight: Hotel Santa Maria or similar in Fátima (Superior Option) / Hotel S. José or similar in Fátima (Standard Option)

Day 2: Fátima - Lisbon (B)
Spend your day in Fátima, a important pilgrimage destination for Catholics across the world. The town is famous for a 1917 apparition of the Virgin Mary, that three shepherd children saw. Explore the town independently, visiting Our Lady of Fátima Sanctuary to see the Chapel of Apparitions, a location that marks the sighting. You'll also see the tombs of three shepherd children. Then, have lunch at a local restaurant if you wish, and enjoy free time to explore the spiritual location on your own and attend a mass, if you wish. When your time is up, take in views of the Portuguese countryside on the drive back to Lisbon, where you will arrive in time to enjoy the night in the city on your own.
April 2016
This tour was good. But it can be booked as day trip. Not enough to see for 2 days. It ended in Fatima. They drop you there and pick up is 530pm the next day. not much to do in this city except see the shire and shop.The hotel was very nice, the food was good
. I did find a tour out to the village where the children grew up. so I took that but it is only a 1/2 day tour and you pay extra 19 per person it is worth it.
I would recommend booking this tour as a day trip unless you plan on taking the side tour to the village.
October 2014
Two day trip is a must if you want more than one hour in Fatima. Lunch provided was excellent and much more than expected. Good, local, sit down, three course meal! We chose superior hotel and accommodation was "superior" and location was excellent.
November 2013
Enjoyed the tour and extra time the overnight in Fatima provided ... possibly could of come back to Lisbon a little earlier the next day

Joey Philippines
September 2013
Elena is the tour guide from hell! She was rude to the passengers, telling people over the microphone to stop talking while she is talking. She also individually approached those who were late in coming back to the bus to scold them. Apparently, I was the only one from the group who was staying overnight in Fatima, and when I asked her about the arrangements, she quickly shrugged that the company did not tell her anything about it. When she did find out the details, she told me to cross to the other side of the Fatima sanctuary with my luggage to check in by myself, because according to her the bus is too big to go there. But in fact, another bus went near the hotel to pick me up the next day!
As to the tour itself, 50 minutes is too short to enjoy Obidos. It should also be made clear in the description that the cloisters of Batalha are NOT included in this tour. There were not much information or guidance given in Fatima -- I was just left on my own on the second day except for the transfer back to my hotel. I definitely think this tour could have been better with a different guide.
Advertisement
Advertisement