Tour code:
5550_6DAYPORTUGAL
Discover the wonders of northern Portugal on this 6-day tour from Lisbon. From Portugal's capital travel with your group and expert guide by comfortable coach bus to the best cities in the northern country. Explore the melancholic alleys of Porto, and get to know charming Portuguese towns such as Braga, Coimbra, Guimarães, Óbidos and Aveiro. Learn about historical and sacred sites like the Batalha Monastery and Our Lady of Fátima Sanctuary. You certainly won't want to miss Tomar's UNESCO World Heritage-listed Convent of Christ. You'll also enjoy free time to explore on your own. This tour includes five nights of accommodation in superior-class hotels and breakfasts.
Highlights
6-day tour of northern Portugal's most important cities and landmarks

Walk around Aveiro, known as the Venice of Portugal, and the charming medieval village of Óbidos
Explore Porto's city center, the Stock Exchange Palace and St Francisco Church
Enjoy free time in the villages of Guimarães, Nazaré, Tomar and Barcelos
Discover the University of Coimbra, one of the most ancient universities in the world
Visit the charming villages of Braga, Batalha and Fátima

Go up the Sacred Hill in Guimarães and take in views of the Palace of the Dukes of Bragança and the Royal Castle

Five nights of accommodation and transportation in a comfortable, air-conditioned motor-coach
Why Our Insiders Chose This Tour
There's so much to see on this highlights tour that includes Portugal's biggest cities as well as smaller, charming towns like Aveiro -- 'The Portuguese Venice' -- and Obidos, a medieval village. With a mix of informative guided tours and free time, this package makes it simple to see it all.
What You Can Expect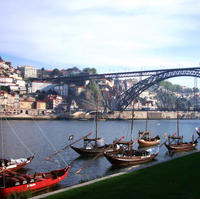 Your 6-day northern Portugal discovery tour begins in the charming town of Lisbon. Meet your guide and fellow travelers and begin your journey north in the seat of a comfortable coach bus. Indulge in six days of galavanting across northern Portugal, where you'll see scenic vineyards, medieval villages, sacred sites, romantic gardens and historic cities. Five nights of accommodation in superior-class hotels and five continental or buffet breakfasts are included.
Explore the charming medieval town of Óbidos, cruise through the beautiful canals of Aveiro, see one of the world's oldest universities in Coimbra, and stroll the royal gardens at Mateus Palace. Amble through Porto's downtown, an UNESCO World Heritage Site, and other fascinating points. See the compelling Batalha Monastery (Mosteiro Santa Maria da Vitória), the Alcobaça Monastery, the Cathedral of Braga and Amarante's São Gonçalo Convent.
Follow your guide to the historic Our Lady of Fátima Sanctuary and learn about the history of the enthralling Convent of Christ in Tomar. In addition to receiving insight from your expert guide, you enjoy free time to continue exploring on your own in Nazaré, Guimarães, Barcelos, Viseu and Tomar.
Please see the Itinerary section below for details on each day of the tour.
Itinerary

Day 1: Lisbon – Óbidos – Alcobaça – Nazaré – Batalha – Fátima
From Lisbon, relax on a comfortable coach and enjoy the drive north, past fields of fruit trees and windmills. When you arrive in Óbidos, take a guided walking tour of this beautiful medieval city. Continue to Alcobaça, where the Alcobaça Monastery's towering Gothic church, one of the first Gothic manifestations in Portugal, overlooks the city. Visit the monastery and see the famous delicate tombs of Don Pedro and Inês de Castro. Next, have lunch in the fishing village of Nazaré (own expense) and wander along the coastal paths while hearing interesting stories from your guide. The Batalha Monastery, the final resting place of Prince Henry the Navigator, is your next stop. After you visit the monastery, relax on the drive to Fátima, your last stop of the day. Have free time to explore the city, visit the Our Lady of Fátima Sanctuary and enjoy a local dinner (own expense).

Accommodation: Hotel Santa Maria or similar in Fátima

Day 2: Fátima – Coimbra – Aveiro – Porto (B)
Enjoy breakfast at your hotel and set off to cover 167 miles (270km) in one day! First, visit Coimbra, home to one of the oldest universities in the world with a beautiful, Baroque-style library. After a tour of the university, visit the Church of Santa Clara and Coimbra's town center, where shops display local ceramic works. Have lunch at a local restaurant (own expense), and then relax on the coach drive to Aveiro, known as the Venice of Portugal due to its canals. Here, look over the famous moliceiro boats (half-moon shaped vessels).

Next, head off to Portugal's second-largest city, Porto, a beautiful city built on the hillsides of the Douro River mouth. Visit the city center, which is a UNESCO World Heritage Site. Have free time to explore the city and enjoy a delicious dinner (own expense).

Accommodation: Hotel Ipanema Porto or similar in Porto

Day 3: Porto (B)
Have breakfast at your hotel and get ready for a full day in Porto. Start with a walking tour through the lively streets, and see landmarks like the Stock Exchange Palace (Palácio da Bolsa), with its beautiful Arab Room, and St Francisco Church. Take in views of the Douro River as you wander around the riverside Ribeira district, and stop at a renowned and historical Port cellar for Port wine tasting (included). Then enjoy free time to have lunch (own expense) and explore more of the city on your own.

Accommodation: same hotel in Porto

Day 4: Porto – Guimarães – Braga – Barcelos – Porto (B)
On your forth day, you will cover 110 miles (178km) of Portuguese beauty! After breakfast at your hotel, get ready for a day in the beautiful Minho region, where historic monuments, lush landscapes, delicious pastries and vinho verde (wine) blend harmoniously. Approach Guimarães' Sacred Hill, the birthplace of Portugal, crowned by the Royal Castle and the 15th-century Palace of the Dukes of Bragança. Continue to the Guimarães town center, where you will have free time to admire the beautiful architecture of this medieval village.

Have lunch (own expense; try the famous Portuguese salted cod!), and then admire views of the Portuguese countryside on the drive to Braga, where you will visit the Cathedral of Braga and the Bom Jesus Sanctuary, known for its fascinating Baroque stairway. From Braga, move on to the beautiful village of Barcelos, the origin of Portugal's cockerel icon. Explore the village and admire its many pottery shops with your guide, and then head back to Porto for dinner (own expense) and to spend the night.

Accommodation: same hotel in Porto

Day 5: Porto – Amarante – Vila Real – Lamego – Viseu – Urgeiriça (B)
Have breakfast at your hotel and head to Amarante, a small town located on the banks of the Tâmega River. You'll also visit the São Gonçalo Convent, which overlooks the river, offering a great view of colorful porches, pastry shops and the town market. Continue to Vila Real, passing through Serra do Marão. In Vila Real, follow your guide around the perfumed gardens of Mateus Palace, and then have free time in the village of Lamego. Wander around this historical village and, at your own expense, have lunch and visit Our Lady of Remédios Sanctuary, where bola de lamego (an oven-baked loaf with smoked ham) comes from.

Next, take in views of the Douro Valley vineyards on the drive to Viseu. When you arrive, visit the city center, dominated by the Viseu Cathedral. Then, continue to Urgeiriça, in the Caldas da Felgueira region, where you will have time to explore more on your own and have dinner (own expense).

Accommodation: Hotel da Urgeiriça or similar in Urgeiriça

Day 6: Urgeiriça – Bussaco – Tomar – Lisbon (B)
Eat a good breakfast to prepare for the longest day of your trip, during which you will travel 226 miles (365km)! Relax on your comfortable coach and take in views of the beautiful Portuguese countryside as you set course to Bussaco. Here, visit the romantic Hotel Palace, a former royal hunting lodge located in the Serra do Bussaco mountain range. Continue to the village of Tomar, whose lands were bestowed to the Order of the Knights Templar in 1159 for its assistance to Portugal's first king, Afonso Henriques, in the Christian re-conquest of these lands. Here, tour the UNESCO World Heritage-listed Convent of Christ, the city's pedestrian-friendly historic center and the riverside. Finally, admire more views of the Portuguese countryside as you head back to Lisbon.
June 2015
Very pleased with this tour. Tour guide knew his material, answered all our questions, and made the trip stress free. We learned about the foods, the people, and the spirit of Lisbon Yes, and the places we went to see. The difference is in such a short period he brought his city to life and gave us the best of it. Have traveled a great deal would recommend this guide doing this tour.
June 2015
it was relaxing and informative, We saw a lot with the stress of waking up at six or sept oclock,
October 2014
Portugal was very interesting, full of beauty and history. I would definitely recommend this tour. I was very disappointed with our guide, and that we had two people that spoke Spanish and two that spoke Portuguese. It was very annoying to have to listen in three languages on an English speaking tour. It made it very difficult to comprehend what she was telling us, as her English was difficult. She did not introduce us or suggest seat rotating.

October 2015
You must change the program and include Portugal city tour because then program was very boring

JOSE F Brazil
October 2015
Interessante, mas muito corrido. Uma maratona. Merece revisão da validade de algumas paradas.
Advertisement
Advertisement