Special Offer
Book the '1-Hour Rental Early Bird' option and save 20% on the standard '1-Hour Rental'
Go for an exciting ride through Lisbon on a solo GPS-guided GoCar tour leaving from downtown Lisbon. This tour is fun and easy way to see Lisbon's best attractions. With a GPS and narrator, you won't have to think twice about turns. Simply let the GPS tell you where to go, stop, and discover Lisbon's squares, architecture, and historic sights. Then drive on and the tour continues from where you stopped. Select from four different itineraries and tour lengths and enjoy Lisbon's best neighborhoods with all the freedom to go at your own pace.
Highlights
Self-drive GoCar tour in Lisbon guided by talking GPS


Travel around Lisbon at your own pace


View Lisbon's top attractions, such as the Jerónimos Monastery, Tower of Belém and the Monument to the Discoveries

Visit Lisbon's charming neighborhoods including Alfama, Belém, Chiado and Bairro Alto

See sights that interest you, such as the Park of Nations, Sao Luis Teather or the Botanic Garden
Recent Photos of This Tour
Lisbon GPS-Guided GoCar Tour
What You Can Expect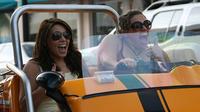 Near Praça do Comércio station, begin your Lisbon self-guided GoCar tour. Choose from four intriguing tours, hosting up to two people per vehicle, that includes an audio guide. Listen to great insight into Lisbon's best attractions. Prior to departing, hear a safety briefing explaining how to properly operate the vehicle. Plus, enjoy a lockable trunk to easily store your belongings. Then strap on a helmet and hop into your three-wheeled GoCar.

After selecting your tour, listen as your expert narrator engages you with history and cultural highlights. Leisurely stop and experience intriguing points of interest. Take all the time you need before continuing along your tour from the last place you stopped. Feel the freedom to turn off the Lisbon GPS car tour and create your own experience at any point during your drive.

With a flexible tour duration, discover as many landmarks, cultural attractions, and historical sites as you would like such as:
• Alfama, Chiado, Baixa, Bairro Alto, Chiado, Belém and Graça neighborhoods
• Amalia Rodrigues Museum
• Jerónimos Monastery
• Tower of Belém
• Monument to the Discoveries
• Park of Nations
• Sao Luis Teather
• Botanic Garden
Itinerary
East Tour:
On this 45-minute tour, visit the eastern part of Lisbon, home to St Jorge Castle. Drive through Lisbon city center to Alfama, Lisbon's medieval quarter, and the Graça and Baixa neighborhoods. With several detour options, you can customize your tour to include any secluded area that might catch your attention as you drive!

West Tour:
This 45-minute tour takes you around the interesting urban layout of winding streets and plazas of Lisbon's business center. Drive past the Amalia Rodrigues Museum, Sao Luis Teather and the Botanic Garden. Explore the Bairro Alto neighborhood and see the Camoes Plaza and the elegant Chiado neighborhood, with its old cafés, boutiques, theaters and bookstores.

Belem Tour:
Drive along Lisbon's Tagus River waterfront and discover the interesting neighborhood of Belém, home to Portugal's sailing history. This 1.5-hour tour takes you around UNESCO World Heritage-listed monuments like the 16th-century Jerónimos Monastery and the Tower of Belém. You will also see the Monument to the Discoveries, which commemorates Portugal's important role in the discovery of the Americas. Stop at a local café to have a pastel de Belém, the famous Portuguese pastry (own expense).

Expo Tour:
Explore Lisbon's modern part as you drive along the Park of Nations, where the 1998 World Expo took place. This 1.25-hour tour takes you through this lively area, home to shops, cafés and trade and cultural activities.

August 2014
Excellent car experience for those under 62 years of age. The guided tour was very informative as long as one could multitask. However, she sometimes wondered off into her own world or somehow we were lost. Definitely not for those with weak of heart or have lack of navigation skills. But it is one of the best tours we have taken in Europe, an will never forget. To this day we laugh at taking a 2 hour tour and being lost for 3 an a half hours. Funniest story we have to share with our friends.. Glad we did it once - it is now off our bucket list. Enjoy !!
May 2014
This was fun! The go car is easy to drive and gave you the possibility to visit Lisbon independent. We drove till Belem Tower and the route was lovely. Highly recommend
Anonymous
May 2014
That was a great experience. It was exciting and fun! Recommended

Blanca United Kingdom
August 2012
I really enjoyed this experience, it was so much fun! We chose the route to Belem, and it was great! It was really easy to drive, and was really convenient being able to park it almost anywhere, visit the place, and then back on the gocar. It was my first time on a gocar, and would definitely try it again in another city next time!
May 2015
Directions to return go car were too confusing. GPS even gave up! Also seats should be cushioned!

JOSE F Brazil
October 2015
We had contact with several employees of this company, as we took three services of this company. Two segway tours and one GoCar.
All staff was very nice, except the guy who attended us for this specific service. Sloppy, grumpy, he gave us an old defective car that should have been scrapped years ago.
He did not ask which language we wanted for the GPS, did not check whether the car was working well.
In short, we could not use it as it died every one hundred meters, the rear view mirror was broken, and that rendered the tour dangerous.
The engine roared like a 747 boeing.
Upon our return, we saw the cars that the other clients received: brand new, silent, gps programmed in the language of the client.
September 2014
GPS broke down and the streets were all cobblestone. Not a great experience.
Advertisement
Advertisement