Experience Portugal's traditional sights, sounds and smells of its signature cuisine during this 1-day Lisbon hop-on hop-off tour by tram. Listen to the Lisbon tram bells as you enjoy rides aboard a vintage tram and explore the city's famous quarters of Alfama, Chiado and Bairro Alto as well as Estrela. This hop-on hop-off tour allows maximum flexibility to see Lisbon's most iconic attractions.
Highlights
Hop-on hop-off tour in Lisbon by traditional tram

See Lisbon's top sights in one day!

Visit the famous quarters Baixa, Alfama, Chiado & Bairro Alto, and Estrela

Create your own sightseeing itinerary with 9 tour stops

Earphones to listen to the audio guide (in twelve languages) are included

What You Can Expect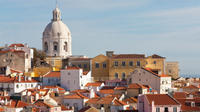 Begin your Lisbon hop-on hop-off tram tour at any of the nine available stops. Hop aboard the cable-line which has been transporting locals since the early 1900s. Then roll to your first stop in Baixa. Walk to Rossio Square (Praça de D. Pedro IV) featuring Portuguesa pavement, stones arranged in incredible patterns. Continue to Comercio Square (Praça do Comércio) known for its historic monument to King Peter VI also known as "the liberator." Looking for a bird's eye vantage point, stroll north to Santa Justa Lift (Elevador de Santa Justa).

Ready for historic Lisbon? Hop back on the tram for a stopover in Alfama, the oldest district in Lisbon. Explore the narrow alleys of this Moorish influenced neighborhood on your way to historic St George's Castle (Castelo de São Jorge) with breathtaking views over Lisbon. Note many Fado restaurants and bars where you can stop for dinner or a drink and listen to Portugal's famed music genre. Nearby, capture some photos of one of the most important monasteries in the country, the Church of São Vicente de Fora.

Find a tram and hop in car towards the neighborhoods of Bairro Alto & Chiado. Step off and check out boutique shopping and international hot-spots for night-life. If you're hungry, try some traditional Portuguese food at some of Lisbon's most delicious restaurants.

In need of some rest away from the bustling downtown, travel by Lisbon tram to Estrela and visit Estrela Park (Jardim da Estrela) in a charming neighborhood. See exotic plants, sculptures, and a cute duck-spotted lake. By the end of your day, this hop-on hop-off tour of Lisbon will leave lasting memories.
Itinerary
Tramcar stops:

Praça do Comércio - STOP
Elevador de Santa Justa
Praça da Figueira - STOP
Martim Moniz - STOP
Graça - STOP
Alfama
Portas do Sol (St. George Castle) - STOP
Sé - STOP
Rua da Conceição - STOP
Chiado
Camões - STOP
Calçada do Combro
São Bento
Estrela - STOP
Lapa
Bica
São Paulo
Corpo Santo
Praça do Município
Praça do Comércio - STOP
June 2016
October 2015
A unique way to see the delights of old Lisbon definitely would recommend to first time visitors
December 2013
Every thing was great except finding the start of the tour in the first place! The trams do not leave from the same square as the 'Yellow Hop On Hop Off Buses' and there is no indication there about were the trams depart. The geographical location of the tram stop on the download would be a great help.

Francisco RJ Brazil
August 2012
I like this trip but a small circuit with only three points to hip-on/off. The best is combine with the yellow bus (red and blue line).
August 2012
When we arrived at the tram stop we presented the confirmation and ticket printed on line. The operator of the tram stated we had to go to the office for a ticket. I explained the paper i gave him was my ticket. He had a customer aid call their office to verify our ticket. She was on the phone about 15 minutes before they finally accepted our on line ticket. When we ended our Tram tour we were told to take the yellow line bus back to the cruise ship. The yellow line told us we had to take a different line. We had to walk quite a distance to locate the correct line. The Tram Tour was okay.
September 2013
Take the bus tours rather than the tram tour. The best is to buy the combination of all these tours: two around Lisbon, one around Belem and the tram around downtown Lisbon.
April 2016
The tram trip is billed as hop-on, hop-off, but it doesn't work. The trams are small appropriately and there are not enough of them, so the frequency is too long at half-an-hour.
Whether you can get on again after getting off entirely depends on how many others are doing that. We made the mistake of getting off at Stop 6, to see Castello San Jorge, but we couldn't get back on again.
Having waited an hour, during which two of the red trams came along, we had to give up as neither of them could take us. Nor would a green tram operated by the same company, so we had to get an ordinary city tram to get back to our hotel.
Effectively, we paid 87.50 for four adults and two kids for a tram through Alfama to the castle, making this by far the most expensive outing we had in Lisbon. We would not make that mistake again, nor should others. The only way to get your money's worth is to stay aboard from start to finish.
Really, the operating company should stop deluding people that this is a hop-on, hop-off service. It is anything but, as we found to our cost.
Advertisement
Advertisement