Discover the myth of Lisbon's seven hills during this electric bike tour leaving from central Lisbon. Bike tours in Portugal's hilly capital can be exhausting, but aboard an electric bike you will have no problem cycling to Lisbon's best vantage points and monuments. Experience the culture and history of the charming Chiado, Alfama and Bairro Alto districts. Enjoy popular landmarks like Sé de Lisboa Cathedral. You will easily scale hills for panoramic views from the National Pantheon, São Vicente Monastery and historic St George Castle. With an electric bike the hills are not the limit!
Highlights
2.5-hour electric bike tour through Lisbon

Scale Lisbon's seven hills with ease to discover the best views, such as the National Pantheon and São Vicente Monastery
Ride from Castelo de São Jorge to Sé de Lisboa Cathedral with your expert guide
Enjoy panoramic views of Lisbon and the Tagus River from Eduardo VII Park
Discover Lisbon's oldest district, Alfama, and the elegant Chiado neighborhood

Choose a morning, afternoon or night tour

Recent Photos of This Tour
Lisbon Seven Hills Electric Bike Tour
What You Can Expect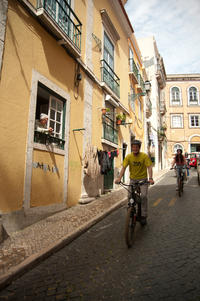 After arriving at the bicycle shop near the Baixa Chiado Station, get ready to discover Lisbon's seven hills on an electric bike. Since no experience is necessary riding an electric bike feel at ease. At the shop, listen to a safety and operational briefing which will explain the electric bike's simplicity. At your own pace, pedal along until you tire or want a break. Then, easily access the bike's electric power from a switch on the handle bars. When you're ready, grab your helmet, lock, and an interactive map supplied by the shop and off you go.

Cruise along Lisbon's cobblestone roads and learn Lisbon's secrets and lore as you discover hidden gems in the Alfama, Chiado, and Bairro Alto districts. Pedal less as you climb to São Vicente Monastery and visit its rooftop for spectacular views of the Tagus River. Experience cycling serenity in São Miguel and Eduardo VII Park. Then, admire the stunning architecture of the oldest church in Lisbon, Sé de Lisboa Cathedral.

During your Lisbon seven hills bike tour, traverse winding cobblestone roads to reach St George Castle (Castelo de São Jorge) perched upon a hilltop. Stretch your eyes over the historic city center and savor several remarkable views. Continue to explore the rich culture and fascinating heritage of the city using your interactive map. Conveniently cycle along on your electric bike until you are satisfied with the city's past and present attractions. Then, return your bicycle back at the shop.
May 2016
A really nice way to explore Lisbon if you are up to the challenge of riding between cars in the narrow roads up-hills and down-hills, for me and I am inexperienced with bikes was a bit scary at times But overall was fun and our guide Yann was very helpful, resourceful and had a good knowledge of the main sites.
May 2016
Wonderful Experience! Recommend it to everyone.
The e-bike make it possible to ride on the steep slopes of the city with just a bit of effort. You will see the city from several different view points, that you wouldn't believe you can reach in just a couple of hours.
Our guide was George, such a great guy, know a lot about the city and it's hidden secrets!
George, if you are reading this - thank you for the wonderful experience! :
April 2016
Our tour guide was the best, he showed us everything we wanted, even going over time to show us a spectacular view of the sunset over the city!! He even took us to this gorgeous little bar where they did the famous cherry gin shots!. The ride itself is very easy, even going up hills is a breeze. I would highly recommend this tour for anyone visiting Lisbon, its great to do on your first couple of days so that you can get a feel for the city! I went with my two teenage daughters and they had a lot of fun, I would recommend this for other families .
March 2016
It was very interesting and electric bike did his work very well.
March 2016
Great tour guide - Goncalo - brought us around the city. We were fortunate that we were the only two on the tour that day. Very knowledgeable guide about the city and was able to give us some of the political background necessary to understand Lisbon. Terrific views of the city and in depth views of some of the neighborhoods.
March 2016
We had an awesome time! Our tour guide, Fabio was fantastic and added a lot of personality to our tour. He showed us around some of the main areas of Lisbon and we went up to one of the best panoramic views of the city - which was so much easier and quicker to get to because of the electric bikes. The electric bikes were really fun and made the hills a breeze- I never even broke a sweat. The only stressful thing was avoiding cars and people. Most of our routes were areas with limited traffic though so anyone who has some experience biking would be fine.
March 2016
Weather was slightly against us however we thoroughly enjoyed our guided tour. We found Rueben our guide very informative and enthusiastic which certainly made up for the adverse weather conditions.
We would recommend any one to book with confidence. The bike was very robust and took all the hills in it's stride.
Deborah G United Kingdom
February 2016
Excellent !! Our guide Goncalo was very friendly and manged to keep us safe on the narrow, cobbled and very hilly streets of Lisbon. Granted there was only the two of doing the tour but neither of us had ridden an electric bike before so he had to keep a close eye. Goncal is knowledgeable and very passionate about his city and made the tour extremely enjoyable. We were only in the city a short time and saw far more on this tour than we could ever have done just walking. Highly recommended!
December 2015
Excellent tour - would recommend everyone to try it. Joanna was a wonderful guide - informative, considerate and good fun. This is also good value for money
Please Viator give better directions to the meeting point. If Joanna hadn't rung and then come to meet us I might still be wandering around Lisbon!!
November 2015
Great time with David as tour guide. Wonderful way to see the city as hills way too steep to ride unless on ebike.
Advertisement
Advertisement