According to legend, Lisbon was built upon seven hills, and with this electric bike tour, you'll be able to scale them with ease to discover the city's best highlights and scenic views. It's without a doubt the best way to experience the history, culture and people of Lisbon. Visit the beautiful Alfama, Chiado and Bairro Alto districts, and cycle pass Lisbon landmarks like Sé de Lisboa Cathedral. Ride up to the highest spots in the city, such as the National Pantheon and the São Vicente Monastery, and enjoy magnificent 360- degree views over Lisbon's beautiful landscapes.
Highlights
3-hour electric bike tour through Lisbon

Scale Lisbon's seven hills with ease to discover the best views, such as the National Pantheon and São Vicente Monastery
Ride from Castelo de São Jorge to Sé de Lisboa Cathedral with your expert guide
Enjoy panoramic views of Lisbon and the Tagus River from Eduardo VII Park
Discover Lisbon's oldest district, Alfama, and the elegant Chiado neighborhood

Choose a morning, afternoon or night tour

What You Can Expect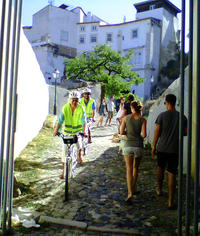 If you are looking for a fun and convenient way to see Lisbon, an electric bike is what you need! Visit the city's highlights that aren't accessible by car on an easy and enjoyable ride through Lisbon. No experience is necessary – riding an electric bike is just like using a normal bike, with a few advantages! The bike is fitted with a battery, which means you can use the bike's power to go up hills or take a break when you get tired by simply turning on the power on the handle bars. You will receive an instruction and safety briefing at the bike shop, as well as a helmet for your safety while riding.

Discover all the well-known sites that make Lisbon the most iconic city in Portugal. On the electric bike, you'll be able to visit the hidden and nearly inaccessible spots that are filled with stories and legends. Explore places like Eduardo VII Park and São Miguel, and marvel at the beautiful Sé de Lisboa Cathedral. Climb up to the roof of the São Vicente Monastery for superb views of the National Pantheon, Alfama and the Tagus River.

Go to the highest spots of the city, like St George Castle (Castelo de São Jorge), with viewpoints limited only by the vastness of the horizon. Discover the richness of Lisbon's past and present and get to know this warm, lively city in a fun, convenient and exciting way – by electric bike!
March 2015
Great way to orientate yourself to the city. Quickly see the sites and their location then go back to visit those that caught your attention. Simon our guide spoke good English, was informed and his enthusiasm for his town engaging. Also Electrics bikes are the way forward - hills what hills?
December 2014
My husband and I went on the electric bike tour of Lisbon with Ricardo and it was one of the best things we did while in Portugal. We would HIGHLY recommend it!!! We got to see Lisbon from a completely different perspective mingling in and out of the small streets....seeing the locals going about their every day chores and errands. The views of the city from the "hills" are incredible. Ricardo is a very likeable guide so that made the day pleasant and fun, but he is also extremely knowledgeable about everything to do with this city. I was excited about this tour but probably a little apprehensive too about my ability to make it to the "5 hills of Lisbon", but with the electric bicycle it was simple. Can't say enough about how much fun we had. Such a great break from the "normal" type tour. Look forward to doing this with Ricardo again someday!!!
Advertisement
Advertisement