See more on this comprehensive combo hop-on hop-off tour in Lisbon. This sightseeing experience visits Lisbon's best attractions throughout four loops. Pick from routes such as the Olisipo Tour, the Belem Tour, the Tagus Tour, the Hills Tramcar Tour and the Castle Tramcar Tour. Admire 360-degree views on a double decker bus ride to Rossio Square and the Square of the Fig Tree along Olisipo and Tagus routes. On the Belem route, see the UNESCO World Heritage sites Belem Tower and Jeronimos Monastery. The highlights are the Hills Tramcar Tour and the Castle Tramcar Tour where you will traverse the city center to the old Alfama district, Bairro Alto and Chiado neighborhoods on a traditional Lisbon tram.
Highlights
Lisbon combo tour that includes five hop-on hop-off routes in one ticket
The most flexible and convenient way to travel around the city

See Lisbon's top attractions, including Rossio Square, the Santa Justa Elevator and Belém Tower
Visit the famous quarters of Baixa, Bairro Alto & Chiado, Estrela and Alfama
Create your own itinerary with nearly 70 bus and tram stops
Enjoy riding in open-top buses and the famous Lisbon tramcar

Recent Photos of This Tour
Lisbon Combo: Hop-On Hop-Off Tour with Four Routes including Tram
What You Can Expect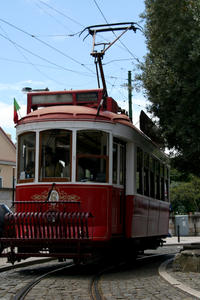 Hop on any stops along four routes and see the best attractions with your Lisbon hop-on hop-off ticket. Traverse the city in an open-top double decker bus, minibus, or a vintage tram, and enjoy the freedom to hop on and off at your leisure.

Olisipo Tour:
Stare up at Lisbon's bright blue sky as your travel the Olisipo route to the Oceanarium, the largest indoor aquarium in Europe (admission not included). See the architecture of Casa dos Bicos and observe its curious façade. Then, head to the Museum of Amalia Rodrigues and learn about the queen of Fado. Next, visit the tile exhibit at the Azulejo Museum (Museu Nacional do Azulejo) and study the techniques used to create and manufacture decorative tiling.

Belem Tour:
Experience the historical monuments of Lisbon aboard a minibus. Admire the Belém Tower (Torre de Belém), fortified tower built in the 16th century, which was erected at the mouth of the Tagus River to protect the city. Stop at the Navy Museum (Museu de Marinha) and learn about all aspects of Portugal's navigation history. Continue to the Monument to the Discoveries (Padrão dos Descobrimentos) which honors Portugal's Age of Discovery.

Tagus Tour:
Jump on another open top bus and explore the Tagus River route full of historic squares. Hop-off at the historic Rossio Square (Praça de D. Pedro IV) where revolts, bullfights, and executions once took place. Then, head to the lively Restauradores Square (Praça dos Restauradores) and see the beautiful obelisk Monument to the Restorers. Stroll through Avenida da Liberdade and arrive at the roundabout of Marquess of Pombal Square (Praça do Marquês de Pombal). Capture photos as you experience the ambiance.

Hills Tramcar Tour:
Hold onto the tram railing as you visit Baixa and the Comercio Square (Praça do Comércio), which was completely remodeled after the 1755 Lisbon earthquake. From here, travel to Alfama, Lisbon's oldest neighborhood and home to Lisbon's best fado bars and restaurants. Leave the Lisbon tram map in your pocket and walk up the hill to the majestic St George's Castle (Castelo de São Jorge) for stunning views. For another amazing vantage point, head to the Miradouro das Portas do Sol. Next, make your way to the popular Chiado & Bairro Alto neighborhoods rich with shops and restaurants. Grab a coffee at one of the many cafes and relax on a bench watching waterfalls at Estrela Park (Jardim da Estrela).

Castle Tramcar Tour (April to October only):
Visit Lisbon's traditional quarters on the hill of St. George's Castle, onboard a historic vintage tram, and get to know some of the city's most beautiful viewpoints. The breathtaking views allow enjoying the city's unique sunlight and its one-of-a-kind architecture.
Itinerary
Stops on the Hill Tramcar Tour (48-hour ticket):
Praça do Comércio - Terminal
Elevador de Santa Justa
Praça da Figueira - STOP
Martim Moniz - STOP
Graça - STOP
Alfama
Portas do Sol (St. George Castle) - STOP
Sé - STOP
Rua da Conceição - STOP
Chiado
Camões - STOP
Calçada do Combro
São Bento
Estrela - STOP
Lapa
Bica
São Paulo
Corpo Santo
Praça do Município
Praça do Comércio - Terminal

Stops on the Castle Tramcar Tour (48-hour ticket)*:
Camões
Largo de São Roque
Miradouro S. Pedro Alcântara
Príncipe Real
Miradouro S. Pedro Alcântara
Camões
Chiado
Rua da Conceição
Igreja da Madalena
Sé
Portas do Sol (St. George Castle)
Alfama
Graça
Alfama
Portas Sol (St. George Castle)
Sé
Rua da Conceição
Camões
*Castle Tramcar Tour operates April to October only

Stops on the Tagus Tour - by open-top bus (48-hour ticket):
Praça da Figueira
Restauradores
Av. da Liberdade
Marquês de Pombal
Av. José Malhoa Sul
Av. José Malhoa Norte
Praça de Espanha
El Corte Inglés
Parque Eduardo VII
Amoreiras
Basílica da Estrela
Museu dos Coches
Jerónimos / Museu da Marinha
Torre de Belém
Padrão dos Descobrimentos
Docas
Museu de Arte Antiga
Cais do Sodré
Rua do Comércio
Praça da Figueira

Stops on the Olisipo Tour - by open-top bus (48-hour ticket):
Praça da Figueira
Rua do Comércio
Casa dos Bicos
Museu do Fado
Estação de Santa Apolónia
Museu do Azulejo
Oceanário
Pavilhão de Portugal
C.C. Vasco da Gama *
FIL - International Fair of Lisbon
Hotel Myriad
Gare do Oriente
Igreja de S. J. de Brito
Entrecampos
Campo Pequeno
Saldanha
Marquês de Pombal
Príncipe Real
Miradouro S. Pedro Alcântara
Rua do Alecrim
Cais do Sodré
Praça da Figueira
*point of interest only

Stops on the Belem Tour - by minibus (48-hour ticket):
Jerónimos
Museu da Marinha
Torre de Belém
Padrão dos Descobrimentos
Museu da Electricidade
Museu de Etnologia
Jardim Botânico da Ajuda
Palácio da Ajuda
Jardim Botânico da Ajuda
Museu dos Coches
Jerónimos

April 2016
Excellent value for money as we had free access to the other city buses and the trams and aerobus. This is a very good way to see as much of Lisbon as you can during a short break. Buses are frequent and take you to all the interesting areas of Lisbon. We particularly liked the monastery, Belem tower blue line tour and the red tram tour was the highlight of our trip, which we did twice to get up to the Cathedral and St Jorge castle. Well worth the money.
March 2016
Brilliant. Drivers very helpful.
November 2015
the best deal of our portugal trip was the purchase of the lisbon hop-on hop-off tour with four routes including tram
we utilized all 4 routes for 2 days and the entire family thoroughly enjoyed sightseeing around lisbon on the upper deck of the bus
what made the bus trip even more enjoyable was the fact that we had 2 of the most beautiful sunny days in lisbon
kudos to viator for offering such good value and look forward to booking a similar sightseeing tour on our next vacation
October 2015
Excellent value for the cost. The buses were frequent and although sometimes full there was space for good views. The flexibility to use other local buses and the airport bus was very useful, although if using the airport bus to catch your flight, give yourselves plenty of time to allow for full buses. If you have booked 4 tours you will need 2 days to sensibly achieve an unrushed schedule.
September 2015
Great way to get oriented in Lisbon. Several routes that take you to places you can see by walking. Validate early in the morning to get maximum use out of the 48 hour pass. Be sure to ride all the different routes and the tram. Lisbon is very hilly, so this is a good way to get to various sites without having to walk the steep hills.
August 2015
Super duper choice... Covers the entire city. Loved it.

June 2015
Taking 4 itineraries allows you to see all Lisbon, including it's modern districts and buildings. However, if you want to see only the old city and main attractions, taking the tram tour and blue bus line is sufficient. Purple line bus itinerary is a bit too long and you mostly travel in new Lisbon districts.
May 2015
Fantastic, had a wonderful time. Very good value and the Tram was great fun. Didn't even have to pay on bus up to castle.
Will defo book with Viator on our next City Break.
May 2015
April 2015
Great value - yellow buses were easy to find and commentary was excellent with supplied head sets. The red tram was amazing and worth the ticket alone. The only problem with the red tram was there are only 26 seats on the tram - so the only realistic place to join is at the start point at Commercial Square - beware - if you get off mid route - there is ittle chance of getting on another tram as they are all full
Advertisement
Advertisement