Pop the top of your refurbished VW Beetle convertible and discover Lisbon on this privately guided tour. Pile in with friends and explore Lisbon's top attractions such as Castelo de São Jorge and Sé de Lisboa Cathedral. You will voyage to Alfama, Graça and Baixa and marvel at the cultural highlights and monuments in each district. Want more? Option for a trip to the UNESCO World Heritage-listed town of Sintra and make your trip a full-day exploration.
Highlights
Private sightseeing tour of Lisbon by convertible Beetle

Enjoy a scenic drive along coastal streets with your private guide and family or friends
Visit Lisbon's famous sites like Sé de Lisboa Cathedral, Castelo de São Jorge and the Tagus River
Drive through Lisbon's diverse districts like Alfama, Baixa and Graça
Upgrade your private tour to visit the stunning UNESCO World Heritage-listed town of Sintra
What You Can Expect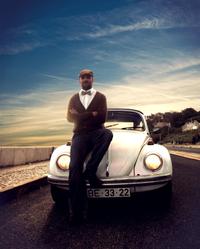 Begin your private Lisbon tour with a pickup at your hotel. Then, meet your guide, pop into your retro VW Beetle convertible and begin with a drive to the top landmarks in Lisbon. Wind through the streets of Alfama and see Castelo de São Jorge that commands its hillside. From their, discover the famous historic square Praça do Comércio in Baixa.
Continue to amble through the neighborhoods of Graça, Belém, Bairro Alto and Chiado and learn about the areas that were rebuilt after the devastating Lisbon earthquake of 1755. Marvel at architecture with a variety of styles shaped by the shakes of Lisbon's tremulous past.
Upgrade to a full-day tour:
Select the full-day option and enjoy an 8-hour adventure that not only adds more places to visit in Lisbon, but includes a trip to the fairytale-like town of Sintra. Following your AM exploration of Lisbon, traverse along the Tagus River until you reach the Estoril Coast. Gaze at stunning views until you arrive at the cape which forms the westernmost extent of continental Europe, Cabo da Roca. Snap a few photos here and then head nearby for lunch at a local Portuguese place (own expense). If you would like, sample delightful cheese, chorizo and pastries. Perhaps, top it off with a glass of flavorful regional wine.
With a full belly, travel on to the region of Sintra and observe the beautiful combination of nature and architectural expression. See how the Arabesque Monserrate Estate and the well-maintained Sintra National Palace elegantly coexist within the lush hillsides. With your guide, thoroughly explore the castles and marvelous buildings which makeup the UNESCO-listed town of Sintra. Finally, return to Lisbon as the blue sky wanes overhead.
To get a well rounded day experiencing Portugal, feel free to indulge in wine and spirit tastings, and don't forget to try Lisbon's famous cakes.
May 2016
highly recommend! Great way to see the sights!
May 2016
The best ride Juliane our guide was such a good driver and took us around the beautiful sites in Sintra, drove to Cabo Da Roca the most western point in Europe, we had a wonderful lunch in one of the sea food restaurants and drove through the beautiful city of Cascais and then to Lisbon where we stoped at two more interesting spots. A great trip.

May 2016
Highly recommended. We had a minor issues with the exhaust from the VW but once the roof was open everything was ok.

April 2016
This is one sensational way to see not just Liboa itself but the magnifacent countryside that's all within a 20 kilometer distance from the city. Our Guide and Drive Ricardo went out of his way to show us a area he clearly loves and knows like the back of his hand. Magnificent scenery, historic landmarks, geographical wonders--just amazing how much is packed into 9 1/2 hours. I cannot say enough good things about this touradventurehistory lessonfunindividual attentionit's just you. This is one of the best travel experiences we've ever had. Do not miss it.
April 2016
one of the best days of my life!
It worth every single penny .. I went with Ricardo .. he is an amazing guy with a good personality .. I felt like I'm having a tour with my friend .. this is a must if you are in Lisbon ..
March 2016
Wonderful tour with guide who was flexible and very helpful
March 2016
Amazing tour with Ricard! He was flexible and accommodated our requests. He takes excellent pictures as well.
October 2015
This was JUST a lot of fun. The guide was excellent. We actually had people taking photos of us as we were travelling through the city and around. Highly recommended!!!!
July 2015
We did this tour on our second day in Lisbon and it's a great and fun way to see the city. Our drivers Luis and Joao turned up bang on time at our apartment in funky pink and purple restored VW's and we set off on a tour of the city which lasted 4 hours. The drivers were very accommodating and stopped wherever we wanted whilst also telling us about the history and sites that are worth a visit. It was great fun and the cars certainly raised interest around town with people waving at us along the way. If you want something a bit different from the regular tours you should definitely do this. Thanks Luis and Joao for a fun afternoon!
July 2015
We absolutely loved our tour and our guide Luis. We did the full-day tour and we were picked up right outside our flat rental in Lisboa. We started in Sintra and then drove along the coast to Cascais and Belém. Luis made sure we understood where we were going and always asked if there was something else we preferred to see instead. We trusted his recommendations and we weren't disappointed! We had a choice of places to have lunch, we opted for the traditional Portuguese style restaurant and it was delicious! We ended the tour with some porto wine and pasteis de Belém yum! in the park near the Torre de Belém. I would highly recommend this tour, especially if it's your first time to Lisboa.
Advertisement
Advertisement