This West Region tour allows you to learn about the patrimonial 'masterpieces' of Portugal. You have as an option to visit Alcobaca or Batalha. Included in this tour is a visit to Fatima, the religious capital of Portugal, and an essential place to visit for many people. However, if religion doesn't interest you, you can visit both Batalha and Alcobaca instead.
Highlights
Take a private tour to Obidos

Have lunch in the gorgeous little Nazare

Possibility to visit the beautiful Fatima

Spend your day either in the intriguing cities of Alcobaca or Batalha

What You Can Expect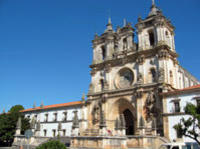 Start with a visit to Fatima and its Sanctuary, the site where Our Lady of Fatima appeared in 1917. Since then, millions of pilgrims go there to pay their promises to pray or just to feel its mystical strength! The Sanctuary Square is so big that it can only be described by numbers: it can receive simultaneously 300,000 visitors and it's twice the size of St. Peter's Square in the Vatican.
From Fatima, continue to the Monastery of Batalha, (or Alcobaca as an option) the biggest example in Portugal of the late gothic Portuguese style, where you can find a mix of the gothic style with the Manuelino Art - symbol of the Portuguese maritime expansion. If you choose to go to Alcobaca instead then you will visit the famous 12th century monastery. This monastery is not only a beautiful architectural example, but it also has the monuments in memory of King D. Pedro I and D. Ines de Castro.
After lunch in the fishing village of Nazare, your last stop of the day will invite you to travel back in time to the true medieval town of Obidos. In Obidos all of this royal tradition of Portuguese Kings and Queens was kept till today including the old wall that surrounds the city.
As this tour is private, you have some choices:
Alcobaca or Batalha - For those who wish to visit Fatima.
Alcobaca and Batalha - for those who do not wish to visit Fatima.
October 2014
We loved our Fatima tour. We found the driver and tour guide both to be friendly and well-informed. All of our stops were places we had wanted to visit. Our guide was one of the best we've ever had. Thank You!
August 2014
Our trip was fantastic. Our guide Tiago was excellent, . His English was extremely good and it made our understanding of our tour knowledgeable. We were a family of 8 so we had the tour for ourselves. enjoyed very much.
August 2011
Knowledgeable and attentive guide. Great tour about 10 hours long. Try and find a less touristy lunch spot, as it is your choice, and maybe that would speed things along. Monastaries were amazing, as well as the beach in Nazare. Top notch!
July 2011
Outstanding! Pedro, our guide was excellent. We saw everything in the itinerary in a very relax, unhurried way. Our driver was very good and courteous. Highly recommended.
January 2011
The four of us enjoyed a wonderful day in the Portuguese countryside. We were picked up on time by a very knowledgeable and personable guide. Our first stop was Fatima. We spent a couple of hours here and then proceeded to a world heritage site where we saw the tomb of Prince Henry the Navigator. For lunch we stopped at the lovely seaside village of Nazare. From here we toured a medieval walled city . We all agreed that this day was the highlight of our trip to Portugal.This is the only way to see these sights especially if you have a group of four or more not only is it economical but you get to see so much more of Portugal..
August 2008
The van was on time when he picked us up at our hotel. One of the pluses of this tour was our guide, not only was he knowledgeable but also very friendly and spoke perfect English. Because this was a private tour he offer us the flexibility of pretty much customizing the tour by determining the length of time we wanted to spend at each place visited. We had a fantastic lunch in Nazare right on the beach. A fantastic private tour.
August 2008
Our tour was fabulous. Our driver was personable, spoke good English, was a good driver, and timed all our stops well.
February 2010
The guide was knowledgeable and personable.
Advertisement
Advertisement