Maribor is the second biggest town in Slovenia and in character totally different from Ljubljana and the western parts of the country. It is situated on the banks of the Drava River, in the hilly countryside among the best vineyards. You will visit the city's famous wine cellar and taste excellent wines from the region.
Highlights
Visit the beautiful Maribor situated on the banks of the Drava River

Explore the city's famous wine cellars

Taste some of the regions finest wines

Visit the Ptuj Castle

Discover the city's majestic gothic cathedral

What You Can Expect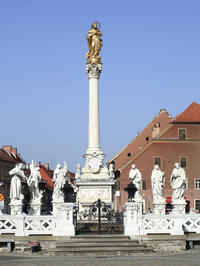 The oldest town in Slovenia, Ptuj is located just a short drive from Maribor. The writer Tacitus mentioned it for the first time already in the year 69. Numerous archaeological remains prove that the city experienced its first period of prosperity as the Roman town of Poetovio.

The present much admired appearance of the city originates from the Middle Ages when Ptuj experienced its second rise to wealth and prominence. You will explore its beauty in a walking tour through the town and the visit of the Ptuj Castle. The castle, the Dominican and Minorite monasteries, the Provost church and the old city hall are some of the curiosities of the town, worth seeing. The heritage of past centuries will enchant even the most demanding visitor of this town.

Afterwards you will head to the attractive city of Maribor where you will visit the majestic Gothic Cathedral, the lively main square and discover the legends of the Franciscan Church. A stroll along the romantic Lent river bank will lead you to the Old Vine House, with the oldest wine in the world. Complete the day by sampling the wines in one of the renowned wine cellars.
January 2014
May 2012
Excellent trip. Very detailed.
June 2012
The guide didn't follow the itinerary. A coffee stop at Ptuj took the place of a tour of the old town. Maribor wasn't as interesting as it sounded.
April 2013
I thought this was a waste of money! Firstly it said it included lunch and wine tasting. Lunch WAS NOT included and I was sent off to have lunch on my own and pay for it. Wine tasting was a rushed 30-45 minutes. I got a really ood bottle of wine out of it though for a good price. But this tour was supose to include a guided tour but it did not. The driver gave me alot of information but if he hadnt then I would not have known anything! The driver was fantastic as I was the only guest so we were able to be flexible and go off the "beaten track" but I could have done this tour on my own and paid less.
Advertisement
Advertisement