Experience beautiful mountains and pristine glacial waters of the Julian Alps during a guided tour of Lake Bled, departing from Ljubljana. Your guide will explain how a Swiss doctor, Mr. Arnold Rikli, helped put Lake Bled on the map after starting a climactic health center. Find out more fascinating facts about this beautiful region on this intimate tour.
Highlights
Discover Bled - the 'Pearl of the Alpine region' - and its fascinating sights on this guided tour from Ljubljana

Visit the beautiful 11th-century Bled castle and the magnificent Saint Martin church

Experience an unforgettable boat ride to the island

Take stunning photos the emerald-green lake, scenic mountain range and beautiful valleys

Recent Photos of This Tour
What You Can Expect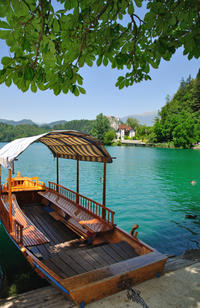 After your pick-up from your Ljubljana hotel head to Lake Bled for discover why it's known locally as the 'Pearl of the Alpine region.' With your guide, explore the 11th century Bled Castle perched atop a cliff and visit the early 20th century St. Martin Church. Finally enjoy a traditional wooden plenta boat ride to Bled Island (own expense) and either see the Church of the Assumption of Mary or enjoy a tasty potica a slovenian nut roll pastry (own expense). On your ride back enjoy more views of the rural side of Slovenia.
Itinerary
HOTEL PICK-UP TIMES:

Austria Trend: 8:15am
Central: 8:25am
Union: 8:30am
City: 8:30am
Park: 8:35am
Celica: 8:35am
Cubo: 8:40am
Lev: 8:45am
M Hotel: 8:50am
Mons/Stil: 9am
November 2015
We had a terrific guide and shared this experience with 1 other person. We had plenty of time to see Lake Bled and the area surrounding it. The only negative fact was that it rained most of the day so our photos were not as clear due to the poor weather. I wish the weather was better and we could have taken cleared photos. Take this tour it was excellent.
June 2015
Beautiful, picture perfect, well paced and interesting. Our guide was fantastic and great fun
October 2014
This is a tour worth doing.The views of lake bled were breathtaking and the castle and it's views were worth the trip.
October 2014
Bled is a wonderful place. The lake is one of the most beautiful I have ever seen. Wladimir, our guide, was great! The original bled cream cake is delicious!
September 2014
Our trip to Bled in August was wonderful; my husband and I both enjoyed every minute of our time - the castle, the lake, the island, the Church and the "cremeschitte" were fantastic and exceeded expectation! Vladmir was an outstanding guide who happily shared his wealth of knowledge, provided good company but was still professional in his approach at all times.
I would have no hesitation about recommending this tour.
September 2014
August 2014
Great tour! We were a group of 3 who got our own guide. Our guide (who claimed to be a fossil) was very informative and also gave us enough time at the different locations. He took us to different viewpoints where we could take the best pictures. Lake Bled is a very beautiful place that are definitely worth visiting! We loved it :-)
August 2014
Lake Bled is absolutely beautiful and should be seen by anyone who visits Slovenia. The view from the castle is outstanding.
Geoff L Canada
July 2014
Tour was great, guide was great-beautiful place!
December 2013
The only way this trip could have been better was if the sun was shining. Even though it was overcast, had a few light showers and I had just flown for 26 hours, I thoroughly enjoyed it. This turned out to be a private tour as I was the only one on it. My guide, Peter, was fantastic. His knowledge was excellent and he had so much information to share. This is a must do trip. Lake Bled is a beautiful place. Thank you Peter.
Advertisement
Advertisement