Discover the spectacular sights of Slovenia during a full-day tour of the country's second biggest city, Maribor, with a knowledgeable guide. Stroll the picturesque banks of the Drava River and gaze at the gorgeous greenery that sprawls over the hills and vineyards of the countryside. Explore the ancient village of Ptuj for impressive historical monuments and descend to the town's most famous wine cellar to pleasure your palate with refined wines of the region. Gain fascinating insight into Moribor's prosperous past as your guide offers informative commentary throughout the tour.
Highlights
Visit the beautiful Maribor situated on the banks of the Drava River

Explore the city's famous wine cellars

Taste some of the regions finest wines

Visit the Ptuj Castle

Discover the city's majestic gothic cathedral

What You Can Expect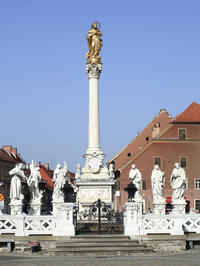 Depart from your hotel in a comfortable, air-conditioned vehicle and venture to Ptuj, the oldest town in Slovenia. Travel between the archeological remains of ancient settlements and enrich your knowledge of the country's prosperous past as you tour the town with your guide. Hear about how the town was first mentioned in the 1st century and admire the flagrant fortification of Ptuj Castle during your comprehensive walking tour of the town.
See, too, the Minorite monastery and Provost church as you absorb the old world charm of the town. Next, venture to the stunning city of Maribor to pursue more enriching cultural endeavors. Gaze at the Gothic grandeur of the cathedral and discover the legends that shroud the Franciscan Church as you wander the luscious landscape of the Lent riverbank.
Arrive at the Old Vine House, an established winery home to the world's oldest wine, and descend to the cellar to sample refined wines grown in the region. Return to your hotel in Moribor after the tour concludes.
January 2014
May 2012
Excellent trip. Very detailed.
JOHN B Australia
June 2012
The guide didn't follow the itinerary. A coffee stop at Ptuj took the place of a tour of the old town. Maribor wasn't as interesting as it sounded.
April 2013
I thought this was a waste of money! Firstly it said it included lunch and wine tasting. Lunch WAS NOT included and I was sent off to have lunch on my own and pay for it. Wine tasting was a rushed 30-45 minutes. I got a really ood bottle of wine out of it though for a good price. But this tour was supose to include a guided tour but it did not. The driver gave me alot of information but if he hadnt then I would not have known anything! The driver was fantastic as I was the only guest so we were able to be flexible and go off the "beaten track" but I could have done this tour on my own and paid less.
Advertisement
Advertisement