Experience the Mediterranean's sapphire blue waters as well as Istrian heritage during a guided tour of Slovenia's coastal cities. During your tour you will explore the Istrian town of Piran. You will learn about how the culture here is derived from many empirical histories including the Venetians, Romans, Byzantines, and the Austro-Hungarian monarchy.
Highlights
See the Mediterranean coastal region of Slovenia
Explore the ancient coastal town of Piran
Admire charming Venetian architecture
Enjoy a lunch of fresh fish at one of the local restaurants
Visit the Lipica stud farm with Lipizzan horses
Take a swim in the Adriatic
What You Can Expect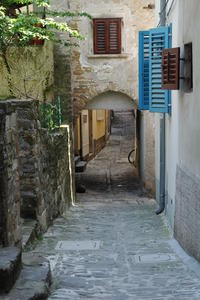 Meet your guide at your hotel in Ljubljana before visiting the Istrian town of Piran. Stroll with your guide through the narrow streets of the old town and learn about its Medieval-influenced architecture.

Take a break from the guided tour for lunch (own expense) and taste one of many traditional fish dishes, like the cuttlefish risotto. Next, spend some time relaxing next to the crystal clear waters of the adriatic or pop in for a calming swim.

A contrast to the historic city of Piran, is Portorož, one of the most popular Slovene coastal resort, which you can explore during your free time before heading back to your starting point.
July 2015
We had a wonderful time on this tour and highly recommend it. Piran is very picturesque and there are plenty of lovely restaurants to choose from for lunch during your free time. Our guide Vladamir was excellent, very chatty and knowledgable. The walking tour was optional but i'm glad we chose to do it as he took us down backstreets and showed us sights we most likely would not have seen if we had gone off on our own straight away. The salt fields were also really interesting and all in all it was a great day out!
September 2014
January 2014
Loved exploring the salt fields.
December 2013
Though we had rain for half this tour it was still very beautiful and our tour guide was excellent
Eduard K USA
November 2012
This is nice tour with very good professional guide who knows history of Slovenia and history of these 2 little city.
May 2012
Excellent trip. Very detailed.
JOHN D Ireland
February 2010
Fantastic trip--guide was one of the best.
David A United Kingdom
February 2010
I had an excellent guide who took great care of me, I have Parkinson's disease and arthritis. On this occasion we went to the sea salt production area too.

Corinne H USA
July 2015
The coast is beautiful. Both towns are very small and there isn't very much to do...besides enjoy your surroundings. We went to the salt mines beforehand, which was interesting but seemed out of place on the tour. Our guide was nice but very difficult to understand...I only caught about 50 of what he was saying. Some people went swimming, the water is clear and pretty. Definitely a very relaxing day.
October 2014
Advertisement
Advertisement