Explore the fascinating network of subsurface caves during a guided tour of the Postojna Caves and Predjama Castle, leaving from Ljubljana. As you enter the two million year old caves aboard a mini-train, you will learn about why this is one of Slovenia's most popular attractions. You'll walk with your guide and witness bizarre stalactites, stalagmites and other rock formations that make up the 13-mile-long (21 km) system of underground caves. You'll also venture to the enchanting Predjama Castle, a famous castle that still clings to Slovenia's limestone cliffs.
Highlights
Travel along the biggest Slovenian cave systems

Ride by electrical train through majestic cave halls

Learn about the caves 'underworld system'

See one of the most interesting baroque castles

Recent Photos of This Tour
What You Can Expect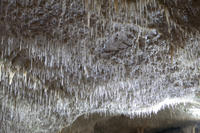 Meet your guide in central Ljubljana and settle into your ride as you set out for two of Slovenia's most enchanting wonders, Predjama Castle and the Postojna Caves. First, go with your guide to the Postojna Caves and uncovers the fascinating world of an unusual amphibian known as the blind salamanders or referred to locally as "human fish." Explore this enthralling underground world, while your guide explains the geologic forces that created them.

Next, head to the Predjama Castle, a storybook castle wedged beneath a dramatic stone archway and against cliff. Admire the unique Renaissance architecture of the castle located in south-central Slovenia, in the historical region of Inner Carniola. From the castle, enjoy views of lush, rural Slovenia.

After, sit back and relax on your ride back to Ljubljana.

April 2016
We loved this tour. Postojna Cave is beautiful and easy to go thru especially with young children. Predjama Castle is special, very different than other castle we have seen of course and our guide was very knowledgable.
September 2015
It was great. We had a really wonderful time. The driver was on time and helpful. We recommend potential visitors to use the service you provided.
June 2015
The tour of Postojna caves was a highlight of holiday and is a must, must see as these are the best caves in the world. Small group tour with a very good guide/driver. Highly recommend this tour if in Slovenia. Do not miss.
May 2015
The tour has been great! We have seen very interesting and beautiful places. The guide Vladimir has been great as well. He has told historic issues with a good sense of humour, which has been quite interesting and fun. Thank you! Highly recommend.
October 2014
September 2014
Our guided tour of Postojna Caves and Predjama Castle was fantastic. Our guide Vladimyr promptly picked us up from our hotel in Ljubljana and immediately made us feel welcome in Slovenia by sharing a bit about himself and why he chooses to lead these tours. He ensured we got the most of our tour and was incredibly knowledgeable about the Caves, Castle, and Slovenia in general. We had a great time and highly recommend visiting this tour for ease, learning, and fun.
September 2014
The tour guide is very friendly and informative.
He told us a lot of history about the Predjama Castle.
And Postojna Caves just amazing.
September 2014
September 2014
Fascinating places. I've never visited such long spectacular caves before and what a good idea to have an open air train running through them. Take a warm jacket though because the temperature in there is 10 degrees (all year around). I loved Predjama Castle too, made even more interesting by our legendary and entertaining guide, Vladimir.
August 2014
Lana, our guide, was fabulous. Full of information about the caves, the castle, and Slovenia in general.
Predjama Castle is such a delight. It is one castle that really is just like the travel brochure photos you see of it. When you first see it and the way it is positioned inside the cave, it looks like so ething out of a hollywood movie set. But it is very real, and a total step back in time as you walk through it.
The Postojna Caves are incredible. There are no words to adequately reflect their size and beauty. A visit to these caves is an absolute must when you visit Slovenia. They will leave you in awe of mother nature and the beauty she can create.
Advertisement
Advertisement