17 Reviews
Location:

London, United Kingdom

Duration:

2 hours 30 minutes

(approx.)
See the sci-fi sights of London on a 2.5-hour 'Doctor Who' TV locations tour, led by a local guide. While exploring central London neighborhoods such as Borough and the Southbank, listen to anecdotes and stories about the ever-popular series and, of course, about the Doctor himself! See Shakespeare's Globe Theatre alongside with other top London attractions used as filming sites.
Highlights
2.5-hour Doctor Who TV locations tour in London
See filming sites from both recent and older episodes like Remembrance of the Daleks
Learn little-known secrets about famous Doctor Who actors such as Christopher Eccleston
Explore the central London neighborhoods of Borough and the South Bank
Pose for photos in John Adam St, the house that was invaded by extraterrestrials
Why Our Insiders Chose This Tour
This is an absolute must-do tour for a Doctor Who fan in London! The guide will give you gossip from the show. See the most iconic scenes from the TV series and some of the most iconic sights in London.
What You Can Expect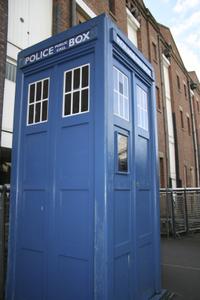 After meeting your guide in central London, set off on your Doctor Who tour of the city. While much of the everyday filming for the sci-fi series took place in Cardiff, many iconic Doctor Who scenes were filmed on the streets of England's capital. See a selection of the best while exploring neighborhoods like Borough, Southwark, the City of London and the South Bank.

As you walk, your guide will entertain you with fun snippets of trivia about the intergalactic time lord, who travels back in time exploring the universe. Learn about his TARDIS – the 1960s-style London police box used as a time-traveling machine – and hear about key characters such as Clara Oswald and Madam Vastra.

Visit sites used recently like Shakespeare's Globe Theatre, which featured in The Shakespeare Code episode, as well as filming locations from older episodes such as Remembrance of the Daleks, filmed in 1988. Stop for photos in John Adams Street, where the Prime Minster's house was recreated for the show and recollect the episode when the iconic building was infiltrated by the ruthless Slitheens – a family of criminal extraterrestrials from the planet Raxacoricofallapatorius.

Hear insider gossip about the cast, learning little-known secrets about actors who have played the coveted role of the Doctor. Chat about popular faces like Matt Smith, David Tenant and Christopher Eccleston, and compare them with earlier actors such as William Hartnell who starred in the first-ever episode.

Having explored the key filming sites around London, work your way to Waterloo station where your tour finishes.
July 2015
Dallas was an excellent guide - enthusiastic and knowledgeable. My whole family 2 adults, 2 kids ages 10 and 11 thoroughly enjoyed the tour.
July 2015
Our guide, Dallas, was so much fun and so informative. I booked this tour for my son and granddaughter and thought I was just going along for the walk. Dallas covered Dr. Who locations, engaged the whole group and also shared historical and hysterical stories . . . . all this and a walking tour of London!
June 2015
Excellent tour. Aimee had a mix of doctor who info from multiple years of the show and knew about different historical bits encountered on the way through the tour.
May 2015
March 2015
Loved it! The tour was very informative and we learned a lot about London as well.
October 2014
Our guide Michael did a wonderful job. He has a great voice and was easy to hear in spite of the normal London background noise. But even he could not out duel a trash truck :-), Fortunately it left he he resumed. He was very knowledgeable and had lots of interesting stories related to the series. He walked at a good pace and everyone was able to keep up. In addition to the Doctor Who locations it was nice to see some of the historic sights of London and hear how they have fitted into the show along with some anecdotes about the historic locations themselves. I have never seen the show (Michael doesn't know this) but went with my grandson who is a fan of the show and still the tour was enjoyable.
October 2014
A warning for this tour--it is a WALKING tour, and walk you do and lots of it. If you don't like walking, don't take this tour. That being said, Michael was a great source of information. He had knowledge of all of the Doctor Who Series, their actors, their locations, their histories. Although I was pooped, I enjoyed the tour.
A suggestion about the meeting location, please be more specific about where to meet. We were not aware that Caffe Nero was a chain, and we wandered quite a bit near and in the London Bridge Station trying to find the correct Caffe Nero.
August 2014
Aimee was our very knowledgeable guide who led us on our tour. She provided great inside information about Dr. Who from the point of view of someone who has interacted with some of the cast memebers before and had a part in an episode. She shared a lot of interesting information and the tour route allows you to see many of the sights of London. Note-make sure you bring an Oyster or travel card as there is a short bus ride you take on the tour route. The tour was very enjoyable for Dr. Who fans of all ages and we would recommend it to others.
July 2014
Great tour. Wandered through south London. The photo book was a great idea. It clearly identified the particular episode and site. Stories about the use of hay to hide cars n stuff was good. I'll have to go home and re-watch some episode to find the hay..
July 2014
The guide was very knowledgeable and funny. I knew this was a walking tour, but I didn't realize how much walking was involved, especially stairs.
Advertisement
Advertisement