Special Offer
Book and travel by June 28 and save 20% off our previously offered price!
Discover the delights of southwest England on this 3-day tour from London. Marvel at the mighty, prehistoric stone circle of Stonehenge, and enjoy a 2-night stay in the lovely university city of Exeter. See top Exeter attractions including the Norman Cathedral, and experience the wild beauty of Dartmoor and charming market town of Tavistock. Lastly, visit ancient Glastonbury and the exquisite 18th-century city Bath, famous for its Georgian architecture and Roman Baths. 3-star accommodation, round-trip travel and breakfasts are included. Numbers are limited to 16 for a more personalized experience.
Highlights
3-day small-group tour from London to the southwest of England

See the famous stone circle of Stonehenge

Wander through ancient woodlands and pass by prehistoric monuments in Dartmoor

Visit Bath and its Romans Baths

Be impressed by the Glastonbury Tor

3-star accommodation for two nights including breakfast in Exeter

Small-group tour provides a more personalized experience

Knowledgeable, English-speaking guide

What You Can Expect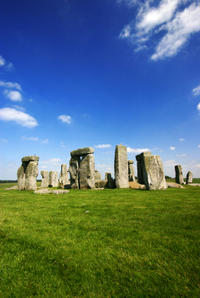 Experience some of the highlights of southwest England on this scenic 3-day small-group tour from London, led by an informative guide. After departing London, travel straight to UNESCO-listed Stonehenge — one of Europe's greatest ancient monuments — before continuing to the south Devon coast and Exeter, where you stay for two nights. The next day, explore Exeter's highlights and visit Dartmoor and Tavistock, before spending time in Glastonbury and beautiful Bath on your way back to London on Day 3.
Your tour includes comfortable, round-trip travel in a stylish, air-conditioned Mercedes mini-coach; two nights' accommodation in a 3-star hotel or bed and breakfast (your choice); and two breakfasts. Entrance fees to attractions and lunch and dinner on each day are at your own expense.
Itinerary
Day 1: London - Stonehenge - Devon Coast - Exeter
Leaving London behind, start your 3-day tour with a drive through the old kingdom of Wessex to one of the most famous sites in the world: Stonehenge. Learn interesting facts about this prehistoric stone circle from your guide and have time to take plenty of photos. Continue your tour to the South Devon coast with its white sandy beaches! Spielberg fans may recognize some locations from 2011 movie,
Warhorse
. You'll also see the rock arch of Durdle Door, which appears in literature, song lyrics and movies like
Nanny McPhee
and
Wilde.
Your first day ends in Exeter, where you'll stay for two nights in either a bed and breakfast or hotel (your choice). Your guide will recommend you some local restaurants, where you can enjoy your dinner (at own expense).
Day 2: Exeter - Dartmoor - Tavistock - Exeter
After breakfast, make your way to the grand moorland of Dartmoor, a place that inspired authors like Agatha Christie and Sir Arthur Conan Doyle. Then visit the hamlet of Postbridge, best known for its ancient clapper bridge.
Next, visit the gorgeous market town of Tavistock, where your guide will show you around. After lunch (at own expense) head back to Exeter and visit the amazing Norman Cathedral, the Royal Albert Memorial Museum and the famous university, where one of Britain's favorite authors, JK Rowling, studied in the 1980s. For dinner (at own expense), you can chose from one of the various restaurants there.
Day 3: Exeter - Glastonbury - Bath - London
After breakfast, travel to the small town of Glastonbury, where your guide will show you the best sights and tell you some of the town's myths and legends. Visit the famous Glastonbury Tor, a grand hill, which you can climb for spectacular views.
The last stop is the city of Bath, famous for its Georgian architecture. You have enough free time to visit its iconic attraction, the Roman Baths, and grab lunch (at own expense), before heading back to London.
October 2014
Very enjoyable, Excellent driver/guide.
December 2013
Our tour was with Rabbies. Our tour guide, Pete, was very knowledgeable and we enjoyed ourselves immensely. There were only 4 of us on the tour so we never felt pressed for time. Despite the shorter days, we were able to see all of the major attractions during daylight hours. The B and B we were assigned was very comfortable and close to eating establishments in Exeter. We took a couple of other day trips during the week, but this was by far the best.
October 2012
Ouen our tour driver was fantastic and made the tour with his very informed explainations and Welsh humour. Touring in the smaller bus allowed us to travel down and into smaller areas where the bigger buses couldn't access. Beautiful scenery throughout and Bath was a highlight for us. We were well cared for and will travel with Rabbies again.

December 2013
The best part about this group was that it was really a small group. We had lots of time for each activity.
November 2012
Our tourguide Peter, was good. More history and tales of myths and legends would have been great. The few hours in Glastonbury were too short, would have liked half a day at least. Also would have appreciated a little more music. The hotel at Exeter was lovely - a real treat! The best breakfast in England! Very friendly town as well - great locals!!
July 2014
We enjoyed the places that we visited. However, our tour leader was new to the job and this was very clear from the start. He didn't know much about the places we were driving through or visiting and we spent long periods driving with the radio blaring and just looking out the window. Eventually people on the bus pointed our places that they knew about.
Here are the notes I took at the time:
Kevin, our driver, is not good at this. He has a bad back, so when we stop somewhere, he sits in the bus and talks on his phone. We are just left to wonder around and discover what we can. It would be good if he would find something out about the places we are visiting. He doesnt have anything to say about the history or geography of thse places. We drove for long periods with the radio on and knowing nothing about the places we were driving through. Or he would make a cynical comment like, when we got back to the bus after seeing Stonehenge, "well it's just a circle of stones" When he dropped us off at our B and B, he just dropped us off on the pavement and drove away. We were left with no way to know how to contact him. We werent quite sure which house to go into and then when we did find it and go in, the owner was confused about who we were. We were confused because we thought she had been contacted ahead of time. Then she asked us, are you from the Rabbies tour and we said yes, and then she said "Oh" they ususally come in. We were left to drag our suitcase up the steps and just figure things out. Fortunatley it was a very good B and B. Generally, he would try to talk us into staying for shorter periods at places " because of the traffic" but we began to wonder if he just wanted to get back and end the day as fast as he could. If the tour leader is just a driver and not a guide, how about having handouts about each place you go that drivers can hand out. It would have been good to have got something and not buy our own materials at each place.
Special Offer
$323.44 Save $1.11
Advertisement
Advertisement