Discover the architectural delights and natural splendor of Scotland on a 3-day tour of Edinburgh, Loch Ness and the Highlands from London. Visit some of Scotland's most important cultural institutions in its beautiful capital city of Edinburgh; gaze at the beguiling beauty of Loch Ness and the Great Glen on a guided tour; and travel through the scenic delights of the Scottish highlands while learning of the region's rich historical heritage. Enjoy two nights accommodation in a comfortable B&B and travel by comfortable and scenic train from London to Edinburgh.
Highlights
Three-day rail tour from London to Edinburgh and the Highlands
Return standard-class train tickets from London to Edinburgh
Explore Edinburgh at your leisure
24-hour hop-on hop-off sightseeing bus tour of Edinburgh
Entry to Edinburgh Castle
Free Edinburgh city map and guide
Scenic Great Glen and Loch Ness
Two nights B&B accommodation
Recent Photos of This Tour
What You Can Expect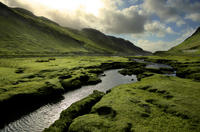 On your enriching 3-day tour of Scotland's natural and architectural highlights, delve into the rich history of this intriguing country. Explore the capital city of Edinburgh on a hop-on hop-off sightseeing bus tour and gain entry into Edinburgh Castle, an impressive fortress with an ancient origin. Delight in the verdant beauty of the Scottish highlands on explorative tours and see the iconic Loch Ness, reputedly home to the mythical Loch Ness Monster.
Included on the tour is the following: a return train ticket to London from Edinburgh; 2 nights accommodation; entry to Edinburgh Castle; a 24-hour hop-on hop-off bus ticket; and transportation by comfortable coach.
Please see the Itinerary section for details of each day.
Itinerary
Day 1 - Edinburgh
Your train from London's King's Cross whizzes you north, along Britain's east coast to Edinburgh. Your visit to Edinburgh includes a 24-hour hop-on hop-off tour by open-top sightseeing bus. Frequent departures throughout the day mean you have total flexibility to plan your day in Edinburgh the way YOU choose!

Sights, attractions and landmarks of this lovely city include the Old Town, Edinburgh Castle and Scottish crown jewels (entry included), the Scott Monument, the Palace of Holyroodhouse, where state ceremonies and official entertaining take place when the Queen is in Scotland, and the Scottish Parliament Building.

Day 2 - Loch Ness and Highlands
Your journey to the Highlands begins with a drive through Rob Roy MacGregor country, Rannoch Moor. Then it's on to Glen Coe, site of the 1692 battle of the MacDonalds and Campbells. Next you'll see Fort William, in the shadow of Ben Nevis, and take a memorable drive through the Great Glen. After a stop at the picturesque village of Fort Augustus, you'll head along the shores of Loch Ness for some monster spotting!

Day 3 - Edinburgh
Enjoy some last-minute shopping in Edinburgh, visit the attractions on your must-see list, stroll through the city center - it's your choice because it's your day!
August 2015
We had a great time - good value. We opted to go first class on the Train portion which was really nice.
The hotel in Edinburgh not exactly a Scottish guest house was actually much better than we had anticipated for the - it was a European hotel and perfectly located. The amt of time in Scotland was perfect and the Highland Tour was great. This is the only way that we would take a short 3-day exclusion in the future - nice job Viator !! C Taylor / USA .

May 2015
Absolutely loved it! Beautiful countryside. Our guide Heather was fantastic. She had some great historic stories that she talked about along the way. Very knowledgable and could make a little story seem like you were right there when it happened. Loved her! The trip was well worth it.
December 2013
So supportive! As a solo traveller, I was met at Kings Cross station where details of the trip were clearly explained to me. The lovely lady then personally escorted me to the train carriage. The train ride was a breeze, The Missoni Hotel was a real treat (though getting there is a little bit of a hike if lugging a suitcase). Kenny the bus driver was a fantastic and informative tour guide on our 11 hour day to the Loch Ness (I didn't mind your singing one bit!). Edinburgh is a beautiful city, rich with stunning architecture, history and culture. And plenty of whisky shops.
July 2013
Travelling first class on the train is a must for other travellers one is treated like a king as for the hotel one could not better .
the tour guide Andy was well informed on the whole trip and a joy full character on the bus
June 2013
The hotel was fantastic!
The Haggis Adventures tour to the Highlands and Loch Ness was my favourite part.
Thanks for a great trip!

March 2013
Great Trip ! ! !
We stayed at the Missoni Hotel right near the castle, close to everything.
I wouldn't recommend coach, pay the extra for first class.
Amazing city cannot wait to go back.
June 2012
Amazing experience, hotel outstanding and guide (Emma) and driver (Keith) were exceptional.
June 2012
This tour was great. Edinburgh is a beautiful city and the Scottish Highlands are magnificent. It was also fun taking a ferry ride on Loch Ness, although unfortunately I wasn't able to spot the monster!
Tom W USA
August 2010
The tour guide was great on the trip to Loch Ness. Edinburgh was very nice. The hotel was good with typical smaller european room sizes. Overall all a very worth while trip. The boat trip on Loch Ness is a must or you won't see much of the loch.
Paul A USA
December 2009
Only problem was we got to the train station and they only had tickets for one out of four in our party. This was corrected and we left about an hour later than originally planned. Highland Tour was excellent!!Great accommodations in Edinburgh in perfect location!
Advertisement
Advertisement