Follow in the footsteps on legendary cricketers on a behind the scenes 1.5-hour tour of Lords Cricket Ground. With a knowledgeable guide, explore the prestigious venue declared the 'home of cricket' by many sports enthusiasts. Gain fascinating insight into the history of Marylebone Cricket Club (MCC), owners of Lords; gaze at the perfectly manicured pitch from seats usually reserved for England players in the Pavilion; and browse intriguing exhibits in the MCC Museum for further insight into cricket's past.
Highlights
1.5-hour walking tour around the world-class Lord's Cricket Ground
Learn about Marylebone Cricket Club (MCC) and its history at the grounds
Explore the Pavilion and sit on the seats normally reserved for England players
Follow in the footsteps of cricketing legends while walking though the Long Room
See the Ashes Urn, cricket's most famous icon, in the MCC Museum
Admire the award-winning architecture of the Lords Media Centre
Recent Photos of This Tour
What You Can Expect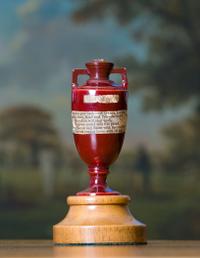 Make your own way to the prestigious Lord's Cricket Club and meet your expert guide outside of the undisputed 'home of cricket'. Commence your cricket-themed tour with a stroll around the ground's of the Pavilion, a picturesque Grade II-listed building usually reserved for members of the MCC.
Next, follow in the footsteps of cricketing legends as you walk through the Long Room and imagine the nervous energy of players waiting to begin an important test match. Take a seat in the honors board, seats reserved for England players, and allow your guide to share entertaining cricket anecdotes as you wander to the MCC Museum, an exhibition space that speaks eloquently of the ground's history.
See the iconic Ashes Urn earned in 1883 and hear of how recognizable phrases like 'bringing home the ashes' were coined. Conclude your tour with a visit to J. P. Morgan's Media Centre, a futuristic hub in which Sky Sports presenters broadcast from.
Bid your knowledgeable guide farewell at the end of your tour.
November 2015
one of our highlights of our trip to the uk. The guide was unreal-knew all there was to know about the ground and to be able to walk in the dressing rooms was UNBELIVABLE!! its a MUST DO!!
September 2015
Very interesting and well worth the cost.

September 2015
This tour was amazing. Our tour guide was James. We were able to view the museum. Visit the home and away change rooms and the long room. We visited the members stands and the media centre. Well worth a visit for any cricket fan.
September 2015
August 2015
interesting and informative. Good value.
August 2015
Was given a lovely tour with a very lovley gentleman who new everything you needed to know about Lords and being able to be in all the famous change rooms and sit in the Media Centre too was amazing.
Julie H Australia
July 2015
Excellent tour, our tour director was fantastic, highly recommend this tour
July 2015
Great tour. Very informative. Graeme was our guide. He was awesome, he certainly knew his cricket! He had a great sense of humour and it was a fun tour, we are Aussies, ashes test starts Thursday, so that made it even better, there was a good vibe. Going into the dressing rooms was great especially with test about to start. Would highly recommend this tour
June 2015
Fabulous tour guide John kept the twelve 14year olds attention the whole time. Great interesting information and stories. Great even for non cricket tragic mums
June 2015
Advertisement
Advertisement