Get to know history-steeped Brussels on this independent London to Brussels day trip by rail. Travel to Belgium's capital by Eurostar, and use an included hop-on hop-off bus ticket to admire the city's famous sights and create your own sightseeing itinerary. View the splendid Royal Palace, Atomium and European Union buildings; stroll around the guildhouses and Town Hall of the magnificent, cobbled Grand Place; and use your remaining time to stroll, sightsee and relax as you wish. Your hop-on hop-off tour, return Eurostar tickets, and a city map are included.
Highlights
Full-day rail tour from London to Brussels

Round-trip Eurostar rail tickets with seat reservations
Hop-on-hop-off open-top bus tour of Brussels
See the medieval Grande Place, Atomium and Palais de Justice
City map of Brussels included

Recent Photos of This Tour
What You Can Expect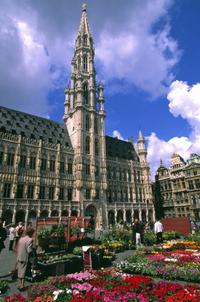 Depart from central London in the early morning and travel by Eurostar train from St Pancras International Station to Brussels.
During your roughly 2.5-hour journey, gaze out over the picturesque countryside of southern England and northern France, and perhaps enjoy snacks (own expense) from the trolley service.
On arrival in Belgium's capital, enjoy the best part of the day to explore at your own pace.
Perhaps begin with your included hop-on hop-off tour to get your bearings and see the city's highlights.
Show your ticket, step aboard the double-decker bus, and admire the landmarks from the comfort of your seat.
Enjoy the panoramic views of the European Union district with its striking governmental buildings, see monuments such as the Cinquantenaire Triumphal Arch, and hop on and off to explore the places that interest you most.
Perhaps jump off at the beautiful Grand Place, where you can admire the medieval guild houses, and relax over coffee at the open-air bars. From here, maybe walk to the Statue of the Peeing Boy (Manneken Pis) — the 17th-century bronze statue of a boy urinating into a fountain that has become a quirky emblem of the city.
Alternatively, continue the sightseeing rounds by bus, or set off on your own. If you wish, make your way into the Art Nouveau district to admire its swirling, early 20th-century architecture, or dip into the swish chocolatier shops, antique emporiums and boutiques of Sablon Place (Place du Grand Sablon), one of Brussel's prettiest squares.
When you get hungry, break for lunch (own expense) at any of the inviting restaurants or pubs, and then use the afternoon to cover other must-sees such as the iconic Atomium sculpture, the Royal Palace and more.
When the time comes, return to the station for your train back to St Pancras, where your day trip ends.
March 2015
The tour was really amazing. Great way to see the city in a bus. The audio guide was excellent and very helpful.
May 2015
Great way to spend a wonderful day in Brussels. The only tricky part of the tour was changing train stations in Brussels. Representative gave us all the info needed at the train station in London. Brussels is a beautiful city and we had a blast.
March 2015
A good train trip and the Hop-on-Hop-off drivers were excellent. I would recommend that you add a description of where to catch the bus out of the train station - the station personnel were not helpful and unhappy that we were asking for assistance.
August 2015
We were handed tickets and told to catch a train to central station then get on the hop on hop off bus. No real guidance. This was our second unsatisfactory trip with this company.
October 2013
It was fun to experience a new culture. The tour itself was unescorted. I met a representative at St Pancras station at 6am to get travel packet (includes round trip tickets on Eurostar, voucher for Brussels city sightseeing tour, and a timetable that shows the route for the sightseeing tour hop on hop off bus). Once you arrived in Brussels at about 10:10am you had to take a local train to Centrale Station because that is where the city sightseeing tour buses were. There are two different city sightseeing tour bus routes that are hop on hop off. The tour buses end at 5pm. So I only was able to do one route. You have to be back at the original train station at 7pm. So short day. Also, with this tour you didn't get a city map. So I got lost a few times. Some of the bus stops weren't even by the main attractions-you had to figure it out-usually within a few blocks. Then try to remember how to get back to the bus stop. The people there generally spoke some English. The atomium and Grand-place were cool to see. The chocolate was fabulous of course. Oh, there aren't any public restrooms (or at least none that I saw). If you ate somewhere then you could use the bathroom. The one place I ate you had to use a code from your receipt to put in the code pad for the bathroom to use it. The people are friendly. Some of the few times I got lost I found some alleys with cool street art or comic art. I went in September. So the weather was cool-wear a jacket. Lots of walking.
Mario E Mexico
May 2012
The place is beautiful, but the trip could be a lot better.
May 2012
Nothing wrong with it, but could have just as easily booked the train myself based on our schedule and grabbed the hop-on-off bus if we wanted when we got out of the station. Not worth paying for a tour.
November 2014
No tour guide we were on our own. we could have taken some help in Brussell. Learn from sunrise tour . They pick up and drop off at every point.vk
July 2014
We enjoyed our day in Brussels but we were disappointed with the service we received from the tour operator. Their representative got to St Pancreas station late and we only just made it onto the train. The information they gave us about connecting with the tour bus in Brussels was incomplete and inaccurate. We had to line up at a couple of information desks to find out where to get the local train and it wasn't where they said it would be. We felt that this company really needs to do more homework for this trip. We would have bought the eurostar tickets and figured out the tour bus on our own, if we had known that we were going to have to do this anyway. Also, it would have help to let us know that the midi station charges 1 euro to use the rest rooms. We think Viator should look for another tour company
Advertisement
Advertisement