Celebrate Christmas Day at Canterbury Cathedral and enjoy lunch in the cathedral grounds on this day trip by coach from London. Leaving on Christmas morning, stop first in the handsome Victorian town of Rochester, a favorite of 19th-century author Charles Dickens. In Canterbury, attend the traditional Christmas Day service led by the Archbishop of Canterbury at the magnificent, UNESCO-listed cathedral, and then sit down nearby to a delicious, 3-course Christmas lunch. End your sightseeing with one of England's most iconic views — the outlook over the famous White Cliffs of Dover.
Highlights
Full-day Tour of Rochester, Canterbury and Dover from London

Attend the Christmas service with the Archbishop of Canterbury Cathedral
Walking tour of Rochester, Charles Dickens' former home
Christmas Lunch in the grounds of Canterbury Cathedral

See the White Cliffs of Dover

What You Can Expect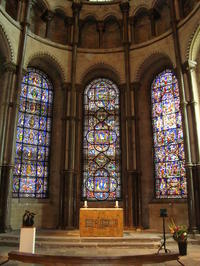 On Christmas Day morning, hop aboard your comfortable, air-conditioned coach in central London. Then, leave London's uncharacteristically quiet streets as you journey south into the picturesque county of Kent.
As you travel, listen as your guide shares fascinating information about the region, and why it's called the 'Garden of England.'
Stop in the historical town of Rochester, once a favorite haunt of England's much-loved 19th-century author, Charles Dickens. Stroll down the picture-postcard Victorian high street and admire views of Rochester Castle as your guide tells tales of Dickens, who penned one of his most popular works, A Christmas Carol at Gads Place, his nearby home.

Next, travel to the ancient cathedral city of Canterbury, home to the magnificent, UNESCO-listed Canterbury Cathedral. Head inside this serene 11th-century church and attend the moving, traditional Christmas Day service led by the Archbishop of Canterbury.
After enjoying the atmospheric service, sit down to a delicious, 3-course English Christmas lunch in the grounds of the cathedral. Enjoy a glass of sherry and savor dishes such as roast turkey with all the trimmings and rich Christmas pudding. See the Itinerary for a sample menu.
Duly satiated, enjoy free time to explore Canterbury's charming old town independently. Then, continue by coach through Kent's pretty villages to Dover, situated on England's south coast.
Stop to see the iconic White Cliffs of Dover, a landmark held dear by the English. Gaze out over the chalk cliffs and English Channel, and then return to London, where your tour concludes.
Itinerary
Lunch - Sample menu

Glass of Sherry on Arrival

Starter
Homemade soup

Main course
Traditional Roast Turkey with Vegetables (Vegetarian option available)

Dessert
Christmas Pudding served in a Brandy Sauce

Tea or Coffee & Mince Pies
January 2013
We had a wonderful time on the tour. Our guide was very very knowledgable and entertaining. I would highly recommend this tour!
January 2012
The tour agent was over half an hour late starting our tour, as such we were rushed to get to Canterbury on time to attend the service. The Christmas Lunch was good, but it felt like we spent the most time on our tour eating in a pub rather than seeing more sights. The tour description is misleading as the stops in Rochester and Dover are only 15 minute "photo stops". This tour would be better if there was an activity or more information about the stops in Dover and Rochester. Canterbury is a worthwhile stop, but the rest of the tour didn't offer much.
January 2015
Worst Christmas Day ever! Confirmed details with the tour operator the day before and received info of where to go to be picked up. Arrived at the gate in the bus station and waited over an hour while the buses were loaded by hotel location. The final people left were herded to the bus and we were not on the list, the 'tour guide' told us we were at the wrong gate even though the details above the gate matched the info we were given for the tour, he then held up his hand, turned his back and would not assist us further. After wandering around the buses and asking various company staff we eventually found the correct bus but there were no seats left together, we had to ask different travellers if they would mind sharing with others so my husband and I could sit together and finally six rows away my daughters were able to sit together.
At Canterbury Cathedral we discovered we were seated in a back section and could not actually see or view the service, only hear it, at no stage were we informed about this.
Christmas lunch at a Canterbury pub turned out to be a smorgasbord at a Holiday Inn! We were the second sitting and had to wait over half an hour to be seated. The table cloths were not changed and had food stains, they ran out of glasses for the water (didn't want to drink out of the jug!) and the smorgasbord looked like a herd of wildebeest had stampeded through and we were expected to eat the leftovers. We were unable to order drinks as they had no glasses and had to purchase drinks in bottles. There were no Christmas bonbons although the first seating had them. We purchased chocolates and chips from the vending machine to eat in the bus for lunch. The tour guide kept explaining to people he had nothing to do with the lunch, he was just employed for the day.
The stop at Rochester was fine and we enjoyed wandering around the town, but this was the only enjoyable part of the tour.
January 2012
The most appalling experience I have ever encountered. Do yourself a favour - do not ruin your Christmas by purchasing this tour.
If you enjoy being herded like cattle with a talentless tour guide (who complained about working on Christmas Day on three occasions) then go right ahead and book this tour. A miserable, amateur experience on an over-booked bus and staff with appalling attitudes. Wont bore you with all the details of our personal misfortune but avoid this tour at all costs. Ghastly!
Advertisement
Advertisement