Immerse yourself in the lives and loves of the fictional Crawley family on a full-day tour of 'Downtown Abbey' filming locations from London. Explore the picturesque county of Oxfordshire as you visit charming villages like Bampton, Cogges and Swinbrook to see sites on which the popular period drama was filmed. Discover the regal majesty of UNESCO-listed Blenheim Palace, the ancestral home of Winston Churchill, on a guided tour and then return to London by luxury coach in the evening.
Highlights
Downton Abbey filming locations day trip and Blenheim Palace tour from London
Hear insider gossip about the scandals and dramas of Downton Abbey from a local guide
See the church where Lady Mary married Matthew Crawley in the Oxfordshire village of Bampton
Visit Shilton, Swinbrook and Bladon to see some of the series' different Oxfordshire filming sites
Tour UNESCO-listed Blenheim Palace and learn about its eminent ex-residents such as the 1st duke of Marlborough and Sir Winston Churchill

Please note a visit to Highclere Castle is not included
Recent Photos of This Tour
'Downton Abbey' TV Locations and Blenheim Palace Tour from London
What You Can Expect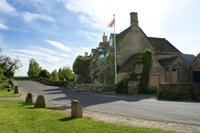 Depart from a central London location in a luxurious, air-conditioned coach and admire the undulating limestone hills of Oxfordshire as you travel towards your first stop. Listen to entertaining anecdotes and insider gossip surrounding Downtown Abbey as you travel, and hear tales and trivia about the popular period drama and its global fan base.
Stop first at a charming farm near Cogges and refresh with a hot drink (own expense) as you admire the filming locations scattered around the farmland. Continue to Bampton, a beautiful village hailed as the 'Gateway to the Cotswolds', to admire the stone cottages and winding English streets. Recognize famous Downtown Abbey sites like the village church and the Crawley family home and scour the scenery for shops and pubs featured in the series.
Travel onward to the ancient village of Shilton, an enclave replete with medieval bridges and picturesque ponds, and visit an ambient pub featured in Downtown Abbey. Hear of how Lady Sybil eloped with the family chauffeur and then head to Blenheim Palace for a comprehensive tour of the UNESCO World Heritage-listed ancestral home of Winston Churchill.
Marvel at the stately grandeur of the residence as you approach and then venture within to delve into the rich historical heritage of the structure. Stroll through the opulent State Apartments; wander the landscaped beauty of the gardens; and then return to your comfortable coach for the relaxing journey back to central London, where the tour concludes.
May 2016
The guide was extremely well informed and had loads of information and stories to tell. Plenty of time at each location to do everything I wanted to do.

November 2015
Great tour, one of the only to stay more time at Blenheim

November 2015
My wifen my son, and I recently took this tour. When we booked our tour my wife was a bit disappointed because Highclere castle wasn't open so we decided on this tour with Blenheim on it. We were not disappointed at all. The tour guide, Tony, was fantastic. The stops were very nice and you were given the appropriate time at each. We never felt rushed all day. There are other tours a little cheaper that travel by bus. I would without a doubt spend a little more and get on this tour and travel in a small group van. Well worth it.
October 2015
I thoroughly enjoyed this tour and it was fun and informative. We had a small group so we had great attention to detail. I liked seeing the behind the scenes of Downton Abbey and Blenheim Palace is a tour of its own. I would recommend this tour to others, as I am a fan of Downton Abbey and Winston Churchill also stopped at his burial spot and I was interested in everything covered in the tour.
October 2015
Wonderful. Our guide knew everything about downtown. She was great. On stop in village tell guests little shop doesn't take credit cards. Our guide lent me the money till we got back to London. Very nice thing to do. Be sure to tell her. Ellie Brown
September 2015
It was great! Loved every minute of it. Our guide did a great job and knew all about Downton Abbey and all the characters and the places we stopped at.
August 2015
This was a wonderful tour. There were only three of us so it was as if we had a private tour guide. For Downtown Abbey fans who have already been to Highclere , it was great. We got to see several of the places from the series, and pictures of the new season being filmed--like Daisy, the Kitchenmaid with her I Phone. Blenheim was beautiful. I loved seeing Winston Churchill's baby saddle. The public rooms of the Palace are spectacular. Altogether, it was a wonderful day trip out of London.
August 2015
The tour guide was excellent as was the driver. It was a great tour.
July 2015
We purchased two tours from this company, one through their site and the other, the Abbey tour, through Viator. I would recommend buying this tour or any tour for that matter through Viator because they run promotions where you can get a discounts or sales up to 10 or more. This Abbey tour was excellent. I I don't watch the show, but it didn't matter. Andrew's presentations plus the sites we saw made this an excellent tour. It was a small turnout and everyone got along so well. We had air conditioner problems but Andrew and his driver worked very hard to correct this situation. Since we sat in the front, the ride was comfortable. One tip I have if you book this tour or any tour through this particular company is to try to get to the first pick up stop early to have the opportunity to sit in the front row. On our other tour, we had no choice but to sit in the back. It was so cramped and the air conditioning was not effective, making the ride uncomfortable. Worse, we had to wait what seemed like an eternity for passengers in front of us, some of whom were very deliberate, to leave the bus. When you are at a location for a limited time, slow exiting eats into your time. Also this bus does not have two seats on each side there is two seats on one side and single seats opposite. If you're with someone, getting stuck in those single seats would be frustrating. I must say this company has excellent guides Andrew and Greg and drivers. But buy this tour through Viator and take advantage of the discounts. And remember to get to the first pickup stop early to get the more spacious, quicker exiting front row seats.
June 2015
We visited the village, church, and other locations used in the series, but not the Abbey itself. Enjoyed it tremendously. Well organized, good information, interesting tidbits. Lovely pub lunch. Classic English villages. Blenheim was interesting a very grand house.
Advertisement
Advertisement