Journey through the sinister world of organized crime with a 2-hour walking tour through London's East End! Guided by actor Stephen Marcus – who you'll remember as Nick the Greek from Lock, Stock and Two Smoking Barrels – hear real histories and fictitious recreations of London's gangster underworld. Visit filming locations and learn about the notorious Kray Twins, London's premier mobsters in the mid-20th century, and former bad boy Lenny McLean.
Highlights
2-hour gangster walking tour of London's East End led by Stephen Marcus from Lock, Stock and Two Smoking Barrels
Hear insider gossip about London's low-life underworld: real-life criminals and fictional fiends
Visit sites linked to the infamous Kray twins like Repton Boys' Club and the Blind Beggar pub
Listen to a first-hand account of a meeting with Lenny McLean, a London bad boy-turned-good who went on to act in Eastenders
See the pub used as Samoan Jo's in Lock, Stock and Two Smoking Barrels
What You Can Expect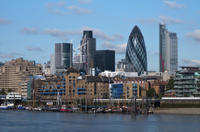 Your tour through the London's gritty criminal underworld begins in Whitechapel, an area brimming with illicit histories from the Jack the Ripper rampage to the dark negotiations of London's most infamous gangsters. Meet actor Stephen Marcus there for your 2-hour afternoon walking tour – and bring your questions!
As you head into Whitechapel's warren of alleys and backroads, hear about the famous Kray twins, brutal mobsters who ruled the East End in the mid-20th century. Before being imprisoned for life, Reggie and Ronnie Kray made their mark in the area, from training to box at Repton Boys' Club to opening glamorous nightclubs – hotspots for famous performers and members of parliament. Learn about Ronnie's rise to celebrity after publicly murdering his arch rival at Blind Beggar pub, and about beloved London actress Barbara Windsor, who had a fling with Reggie Kray before marrying his feared associate, Ronnie Knight.
Along the way, indulge in Stephen's colorful storytelling. Learn more about cockney criminals like Brown Bread Fred, a cockney play on words where 'bread' translates to 'dead' – the unfortunate fate of many that met him – and 'The Guv'nor,' Lenny McLean, a former bareknuckle fighter and gangster who left the dark side to perform in the British classic, Eastenders.
Finish with a behind-the-scenes tour of Lock, Stock and Two Smoking Barrels film locations. Soak up little-known tales of production as you visit sites like Samoan Jo's pub and Hatchet Harry's office, workplace of the 'Porn King' Harry Lonsdale.
Your fascinating insider tour ends at Columbia Road in Shoreditch.
April 2016
Really enjoyed despite the cold weather !! Excellent host, will be back with my husband
December 2015
Great tour. Stephen is as informative as he is entertaining. Some gangster film locations included which was great. Highly recommend this tour.
October 2015
Steven was the best - it was a little chilly for me - but the tour was perfect
October 2015
A wonderful day and very interesting and I can only thank Stephen for making it so enjoyable. I would highly recommend this tour
June 2015
A great walk with a knowledgable English actor. Recommend this for people who want to visit the real east End. Starts in the most infamous pub in London the Blind Begger and ends in a pub top guide , top trip!
June 2013
Stephen Marcus is just an interesting person, he had interesting stories, kept the tour relevant. Bonus - he took us to places where he had insider knowledge of the filming of various movies. So even though it rained the whole tour, he made it worthwhile. Just a good and interesting person to spend a day talking with about London gangsters.
Advertisement
Advertisement