Experience the vibrance of London's traditional drinking scene on this afternoon pub crawl! Accompany your friendly guide on a fun and educational tour in and around the City of London, where you'll visit at least four historic pubs and taste different brews (own expense). Pop into centuries-old ale houses, literary haunts favored by writers like Charles Dickens and learn fascinating facts about local drinking culture through the ages.
Highlights
4-hour afternoon walking tour, taking in London's historical pubs
Visit three traditional London pubs in London Bridge, the City of London and Holborn
Sip on a pint (not included) in London's last surviving Elizabethan coaching inn
Discover what a real London pub looks like on a visit to an alehouse in Blackfriars
Sit down in a pub that lists Charles Dickens and Arthur Conan Doyle as its more notable ex-patrons!
Small-group tour with a maximum of 12 people ensures a more personalized experience
Recent Photos of This Tour
What You Can Expect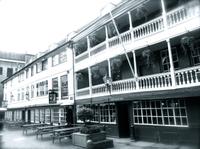 Your afternoon pub tour begins at London Bridge, where you will meet your guide and set off for the first stop on your 4-hour tour. As you walk, check out great city attractions like the Shard and the bustling Borough Market. Then pop into London's only remaining coaching inn, a former pitstop for passing coachmen and passengers. Grab a pint (own expense) and enjoy colorful stories of the Elizabethan-era establishment from your guide. Fans of Charles Dickens may recall this pub as a featured setting in Little Dorrit!
Next, head to Blackfriars in the City of London, flush with pubs that have serviced the neighborhood's banking community for centuries. Stop at a proper London boozer for a civilized drinking experience. Buy yourself a delicious local ale (or two), admire the authentic medieval decor, and enjoy the buzz as regulars and newcomers fill up the wooden tables surrounding the horseshoe bar.
Continue on to Holborn, a neighborhood with a rich and – at times – scandalized history. The former stomping grounds of Charles Dickens – who once resided in Furnival's Inn (now Holborn Bars) – Holborn is a web of cobblestone backstreets and alleys. Visit a 17th-century pub that was a favorite of Dickens and fellow writers, Sir Arthur Conan Doyle and Alfred Lord Tennyson. Sip on a delicious beer and cider (not included) and soak up the literary history of the place.
Your tour ends at Covent Garden with plenty of time (and insider information) to continue the fun at another local pub!
June 2016
Rue was AWESOME!! She was our guide and was very entertaining, educational and funny! We went to at least 7 different pubs and my daughter and I made a point to try a different ale or 2 at each. This is a great way to see central London and have fun at the same time. The pubs Rue brought us to were beautiful, I highly recommend this tour!

June 2016
The guide was very knowledgeable, funny and friendly. The sites were great, fabulous pubs, and lots of significant historical monuments along the way. Overall fantastic experience.
June 2016
Great to see the history of the pubs. Tour guide was very knowledgeable and a great group of people we met

June 2016
A fantastic day out. Walked through parts of London would never expect to see. Loved the Cockfighter Pub and the different pubs we visited. Would highly recommend this trip to every London visitor

May 2016
April 2016
This was by far our best day during our 7 night trip between Paris and London. Our guide, John, was hilarious and so knowledgeable. He felt like a close friend within the first couple of minutes! We started off near St. Paul's, where he gave us a little history on the Great Fire. We were able to make it to six pubs in total our group was small, all very different with great history. From the smaller, local pubs to the large, beautiful, historic ones, we enjoyed every minute! Our favourites were the Cock Pit, the Black Friar gorgeous building and the Old Bank of England. We even went back to one, the Ship's Tavern, for dinner that night. We ordered a half-pint at each bar, which was the perfect amount to hang out for about 15-20 minutes, and kept the tour very affordable only spending about 4 pounds per person at each pub. Between each pub, we learned about the area and its history - we loved walking through Shakespeare's footsteps, wandering through the legal sector, and seeing iconic spots featured in movies. This tour was incredibly fun and well worth the price!!
March 2016
By far, our favorite tour EVER. Our tour guide made the entire experience so much fun with his knowledge and enthusiasm for every site. He did a superb job including every member of the group and made sure everyone was safe and enjoying their experience. We learned so much history about each pub and the London area, which was exactly what we were hoping for. Kudos for finding the perfect guide! We want HIS job!
March 2016
It was an amazing experience, we all thoroughly enjoyed it. John, our Guide was great, really interesting and knowledgable.
Would definitely recommend.
January 2016
Our tour leader John was excellent. John put the customers first and insured we all had a fantastic time. John was also very knowledgeable about the history of the city and the Pubs we visited.

December 2015
Oh, my! What an amazing tour. George is. Very entertaining tour guide. We went to eight pubs and had an amazing time. I learned so much on the tour! I plan on doing this tour again when I'm back in Lindon! It's. Fun night/afternoon on the town!
Advertisement
Advertisement