Savor traditional scones and other English treats in one of London's most genteel settings with this afternoon tea experience. Visit the distinguished, 5-star Grosvenor House London and enjoy a classic afternoon tea — an English tradition invented by the 18th-century Duchess of Bedford. Settle into a luxurious lounge and enjoy dainty sandwiches, cakes, and scones with clotted cream and jam, all with a pot of English tea. If you wish, upgrade to the ultimate tea experience in the hotel's sumptuous Park Room, with a glass of Champage adding an extra touch.
Highlights
Enjoy an exquisitely presented afternoon tea at London's 5-star Grosvenor House Hotel
Follow in the footsteps of the Victorian elite by relaxing over this quintessentially English tradition
Choose one of two different afternoon teas: traditional tea only or with Champagne
Savor a selection of dainty sandwiches, cakes and English tea in the Grosvenor House's library (traditional option only)
Relax with Champagne and a luxury afternoon tea in the hotel's Park Room (Champagne option only)

Enjoy afternoon tea any time between 2pm and 6pm on your chosen day

Recent Photos of This Tour
London Afternoon Tea at Grosvenor House
What You Can Expect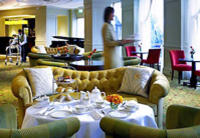 Select your desired afternoon tea option when you book. Then, on the day, make your own way to London's Grosvenor House Hotel, one of the city's most distinguished addresses, with a history that stretches back to 1929.
On arrival, linger over of one of England's greatest institutions — afternoon tea. This much-loved ritual owes its existence to the 18th-century Anna Russell, the 7th Duchess of Bedford, and great friend of Queen Victoria. Finding that the era's fashion for ever-later dinners left her feeling peckish during the afternoon, Anna began partaking of tea and cakes to fill the gap. The custom quickly caught on, and soon established itself as a convivial ritual of fashionable London society.
Today, the most prestigious afternoon teas are served at London's top hotels, such as the 5-star Grosvenor House, where your experience takes place in an atmosphere of calm elegance at your desired time between 2pm and 6pm on your chosen day.
Traditional Afternoon Tea:
With this option, sit down to a traditional light tea served in the Grosvenor House library. Soak up the polished yet homely surroundings of this elegant room, and enjoy a delicious menu of freshly cut sandwiches with their crusts removed; fluffy scones with clotted cream and fruit jams; and exquisite pastries, all teamed with a pot of classic English tea.
Anna's Champagne Afternoon Tea:
Upgrade for the ultimate afternoon tea experience in the sumptuous comfort of the Grosvenor House Park Room. Absorb the views of Hyde Park and be serenaded by light music from the house pianist as you're served a luxurious tea inspired by the legacy of Duchess Anna. Savor dainty finger sandwiches, melt-in-the-mouth buttermilk scones, delicate cream puffs and dinky pastries, and sip on your selection from a choice of fine English teas. A glass of chilled Champagne provides an enchanting finishing touch.
Your traditional or Champagne afternoon tea experience ends when you finish your tea.
June 2016
June 2016
Just Perfect! Beautiful setting, great customer service and excellent piano background music! Will be back...
June 2016
An absolutely delightful experience of the English Afternoon Tea! We had such a wonderful time sipping on our favorite tea and champagne while enjoying an abundance of freshly prepared tea sandwiches, pastries, little cakes, fruit crèmes and tiny tarts, sumptuous scones and more. All while enjoying light piano playing in a soothing away from it all atmosphere and decor. The Park Room simply rocks!
May 2016
wonderful, we enjoyed the tea and everyone who helped us there. Especially alava she was great the food was delicious, atmosphere super, could not have asked for a better end to our stay in London.
LGAB United States of ...
March 2016
My husband and I just enjoyed our first proper English tea at the Park Room in the Grosvenor House. Words cannot adequately describe how much we enjoyed ourselves - every aspect of our tea was perfect. For starters, the room is beautiful and elegant, the live piano music was great, and the service is fantastic. Roxana took wonderful care of us - she was so sweet, attentive and considerate. The finger sandwiches were very good, the pastries were delicious, and the scones were nothing like the dry, gross rocks we get at home in NYC!! And as an extra treat, we were given a choice of cake to take back with us to our hotel!
Tea in London is a must, and tea at the Grosvenor House made our experience all the more wonderful. For anyone considering tea in London, DEFINITELY have it here!!
December 2015
wow, great experience!!!!!. Needs to be done. but quick recommendation eat a light breakfast and be prepare no to eat dinner, you will be stuff.
November 2015
fantastic way to end the day, great food and plenty of it, if you cant Finnish it they will pack it so you can take it with you. very up market excellent service .
October 2015
Was a really lovely afternoon. Just an oasis. No rush, wonderful service. We had expected to be trapped in a group situation and we were thrilled that it was private. Book this on an afternoon when you just want to sit, relax and have a good chat.
October 2015
I cannot top any of the reviews. It was simply spectacular. From the ambiance, pianist, servers to the mouthwatering selection of food it was a main highlight of my London experience. Guests should come hungry.
September 2015
We arrived in London on Sunday evening and the only thing we had on our itinerary for Monday was our High Tea. It was wonderful to have a four hour window to arrive as we were never stressed about missing our time. The fruit, the sandwiches, the tea cakes, the tea, the service ... all totally amazing. And we took our dessert cake home with us -- all packed up in a nice box. Best idea ever.
Advertisement
Advertisement