Arrange for a stress-free ride between London's Heathrow and Gatwick Airports with this private transfer service. At your arrival airport, meet your driver and relax on the journey to your departure airport in a private vehicle. Daily, round-the-clock service is available.
Highlights
Private departure transfer between London's Heathrow and Gatwick Airports

Stress-free assisted departure from London airport
Rates cover private groups of 1 to 3, 4 to 5 and 6 to 8 passengers
Private transfers operate 24 hours, 7 days a week
What You Can Expect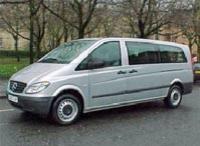 Getting between London's two major airports can be a hassle – especially when lugging baggage! – but it doesn't have to be. Simplify your travel and prebook a private transfer. Just enter your flight details when you book, pay in advance and then show your voucher to your driver.
Travel in a spacious sedan for up to three passengers, or a minivan for up to eight passengers. Nice touch: rides are available 24 hours a day, seven days a week.
Price is per person, based on eight passengers per vehicle.
October 2015
This is the 3rd time we have used Viator as a transfer service--the other times were in Rome and Hamburg. There has never been a glitch the driver is there waiting. I highly recommend this service wherever available! In this case, we transferred from Heathrow to Gatwick, and it was definitely worth the price. I will continue to use Viator in this capacity!!
June 2015
Driver was prompt, had my name printed clearly at the arrivals hall, and was charming on the travel from Gatwick to Heathrow. Would recommend this for inter airport service if you have big luggage and do not want to deal with shuttles. It is not the cheapest option, but certainly is the most comfortable. We were picked up in a very nice Mercedes too.
May 2015
What a relief to see the friendly, professional driver waiting for us outside baggage claim! After arriving at Heathrow we had limited time before our next flight left from Gatwick - not to worry! The driver was efficient and the ride very relaxing. We made our next flight to Dubrovnik with plenty of time to spare and even got a few sightseeing tips from our Croatian born driver!
August 2014
Driver was timely, courteous and got us to Heathrow quickly and safely.
August 2014
Excellent. On time. Driver pleasant and helpful.
December 2013
This was a ride between Gatwick and Heathrow. Everything was perfect. The driver was great and he was very helpful.
December 2013
great service - on time and courtesy
October 2013
Excellent service, and very convenient.
Thelma C USA
November 2008
Two older ladies first trip to London was made so much easier with our driver. We felt very safe and secure. He met us and took over our bags, held the door, loaded our luggage, gave us inside information on the area we were going and was a total gentleman. I will request him when I am back in London. He was very professional.

Jim and Janet USA
September 2014
We originally booked a transfer from Gatwick to Heathrow. Once Viator realized that we were not arriving on the transfer day at Gatwick, but were visiting friends nearby, Viator offered to arrange pick-up at the home of our friends. The extra service cost a little more, but was well worth it! The driver was prompt and got us to Heathrow in even less time that we had allowed. There was a little confusion over the pick-up address, but our friends spoke to the driver and gave him directions (he was only about two blocks away). All went very well. Thank you Viator!
Advertisement
Advertisement