Delve into the dark recesses of London's haunted history on this 2.5-hour ghost walking tour. With your (slightly ghoulish) local guide, learn about London's most deranged characters like Jack the Ripper and Henry VIII, and visit its most infamous and eerie locations including the Tower of London, Westminster Abbey and St Jame's Place. By the end, you'll see London in a different (and more sinister!) light.

Highlights
2.5-hour ghost walking tour of London

Wander around the city's most haunted park, the site of a forgotten plague pit
Visit the city's most haunted places, like the Tower of London, St James Palace and Downing Street
Hear stories from your knowledgeable guide about Henry VIII, the Lady in Black, Jack the Ripper and more

Recent Photos of This Tour
London Ghost Walking Tour
What You Can Expect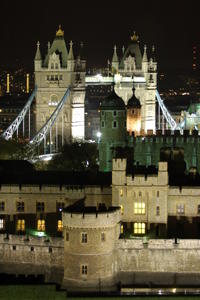 As evening sets in, meet your tour guide at Green Park and steel yourself for a journey through the spirited side of London. As you set off, take in the city's nocturnal nature, where bubbling night life mingles with what lurks in the shadows, and hear chilling tales of murder, execution and intrigue.
Begin with a visit to London's most haunted park, where beneath your feet rest the bones of unknown plague victims. Pass homes of ill-repute such as the infamous St Jame's Palace, a royal residence that was the site of a gory murder in the 19th century. Hear grisly details of the slashed valet and about his ghost that has prowled the halls ever since. Follow the trail of hauntings to London's most possessed house, followed by the Royal Academy and 10 Downing Street – the Prime Minister's haunted residence.
Paranormal enthusiasts will relish stops at locations of famous sightings like Eaton Place, where the Unknown Soldier has been seen standing beside his grave, and All Hallows Church, the haunt (so to speak) of the Lady in Black. No haunted tour through London would be complete without recalling the serial murders of Jack the Ripper or viewing the ominous Tower of London. Learn more about the tower's bloody history as a site of imprisonment and execution. Imagine the terror of Queen Anne Boleyn – the tower's most sighted ghost – as she walked to the execution block in 1536.
Your 2.5-hour tour concludes at Monument near the Tower of London.
Please note: Though this is a walking tour, tube transit is required. Please bring a charged Oyster card or money to purchase one en route.

January 2016
I loved the London Ghost walking tour. The guide had this eerie way of telling about all the ghosts that haunt London. Truly amazing and will give you a chill :

Ashley R United States of ...
September 2015
This was a great walking tour. Joe, our guide, is funny and a great storyteller. He answered all of my group's weird/random questions. Would definitely recommend. Thanks Joe!
October 2014
We were extremely lucky our guide was very knowledgeable and made it a real experience
February 2014
I went on this tour with my two daughters, it was on the day of my youngest 18th. We had Tom as our guide who was excellent, his stories were really good, his own personal story was very engaging. He even managed to chat with lots of the group during the tour. We particularly enjoyed the boat trip, not to mention the wine, all in all a lovely walk round London with some vivid stories and great company, good job Tom
December 2013
We booked our tour as a 30th birthday surprise for our sons and went on the Saturday before Christmas. We really enjoyed the tour and learned a lot about London too. Our guide, Tom, really knew his stuff and told lots of stories. We would definitely do another one. Maybe Jack the Ripper next time!!!
December 2013
The Ghost Walking Tour was a big hit with the kids and excellent value for money given the inclusive river trip. The walking was good exercise too. The guide was enthusiastic and entertaining, thank you Joel.

February 2013
This tour was really fun and interesting. The guides were really enthusiastic and friendly. We heard some great stories which were all very spooky and cool :) Definitely worth it.
July 2012
The tour guide met us at the agreed spot and was very punctural, welcoming, friendly and knowledgeable. Our experience with the Ghost Walking Tour was very entertaining. We were taken to the most haunted spots in London and given all the details of the hauntings. We used the Underground once and also moved efficiently to the Tower of London on a Thames boat cruise. Our guide was a wealth of information and answered all of our questions as well as providing lots of information about the ghosts of London. Very very enjoyable experience. As well, when we called the local contact number to confirm our reservations once we were in London, we met with very friendly, efficient and helpful service. Everything advertised was delivered.
Anonymous
May 2012
We had a great time. Our guide was hilarious!
Anonymous
May 2012
The tour was amazing! We had a really cool and funny guide who told us interesting stories about London's haunted past. The cruise along the Thames was my absolute highlight!
Advertisement
Advertisement