Step into a wonderland of wizardry with this 2.5-hour Harry Potter walking tour. Trek through muggle-run London to visit beloved literary and cinematic landmarks such as Diagon Alley, the Leaky Cauldron, the perplexing Platform 9¾ and more! Along the way, enjoy Harry Potter trivia and visit famous locations that inspired J.K. Rowling' epic series. Great for all ages!
Highlights
2.5-hour Harry Potter walking tour in London
See locations used in the Harry Potter movies including the entrance to the Leaky Cauldron and Diagon Alley

Pose for a photo at the mythical Platform 9¾, where Harry Potter caught the Hogwarts Express train

Hear insider gossip from a highly knowledgeable guide

Recent Photos of This Tour
London Harry Potter Walking Tour
What You Can Expect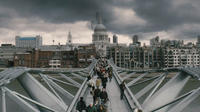 Get acquainted with the fantastical landmarks of Harry Potter's world with this thematic walking tour through London. To start, head to your nearest tube station and purchase a Travelcard for Zone 1 (if you don't already have one). Then ride to King's Cross for your morning or noon tour, where you'll meet your guide and visit your first site – Platform 9¾. Stand where the magical students did as they waited for the Hogwarts Express to come whisk them away. Snap a picture of yourself under the platform sign before continuing on.
As you wind through London on the 2.5 walking tour, hear loads of Harry Potter trivia and fascinating stories about the filming locations. Stroll through Diagon Alley where Harry purchased all his magical school supplies in Harry Potter and the Sorcerer's Stone, then visit the entry to the Leaky Cauldron, the popular wizarding pub. Walk over the Millennium Bridge, the site of Lord Voldemort's brutal muggle attack in Harry Potter and the Half-Blood Prince and imagine a world patrolled by Death Eaters.
You'll then continue along the Thames River from the Embankment to Tate Modern Museum to view key London sites that inspired J.K. Rowling's tales. Experience the world through the author's eyes as you see elements of muggle London spun into a magical patchwork. A great excursion for every kid, adult and book lover! Your tour ends in the afternoon back at King's Cross Station.
May 2016
Really enjoyed the walk through London. The guide was extremely nice, obviously very knowledgeable, and was both entertaining as well as informative. Highly recommended.
May 2016
This tour was perfect. 5 stars for the guides Alan and Tom!
Nadja S.
March 2016
We had Australian Tom and he was awesome! Very enthusiastic and knowledgeable about HP, kept us together and happy, stopped for pee breaks and made us laugh. Excellent!
February 2016
The guide - Tom Aussie was absolutely fantastic - cannot rate him highly enough, very informative and a great guide.... would definitely do again in the future.... this is a great tour - don't hesitate to do :
January 2016
We had a really great time on the tour. Our guide, Tom, was very knowledgeable about Harry Potter and London and managed to tie all kinds of historical, literary and geographical ideas together: linking, among other things, Sam Wanamaker's role in the building of the Globe Theater to his daughter Zoe's appearance in the films as we passed the Globe on our way to a film location. Excellent job!

December 2015
Absolutely loved the tour. It went for about 3.5 hours. It was definately worth paying more to do the tour. The tour guide was great. She set a good pace, was friendly, happy to answer questions and was enthusiastic. The way that this is set up is great. There is so much to see and do. Highlights for me were the Hogworths dining room, the Hogworts express, Hogwarts bridge, Diagon Alley and Hogwarts.
If you are a big fan I would definitely recommend doing this tour.

November 2015
Nice tour .. we got to see another side of London .. I would recommend this tour if you are a fan of walking and don't mind long walks
November 2015
It was so cute and fun. My tour guide was Austrailian and really made it funny. Don't forgot to buy a Tube ticket.. You end up all around the city. Great time!
November 2015
We thoroughly enjoyed the tour. We saw a lot of London as well as seeing the sites the scenes were filmed. The guides were excellent.

Celia P United States of ...
November 2015
Our guide was very witty and a true HP geek.
Advertisement
Advertisement