Treat yourself to a decadent afternoon of chocolate tasting at London's finest chocolatiers! With your savvy guide, explore the upscale Mayfair neighborhood and sample six fine chocolates at artisanal boutiques such as Paul A Young, Hotel Chocolat, Ladurée and the eccentric Choccywoccydoodah. Spend 2.5 hours sipping and nibbling on treats while your guide shares some local history – the best way to learn!
Highlights
2.5-hour chocolate walking tour in London

Stroll through London's sophisticated Mayfair area with your expert guide

Sample six delectable chocolates and learn interesting facts about the history of London's chocolatiers

Visit Ladurée, award-winning Paul A Young, Hotel Chocolat, wacky Choccywoccydoodah and famous Fortnum & Mason
Recent Photos of This Tour
What You Can Expect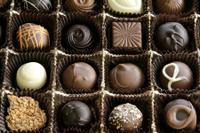 Choose one of two afternoon start time and meet your friendly guide in London's fancy Mayfair area. Your 2.5-hour stroll centers on Bond Street, home to elegant stores selling luxury goods, fine jewels and – of course! – exquisite chocolate.
Throughout your tour, you'll taste six diverse chocolate treats at various shops including Ladurée, a French boutique known for its silken hot chocolate, and Prestat, a preferred chocolatier of the Queen! Pop into Fortnum & Mason department store, Liberty of London and Choccywoccydoodah to view elaborate chocolate designs from truffles and brownies to rich dark chocolates – all deliciously edible, though almost to pretty to eat. Along the way, hear interesting facts about the history of chocolate-making in London.
Your tour ends on Old Bond Street in the afternoon with plenty of time to head back to your favorite shops and pick up some extra treats to take home.

Sandra P USA
October 2015
Great time exploring the various chocolate shops in London. Our guides did a great job showcasing the various stores and we learned a lot about the London neighborhoods as we walked around. Would highly recommend this tour!
Julie M Australia
September 2015
The first day was disapointing, as the location had changed and no notfication. but the company who organised this tour from london was brilliant they organised the next day even though I was the only one doing it.
July 2015
Our guide was excellent. Very knowledgeable and fun. Really enjoyed the tour and would highly recommend.
June 2015
March 2015
This tour was made very interesting by Sarah with plenty of samples of chocolate.
February 2015
This was the first of this type of tour that I and my 14yr sons have had and we really enjoyed the whole tour. Our guide was very friendly and professional and she looked after us totally. We will try another similar tour.
Good way to see bits of London that one would not normally see and you pick so much useful information fro the guide.
Steve. M
September 2014
My sister and I were treated to the tour by an overseas friend and we had a great time. Our guide, Lisa was brilliant and was funny, polite and knowledgeable about the history of chocolate in London, its production and other aspects of London's history.
Lisa, made the tour so enjoyable and I would definitely recommend the tour to others.
August 2014
Our guide was Lisa and she did a wonderful job of leading the tour. As the tour progressed I saw her spending time with each person in the group to learn more about them and share her extensive knowledge about chocolate. She had a great relationship with all the different staff members at the various stops-they all seemed happy to see her. At each stop she got right in and helped out with distributing the samples and making sure that everyone had somethig they enjoyed. Thought it was a great afternoon with a great guide and enjoyed the chocolate as well as all the areas of the city that we saw on our travels.
July 2014
We start out at the Algerian Coffee House on Old Compton Road where we try their dark-, milk-, and white-chocolate coated coffee beans which they have been making and serving for over 50 years. Reportedly, they have the cheapest coffee in all of London. It is a no-frills whole-in-the-wall, but in-depth coffee knowledge of the whole world. It made me think that these people were true explorers. Then we cross the street to visit the Hotel Chocolat candy shop. The Hotel Choclat is the only chocolate shop in London who grows their own cocoa, in the rainforests of St. Lucia. Here we try their summer truffle – dark chocolate mojito.
Next it is the Paul A Young chocolate shop, who has won the championship for the best chocolate confection for the last 2 years and is expected to win again this year. Here we all try his award winning caramel truffle, where the caramel is a warm, buttery liquid center. Then we get to choose a second truffle of our liking. Then it is on to the East India Tea Company where we sample various hot and cold teas and any number of cookies, crackers, and jams. Afterwards, we take a detour through Soho to CovCovent Garden stopping at Freggo, an Argentinian gelato shop. Here we snake around the shop and call out the flavors we want to try. I try their signature Dolce de Leche, followed by Banana Split, and Raspberry. Then we visit the inventors of the truffle, Prestat. What an adorable little chocolate shop that has been in business for a century! It is said to be the inspiration for "Charlie and the Chocolate Factory" and I can see why. Here we taste the classic truffle with cocoa powder coating. We end our tour at the Fortnum and Mason department store and a visit to their candy "counter". Here we are treated to two more truffles including a strawberry and black pepper (I can't even describe how well this works!!) and a passion fruit in dark chocolate.
Two hours, two miles, and six truffles later, our tour has come to an end.
July 2014
Lisa was wonderful. I enjoyed every bit of it.
Advertisement
Advertisement