Watch Roald Dahl's child genius Matilda brought to life on stage with a ticket to the Matilda musical at Cambridge Theatre in London! The popular family theater show features all the much-loved characters from the namesake book, from sweet Miss Honey to chubby Bruce and the treacherous Miss Trunchbull. Laugh along to stories about Matilda's intellectual powers and enjoy a medley of songs by British musician and comedian Tim Minchin.
Highlights
Ticket to Matilda theater show at Cambridge Theatre in London
Watch the musical adaptation of Roald Dahl's Matilda played out on stage
Follow the beloved story of Matilda and see her use her intellectual powers against the evil Miss Trunchball
Listen to music by the British comedian-come-musician Tim Minchin
Choose from two seating options to suit your budget
Optional pre-theater dinner at Scoff and Banter

Recent Photos of This Tour
Matilda Theater Show in London
What You Can Expect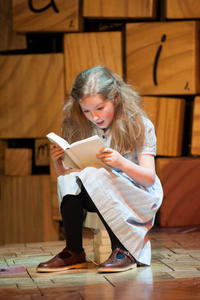 Follow the fictional story of Roald Dahl's Matilda Wormwood, the extraordinary child brought to life in the author's 1988 children's novel. Brought up by cruel parents and faced with the formidable Miss Trunchbull at school, Matilda rebels and uses her telekinetic abilities to help her friend Miss Honey and change her own destiny.

Watch the antics of the beloved characters played out on stage against a medley of songs by Tim Minchin, themed around key scenes from the book. Listen to Miss Honey singing about Matilda in the first act, and enjoy The Smell of Rebellion when the children turn against Miss Trunchbull to help their favorite teacher.

You have the choice of two seating options for the performance inside the New London Theatre. Standard priced seats offer a good view of the stage and are usually located in the rear stalls (stage level) or dress (upper) circle. Alternatively, opt for top priced seating to enjoy a full view of the stage and close-up views of the stars on stage. The performance lasts two hours and forty minutes and includes an interval break.

Make the most of this memorable evening and enjoy a 2-course pre-show dinner at Scoff and Banter. Scoff and Banter is situated close to the theater and serves a variety of dishes made with good quality ingredients. A sample menu can be viewed in the Itinerary section below.
Itinerary
Sample dinner menu (subject to change):
First course (choice of one):
Seasonal Bruschetta
Crispy Arancini
My Caprese Salad
Main course (choice of one:)
Penne Pomodoro
Tagliatelle Bolognese
Prosciutto and Pear Salad
Vegetarians will be catered for upon arrival at the restaurant.
October 2015
Took Viator Voucher to the ticket window, and picked up the tickets with no problem. We had very good seats, and the show was excellent.
May 2014
Matilda was highly entertaining, the dancing especially of the children in the cast were precise and energetic
and there were definitely some showstoppers. This show definitely lived up to all of its reviews. A must see for everyone!
July 2014
The Play was beyond brilliant but we already knew that - although the tickets were on the second mezzanine which I thought were not as good as what I expected. They were OK tickets - but for the price certainly should have been better. Now I got these tickets for a friend traveling with us. Thanks to our knowing one of the broadway producers of the show in NY we were able to get other tickets for ourselves that were outstanding. I just would have hoped that my friend would have been down with her son in Orchestra with us. So Fabulous show - don't miss the show.. request where the heck the seats are if you are paying for premium seating.
June 2014
Felt ripped off. Seats were terrible and dinner service was horrible and the minimum. Loved the show but not the viator package. You all must have made a fortune on us. I was v v disappointed
Advertisement
Advertisement