Follow in the footsteps of the world's most iconic musical ensemble during a 3-hour private tour of Beatles-related sites in London. Relish being chauffeured by a courteous private driver as you visit famous places like Paul McCartney's house and the Abbey Road Studios. Discover fascinating facts surrounding the fab four's influential music career and enjoy the flexibility and freedom of this private tour, the itinerary of which can be tailored to suit your preferences.
Highlights
Beatles tour of London with a personal chauffeur/guide
Discover the birthplace of Beatlemania and the studio where 'Hey Jude' was recorded
See top London attractions and Beatles sites, such as Abbey Road and Apple Studios
Private tour ensures a privileged, personalized experience and flexibility to explore at your own pace
What You Can Expect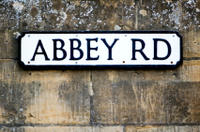 Greet your courteous driver at your centrally located London hotel and climb into your luxurious vehicle. Get acquainted with your private chauffeur as you discuss the day's itinerary and make known any sites you wish to see. Receive the undivided attention of your driver as you visit famous sites like Abbey Road studios, the film locations of Help! And A Hard Day's Night and the birthplace of Beatlemania.
Get your photograph taken on the iconic Abbey Road crossing, featured on the renowned album cover, and then enjoy sweeping vistas of the capital city from the historical rooftop stage upon which the band performed.
At the end of your enriching tour, return to your London hotel in the comfort of your chauffeur driven car.
Please see the Itinerary section for a full list of sites visited.
Itinerary
Sights and experiences of this tour include:

The location of the Beatles' historic 'rooftop session'
Paul McCartney's London home and offices
The birthplace of Beatlemania
The only place the Beatles ever lived together
The location of John's infamous 'bigger than Jesus' interview
The apartment where John Lennon and Yoko Ono, Ringo Starr, and even Jimi Hendrix all lived at different times
The studio where 'Hey Jude' was recorded
The film locations of A Hard Day's Night and Help!
Carnaby Street, the epicenter of the Swinging Sixties
The registry office where Paul and Ringo each got married
The house where Paul lived with Jane Asher
Sign the famous wall in front of Abbey Road Studios
Have your photo taken on the Abbey Road crossing
March 2016
This tour was amazing. We were shown so many places we had no idea were even there. What really made our trip was out guide. He had so much knowledge of all the hidden away places and didn't rush us. Well worth the money we paid.
March 2015
The tour was AWESOME! Highly recommend it to any Beatles fans!
October 2014
Sarah Rose was a brilliant chauffeur, with excellent knowledge of the subject. We all enjoyed the tour very much and would thoroughly recommend Viator and Sarah Rose.
June 2014
We really enjoyed our tour guide . She was very informative . Highly recommend the tour and guide .
April 2014
Guide was fantastic and made each stop come alive from when the Beatles were still making music. Highlight of my London trip! Don't miss it!
January 2014
We thoroughly enjoyed this wonderful tour through London. Our tour guide, Gill, was terrific! She was super knowledgable about the Beatles music and history, and did a great job showing us around so many important sites in the Beatles' history! She allowed us time to take photos wherever possible, and took photos of us in front of many famous Beatles sites, such as the Apple "Roof-top concert" building, and of course, the Abbey Road cross-walk and Studios! We really liked how she had photos available on her phone to match each site with how it looked back then. Gill also shared interesting information about other musicians who lived in London in the 60's. At the end of our tour, she dropped us off at the destination of our choosing, and even recommended a great place for lunch, which was excellent! Thanks Gill, for a very memorable tour! Tony, Karen and Kevin
December 2013
I would recommend this tour if you are a real Beatles fan. It was a lot of fun, our guide was very knowledgeable and very pleasant. Enjoy!
August 2013
Absolutely fabulous! Not only did we see Beatles homes and studios, but we heard a bit about James Bond and Ian Fleming. Very informative and the tour ended with a walk across the famed Abbey Road. Our guide was excellent and knew his way around the city very well. We highly recommend this tour!

July 2013
We totslly enjoyed the Beatles tour. The guide was fantastic and very knowledgable. Definitely one of the highlights of our trip.
Lisa D USA
June 2013
Will was an EXCELLENT tour guide. We had so much fun with him on this tour. He knew so much and made it well worth the money. Excellent!
Advertisement
Advertisement