See the sinister side of London in an iconic black cab during a terrifying 2.5-hour trip around the city's most spine-chilling spots. Listen as a master storyteller regales you with spooky stories and takes you to sites of reputed haunting; heed the cries of restless souls at legendary landmarks such as Big Ben and Tower Bridge, learning about scary specters like Percy the Poltergeist and Scratching Fanny; and, visit the ominous spots upon which Jack the Ripper brutally murdered his victims.
Highlights
2.5-hour London ghost tour in an iconic London black cab
Learn about infamous villains like Jack the Ripper, and see where he met his victims
Hear spooky tales of 'things going bump in the night' and learn about London's Percy the Poltergeist
See top London attractions like Tower Bridge and visit the building that's alleged to be Britain's most haunted house

Stop for a drink in a 300-year-old London pub with your guide
What You Can Expect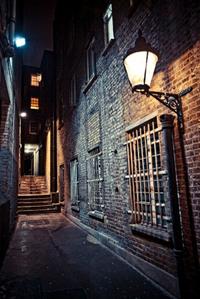 Greet your courteous cab driver at your centrally located London hotel and begin your journey into the petrifying past of the city. Sink into your comfortable leather seat and absorb the eerie atmosphere as you venture to sites that, according to legend, are haunted by ghosts and ghouls. Gain an alternative perspective of significant sights like colossal Big Ben, the tall Tower of London, stylish Shoreditch and sophisticated Mayfair.
Visit the places upon which the vicious villain Jack the Ripper slew his victims, strolling darkened streets in search of specters. Scour Burlington's Arcade on Piccadilly Circus for Percy the Poltergeist; delve into the legend of the irritable phantom Scratching Fanny; and visit a pub over whose patrons a ghost is said to peer.
Venture to the building said to be Britain's most haunted and calm your nerves with a complimentary drink in a 300-year old pub. After your tour reaches its chilling conclusion, return to your hotel in your comfortable cab.
August 2015
Our driver was knowledgeable and generous with his time. He drove us all over central London and it proved a great introduction to the city.

April 2015
Our Jack the Ripper tour had been canceled at the last minute, getting a replacement tour at a short notice was not at our favor especially with a extreme busy weekend in London, I decided to look at Viator website and decided on a private tour. This was no disappointment. We had the same driver from our previous Black Cab Tour. Steve a great sense of humor and took time to visit a couple of pubs. a great way to end a long day. We diffinitely will use Viator again.
Sandra Australia
March 2015
Wonderful, driver great, very imformative, would have liked to visit some spots to hopefulle see apriations of spirits but overall great so glad to have done it will recommend to all my australian friends visiting london in the future
May 2014
Driver Jerry and his traditional black cab were awesome - funny and lots of information and stories. We had a 6:30 tour and doesn't get dark till after 9. May have made it spookier if it had been dark but would not have gotten to see as much either. Overall excellent tour!!!
April 2015
Very nice and fun. Guide was very helpful and made sure we enjoyed the trip setting up special pictures shots.
December 2014
Gerry was our guide and totally rocked the tour. While I would not call this a "ghost tour" per se, it was an exceptional "driving tour" of London with a LOT of history packed in. We had 3 in our party; the cab was clean and comfortable. The whole experience was very enjoyable and I have recommended this tour to friends since our return to the States.
October 2014
Jerry our driver was wonderfully informative and made it a fun ride! great stories!!
October 2013
We had the unusual circumstance of not having the usual ghost tour driver available due to a family emergency (which we totally understood). Frank filled in and did everything he could to make it a fun experience, however, it was simply a drive around the city for two hours and not a ghost tour. We appreciated the effort but were disappointed. However, these things happen, so we just tried to make the best of it and enjoy it for the sites we did see.
November 2015
I would not recommend this tour and feel that we should be given back the 281.05 we paid. Our cab arrived 20 minutes early. 2 seats in the cab were definitely not comfortable for a 73 and 68 year old. The description for this tour led you to believe that you would be escorted to the majority of the sites by cab. After 55 minutes of walking among crowds and barely hearing what our guide was saying, I stopped our guide and asked why we were walking and not being transported by cab. Mind you I walk with a cane and am 69. The pace was far too fast and noisy. There was no mention of Jack The Ripper stories or victims. There was nothing spooky or frightening about this tour at all. And, there was no way we were going into the pub. We could barely walk around the crowd outside the entrance let alone go inside. The highlight of the tour was the last stop and seeing the London Tower Bridge lights from a distance. We purchased this tour as a gift for our friends -- what a disappointment. I definitely do not recommend this tour for seniors or for a thrill seeking experience.
Advertisement
Advertisement