Explore London's V&A (aka the Victoria and Albert Museum) and Apsley House with art-history expert as your guide. The 3.5-hour private tour is a great way to learn about the art inside these two prestigious museums. Browse highlights of the world's largest collection of decorative arts inside the V&A, and hear tales of the Duke of Wellington and all his finery at historical Apsley House.
Highlights
Private walking tour of London's Apsley House and Victoria and Albert Museum

In-depth private tour of Victoria and Albert Museum's famous collection of sculpture, artworks, furnishings and crafts

Guided visit of the Duke of Wellington's home and artworks at No. 1 London, Apsley House

Guided walk along Knightsbridge
Tailor the tour to suit your own interests

Choice of morning and afternoon tours
Professional art historian guide
What You Can Expect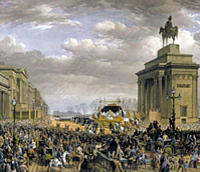 Start your private tour at London's V&A Museum, the city's center of arts and crafts that is dedicated to Queen Victoria and Prince Albert. Today the museum is home to art from all styles, eras and countries, with its main collection a series of British oil paintings and watercolors. Explore rooms full of sculptures and architecture, and hear fun facts about one of the world's finest collections of applied art.
Head inside the Raphael Cartoons collection that the Renaissance master Raphael created for Pope Leo X, add discover the highlights of the Medieval and Renaissance galleries.
Leave the V&A for a stroll through Knightsbridge where Harrods and other prestigious shopping establishments can be found. In the heart of the upmarket neighborhood is Apsley House, aka No 1 London.
Hear how the house was built for Baron Apsley before it fell into the hands of the Duke of Wellington. The duke lavished it further with a Corinthian temple besides other features, turning it into his very own grand mansion.
Head inside to explore and catch sight of the marble Canova statue of Napoleon in the guise of Apollo, and admire an array of treasure: sets of porcelain and silver, jewels, snuff boxes, stately furniture and more. Hear the history of the house as you head upstairs, and marvel at the duke's collection of paintings. Pieces of art from the Royal Spanish collection, which were found in Giuseppe Bonaparte's coach when he fled Madrid, were gifted to the duke by the King of Spain. Among the notable pieces are paintings by Goya, Murillo, Ribera, Rubens and Velázquez.
After 3.5 hours, your private tour finishes outside the house.
Please note: If you have any particular interests, for example art, history or architecture, please make a note in the 'Special Requirements' field when you book. Your guide will prepare your tour with those interests in mind.
Patricia F USA
August 2015
Rosa Maria is an OUTSTANDING guide !!! ... We enjoyed the tour immensely !!!
November 2015
I thought the private tour was rather expensive for what we received. The tour giude focused on Italian artwork and there was so much more to see. I wish that the tour guide had been more informative about the museum in general.
June 2011
I was totally embarrassed that I arranged this tour; the guide was not only late, he did not have any sign identifying himself or reaching out to our group; although he was very knowledgable of art history, he ran us around only to tell us mid tour that we would not be doing the walking tour of Apsley House, because it was closed. His appearance was dis-shoveled, and he kept checking his cell phone???? I wish I could recommend this tour;
Advertisement
Advertisement